Volunteer Service Across the Globe
6/18/2019
While most college students spend their summers soaking up the sun on the beach or working to save up money, recent graduate Kayla Ortiz '19 had a different idea of how to spend her time leading up to her senior year—teaching English to underprivileged children in Ethiopia.
Kayla's global concern took her to Bahir Dar where she not only immersed herself in the culture and food of a new continent, but allowed her to volunteer with the Vincentian Lay Missionaries, serving those who live in poverty in Africa.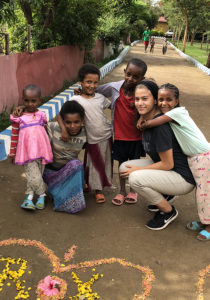 Such service immersions aren't new to Kayla—during her time at the Mount, she participated in several week-long service outreach programs. She traveled to Louisiana, volunteering with the St. Bernard Project to rebuild homes that are still destroyed from Hurricane Katrina; worked to repair substandard housing and build new homes for low-income families with the Christian Appalachian Project in Kentucky; and helped surrounding communities and families with Bethlehem Farm in West Virginia.
But Mount students, like Kayla, understand that service is not limited to campus, the local community, or even just to the United States. Her peers and mentors encouraged her to step out of her comfort zone and explore the limitless opportunities to serve those on the margins around the world.
During her summer abroad, Kayla not only expanded her role as a servant leader, but she also strengthened her passion for teaching. As an undergraduate, Kayla studied psychology with a concentration in elementary and special education—and though teaching English in Ethiopia was far different from the lesson plans she created for her students in the Bronx, she saw how valued and important teachers are in the lives of their students across the globe.
"As a future educator, my passion for working with children in Ethiopia was one of the most rewarding service outreaches I have participated in," said Kayla. "This experience has allowed me to continuously learn to improve myself and mentor others by sharing my knowledge, skills, and experiences."
Kayla aspires to have her own special education classroom one day, enabling her to give back to her home community in the Bronx. But for now, she plans to continue her education at the Mount as part of the five-year master's program in multicultural and urban education—where she's also been hired as the graduate assistant for the College's Office of Mission and Ministry.

Learn more about the exceptional achievements of our students, alumnae/i, and faculty.
About the College of Mount Saint Vincent
Founded in 1847 by the Sisters of Charity, the College of Mount Saint Vincent offers nationally recognized liberal arts education and a select array of professional fields of study on a landmark campus overlooking the Hudson River. Committed to the education of the whole person, and enriched by the unparalleled cultural, educational, and career opportunities of New York City, the College equips students with the knowledge, skills, and experiences necessary for lives of achievement, professional accomplishment and leadership in the 21st century.