Featured Speaker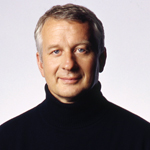 Joe Queenan is the author of nine books, including Red Lobster, White Trash and the Blue Lagoon, and If You're Talking to Me, Your Career Must Be in Trouble. His best-selling memoir Closing Time was a 2009 New York Times Notable Book.
Queenan writes the Moving Targets column for The Wall Street Journal and regularly writes about movies for The Guardian. Formerly an editor at Forbes and Spy, a staff writer at Barron's, a television critic at People, and a columnist at TV Guide, GQ, Smart Money, Men's Health, Barron's Online, and Movieline, his stories have appeared in Rolling Stone, Esquire, The New Republic, Time, Newsweek, The Washington Post, the Los Angeles Times, The Globe and Mail, Playboy, Golf Digest, Us Weekly, Rotarian, Cosmopolitan, Vogue, Town & Country, Allure, and the New York Daily News, among others. His work has also appeared overseas in The Independent, The Spectator, Esquire, and the Times of London.
Queenan has been a guest on The Late Show with David Letterman, Real Time with Bill Maher, The Daily Show, Today, Good Morning America, Charlie Rose, Late Night with Conan O'Brien, and Politically Incorrect. He regularly writes and hosts radio features for the BBC and hosted the BBC's Postcard from Gotham for three years. He has also won a Sports Emmy Award for his work on HBO's Inside the NFL.
A native of Philadelphia, he is a graduate of St. Joseph's College and currently resides in Tarrytown, N.Y. He is married and has two children.