Charles L. Flynn, Jr., Ph.D.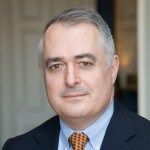 Dr. Charles L. Flynn, Jr., is the President of the College of Mount Saint Vincent. He was appointed to the position in 2000.
Originally from Connecticut, Dr. Flynn received a B.A. from Hamilton College, and the M.A. and Ph.D. from Duke University. He is a member of Phi Beta Kappa.
A historian, Dr. Flynn is the author of White Land, Black Labor: Caste and Class in Late Nineteenth Century Georgia. He is co-editor of an award-winning volume entitled Race, Class, and Politics in Southern History, and the author of numerous articles.
Dr. Flynn has served many community and professional organizations. Most recently he served on the Executive Committee of both the National Association of Independent Colleges and Universities (NAICU) and New York's Commission on Independent Colleges and Universities (CICU).
The office welcomes questions and concerns at president@mountsaintvincent.edu.
The Office of Public Relations can best respond to calls from media.