Sr. Margaret Egan, Ed.D.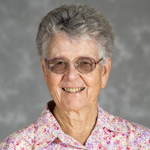 Professor of Teacher Education
Ed.D., Yeshiva University
M.Ed., Boston College
B.A., College of Mount Saint Vincent

margaret.egan@mountsaintvincent.edu
Areas of Interest
Education, literacy, and assessment
Use of media technology to enhance teaching
Supervision of instruction
After extensive teaching experience with elementary and middle school children, Sr. Margaret Egan joined the Teacher Education Department to share her experience and love of teaching with aspiring teachers. Her interests are broad and include areas such as general education, literacy, assessment, teacher effectiveness, and use of media technology to enhance teaching. Sr. Egan's interest in using technology to express oneself creatively began when she worked with middle school students prior to coming to the Mount.
Courses
EDUC 211 Education and Society
EDUC 430 Student Teaching Early Childhood Education
EDUC 431/531 Student Teaching Elementary Education
Teaching with Media, Reading in Elementary School, and Children's Literature
Professional Affiliations
Board of Trustees, Cathedral High School, New York, N.Y.
Education Program Evaluator, University in Upstate New York, 2013
Publications
Photography and reflective essays published in The Riverdale Press, Riverdale, N.Y., 2009-11
All Creation Sings: Praying the Psalms with Elizabeth Seton, co-authored with Sr. Regina Bechtle, 2009
"Reflective thinking: The essence of professional development," Excelsior, 2 (1), 1-14, 2007