Gwendolyn Toth, D.M.A.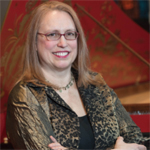 Choral Director
Postgraduate Study, Sweelinck Conservatory, Amsterdam (harpsichord)
D.M.A, Yale University School of Music (organ)
M.A, City College of C.U.N.Y. (composition)
B.A., Middlebury College, cum laude; Phi Beta Kappa
Courses
Honors and Awards
Newell Jenkins Prize, Clarion Music Society
Outstanding Recording of the Year, The Observer
Outstanding Young Conductor, Opera News Magazine
Alumni Achievement Award, Middlebury College
Phi Beta Kappa
Conductor, Soloist, and Freelance Performer
Extensive career over more than 30 years, performing with early music and contemporary ensembles worldwide as a conductor, as a soloist and as a continuo player, and giving masterclasses and lectures. Currently a finalist for the position of Artistic Director of the Washington Bach Consort (TBA 2018).
Highlights as Conductor
Sadler's Wells Theater, London
BAM, Next Wave Festival
Monteverdi Opera Cycle, Skylight Theater, Milwaukee
German Radio in Köln, Germany
Music Director, Virginia Adams Best Vocal Master Class, Carmel Bach Festival
Highlights as Soloist
Numerous solo organ, harpsichord and fortepiano recitals in the U.S. (17 states), Netherlands, Italy, Germany, Switzerland, UK, Austria, Hungary, Poland, Czech Republic, including the Valère organ in Sion, Switzerland; historical pianos and harpsichords at the Metropolitan Museum of Art and the Flintwoods Collection in Delaware; and concertos with ARTEK orchestra in New York City.
Commercially Released CDs as Soloist
Music of Heinrich Scheidemann
Bach, Goldberg Variations
Meantone Organs in Holland
The Arp Schnitger Organ in Noordbroek
The Renaissance Organ in Oosthuizen
The Arp Schnitger Organ in Eenum
Founder and Artistic Director, The Art of the Early Keyboard, Inc. (ARTEK)
Artistic Director of internationally acclaimed early music ensemble, specializing particularly in Italian and German baroque music of the 17th century, but also presenting high baroque chamber music and classical chamber orchestra repertoire. Collaborations with Enrico Gatti, violin; Les Sacqueboutiers de Toulouse; Piffaro; Pomerium; Gallery Voices; Parthenia. Concerts, staged and concert operas, and theater shows including the Monteverdi show I'll Never See the Stars Again; Melancholia-Follia: Torquato Tasso and Lasciatemi Morire: Beyond Monteverdi. In preparation: Light/Shadow (based on artist Artemisia Gentileschi) with playwright Nahma Sandrow at the Flea Theater, spring 2018; and a multi-media show Go to Hell co-produced by
Symphony Space at the Cathedral of St. John the Divine, fall 2018.
Highlights
Extensive world touring with Mark Morris Dance Group in his dance I Don 't Want to Love; Lincoln Center debut in spring 2010; festival appearances at Edinburgh Fringe Festival (two-week run of I'll Never See the Stars Again), Regensburg Tage Alter Musik Festival (Germany), Boston Early Music Festival, Berkeley Early Music Festival,
Indianapolis Early Music Festival, Trebantiqua Festival (Italy); touring throughout America and in the UK, Switzerland, the Netherlands, Austria, Germany, Italy, and France. 25th Anniversary concert of Monteverdi's 1610 Vespers in NYC and at The National Gallery, Washington, DC, in January 2010. 30th Anniversary concert of 1589 Intermedii from La Pellegrina (complete) in January, 2016.
Commercially Released CDs as Conductor
Claudio Monteverdi, Orfeo (opera; director)
458 Strings (17th-century Italian music)
I Don't Want to Love (Monteverdi, madrigals)
Monteverdi, Madrigals Book 5
Soli Deo Gloria: Cantatas of Johann Rosenmüller
Monteverdi, Madrigals Book 7 (in preparation)
Professor/Conductor/Teacher of Harpsichord, Organ, Vocal Coaching, and Ensemble Coaching
Present: Manhattan College (Riverdale), Orchestra Conductor.
Past: Montclair State University, harpsichord faculty; Rutgers University School of Music, harpsichord faculty; Barnard College, Visiting Director of the Barnard-Columbia Chorus; Mount Holyoke College, College Organist and organ faculty.
Church Music Director
Present: Music Director, Immanuel Lutheran Church, New York, NY (9 years). Organist, choral director; early music choral concerts.
Past: St. Francis of Assisi Church, New York, NY (18 years). Organist, choral director; free weekly lunchtime concert series; oratorio series.
Website
www.artekearlymusic.org
Youtube Channel
ARTEKearlymusic