A Bit About Me: Ariana Quintana '24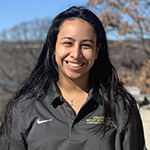 The first time I visited the Mount was in the summer before my junior year of high school. I anticipated my mom telling my brother and I to stand right in front of the College of Mount Saint Vincent sign as cars impatiently lined up behind us. #typicalparents
It was likely that she would go on a questioning spree as if she was a prospective student and the one making the ultimate decision. I know my mother; she did this on every tour. I should have been prepared, but I was still mortified.
Five months ago, I was packing all my belongings to embark on my first semester of college. In all honesty, yes, I was thrilled, but at the same time, I was in a state of worry. I wasn't just nervous about going to college. I was scared of the idea that now it was going to college during a pandemic, and there was nothing that could have prepared me for my first semester of freshman year. Just like the rest of the world, I was overwhelmed with anxiety, fear, and uncertainty. I was so fearful that once I received my schedule (the second most daunting day of my life), I immediately emailed one of my professors because I was so concerned that I wasn't placed in the right course and the semester had not even begun yet!
Then came move-in day (the third most daunting day of my life). I watched my parents from my second-floor dorm room window head back to Brooklyn while I was here, unsure of where to start with the unpacking process. I had spent my whole summer anticipating move-in day, which also marked the day I would leave my home. During the first few weeks into the first semester, it sure seemed like everyone around me had it all together. Everyone's Instagram stories, Snapchats, and even just interactions in person suggested that people had their entire lives figured out. I felt alone and intimidated until I acknowledged the fact that adjustment looks different for everyone. And for me, it is still taking time. Although I am a part of the women's cross country team, a Fonthill recipient, an editor for The Underground, and an Admissions Tour Guide, I am still adjusting, and there is still an extensive way to go.
I am from Brooklyn, NY, and an alumna of Saint Saviour High School in Park Slope. A considerable part of my college transition was significantly impacted from experiences to friendships to gained knowledge from my home at 588 6th street. What attracted me to the Mount was its small, invitational, and welcoming community, which reminded me of the sisterhood at Saint Saviour. In addition to a close-knit community that was filled with academic support, opportunity, and people who are determined, curious, dedicated, and servant-hearted, I was in absolute awe of the scenery. I concluded from the very first day that if you don't want to be stuck in your room, you can take a walk down to Founders, and enjoy the view!
There was a moment when I sought advice from upperclassmen on how to survive freshman year, let alone all four years of college. I was overwhelmed because deadlines were approaching, professors were emailing, students were on edge, and I couldn't internalize that I was now a college student. Wrapping my head around the idea, everyone reassured me that college is what you make of it; one minute, you are in, and the other, you are out. On the last day of the fall semester, I could not believe the fact that I survived. I made friends, joined a sport, participated in events, joined the Ambassadors Program, did well in all my classes, declared a writing minor, and so on. But juggling academics and all these extracurriculars, I was tired and drained. Could this have been avoided?
My answer is no, but there are ways to supersede these feelings; press pause and reflect on your progress, successes, and attempts. Feeling tired is inevitable- you can't run away from it. It's very easy to become disoriented and caught up in the typical college life around you, but it's important to take a step back into reality. Your reality. Fortunately, the Mount incredible, breathtaking views of the Hudson, and these particular spots have been more so my best friends. When my surrounding thoughts become nebulous and uncertain, anxiety would start to creep in. I learned that taking time for yourself (something I neglected for years) would play a crucial role in my college experience and just life in general.
Even though there were moments in the semester where I couldn't help but feel like I was walking straight into a pit, I am an observer of my growth and experiences. I learned to slow down and realize that everything does not need to happen in the first few weeks of college. And if you get to know me, I usually always have my hands full and find myself focusing on too many things all at once, which sooner or later becomes mentally exhausting. To simply just ''get back on track,'' I would go back to activities that have helped me through difficult times in the past. I love to write, and some of my best writing is done in silence. Learn something new. Try something new, and don't neglect the things that brighten your day.
I headed into the spring semester a little less bewildered than I was at the start of the first. For the first time, I needed to hold my own hand. I came to terms with understanding that the only thing that would get me through the semester was no one but myself. I am not going to lie and say that college is easy, I am only just a freshman, but it's a whole other playing field I was not used to. Two years ago, I was sitting in the guidance office, panicking and sobbing about the idea of college. Among the many decisions, the Mount seemed like any other school until I opened my decision letter, followed by a scholarship letter (the first most daunting day of my life). Both emails turned cheery, and the Mount had said yes, but I wasn't sure, and I was dying to hear my mother's decision as if she was going to tote three large blue bins, a black suitcase, a guitar, three journals, and a bible from Brooklyn to the Mount. But here's the thing: no one was going to make this decision for me.
It was hard for me to process that I was going to begin a new chapter of my life, and the idea of this change seemed so baffling, intimidating, and, simply put, scary. But, here I am, in the Elizabeth Ann Seton Library, sharing a personal reflection with prospective students I know are currently not breathing. Truthfully, the Mount has already given me so much opportunity and room for growth, and I have so much to be grateful for. But more so, I have so much to be excited about. So, here's my ode to you: breathe, take it all in, and breathe again.
—Ariana Quintana '24, psychology major and writing minor