Choosing the Right Major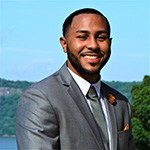 When it comes to deciding on a major, picking the right one for you is important. Luckily, Mount Saint Vincent offers more than 70 different majors. My best piece of advice is to pick a major you genuinely find interesting. Whether it's business, psychology, math, English, or one of the natural sciences—choose something that you can see yourself doing beyond the classroom.
Do not pick a major that your family, friend, or mentor picked for you. Their preferences do not matter because they will not be the ones taking the courses, waking up early, and pursuing your degree. It will be you doing the work.
The Mount has incredible advisors on campus. They genuinely care about the students they serve. Their students' success is their success and I'm sure it is fulfilling to see their students graduate with degrees in the majors.
When deciding on your major, do your research. If you have a goal to pursue a certain career, check what requirements that career has. Does your future career require certain courses, certifications, graduate degrees, or an internship?
I'll leave you with this important piece of advice. If you genuinely do not know what you want to major in, that is fine! You do not have to declare a major until the second semester of your sophomore year. That means you can take our Core requirement courses, such as literature, languages, art, music, history, philosophy, religion, mathematics, as well as the natural and social sciences—to develop a solid knowledge foundation. Once you take those courses you will be better prepared to answer the question: "What do you major in?" You will be better adjusted to college life, have a better sense of how classes work, and hopefully by then, you will connect with an area of study.
Lastly, do not hesitate to reach out to your admission counselors. We are here to help! We work to make the college application process as seamless as possible. If you have any questions, do not hesitate to ask anyone on our awesome team, we'll be more than happy to connect you with current students, alums, and even professors within each department. Best of luck with the process!
—Andrew Curiel MBs '18, Associate Director for Admission