Finding Your Home Away from Home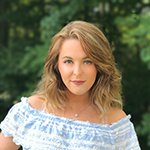 Applying to college can be an overwhelming process. Much like you, when I was a high school senior, I was nervous about finding my right fit. I paged through endless college brochures and mailings that had ended up on my bedroom floor and wondered, "Where am I going to fit in?"
As I looked through the pages of smiling students in cafeterias and libraries, I tried to picture myself in their shoes. I worried if I would be able to find my home away from home.
During the fall of my senior year my guidance counselor began encouraging me to take the time to visit schools, talk to current students, and really get to the heart of what I was looking for in a college. I decided to take her advice and slowly began both visiting campuses and researching what each had to offer. As I did this, the picture of my future slowly came into focus.
Through all my visiting and research I began to really discover what I was looking for in a college. I asked myself important questions like "Did I like the neighborhood the school was in?", "Were the Resident Halls a comfortable place to live?", "Were the student spaces a place I could picture myself spending time in?" I soon researched and visited more and more schools and my ever-growing list of possible colleges began to shrink.
After all my searching I found myself on the Mount's beautiful campus on a cold day in March. I walked around campus, talked with current students and faculty, and finally felt the one factor I had been missing during all of my other college visits. I felt home. I felt an overwhelming feeling that I was where I was supposed to be. Right then and there I knew I had found my school.
During this time of uncertainty, it may seem overwhelming to visit schools and find your fit. However, colleges across the country are quickly adjusting to help you make the best decision for you.
You will find the right fit, and it's okay to take your time. Do your research, ask the tough questions, and follow your gut.
The world of higher education is right behind you during this challenging time; to help you find your new home away from home.
—Margaret McAndrew '17, Assistant Director for Admission