Orientation 2020: What to Expect
Welcome Class of 2024 and Congratulations 'Phins! You are now freshmen in college. The beginning of your college experience starts with Orientation. Here are a few things to expect from Orientation this summer.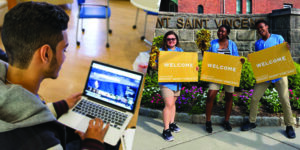 A New Flow
This year's Orientation will be like no other. While the circumstances of the pandemic have caused Orientation activities to shift online, our Orientation Leaders have been working very hard to make sure every session is of the best quality.
Amber Campbell, a Class of 2022 Orientation Leader, believes that this will still be a very good summer in regards to Orientation.
"We will be thinking on our feet and improvising at every step," she said. "All of our Orientation Leaders have made sure that this will still be a great experience for the incoming students."
Caring Leaders
Our Orientation Leaders care about you! This group really wants you to succeed. Don't be afraid to ask them for help.
Not only are they going to support you, but they want to help make this a great experience for you. They aren't there to monitor you, but they are there to guide you all.  All of our Orientation Leaders were selected due to their abilities to help and care for our students.
"I'm excited to make a connection with the incoming freshmen because I was there not too long ago," Amber said. "I want to be able to share my experiences and guide them on the right path."
Fun
Even though we'll start online, this is still your first chance to meet new people and make new relationships with your peers.
Our Orientation Leaders wanted to incorporate a lot of fun activities while still allowing for you to learn about what is expected from you on campus.
Keep an open mind when it comes to this new Orientation system. This is new for everybody, but that won't stop our Orientation Leaders from making it a fun process for you, and it shouldn't stop you from making this a great first campus experience. We are proud to have you, Class of 2024!
Looking forward to seeing you all very soon! Have a 'Phintastic Orientation!
—Dorian Robinson '22