What Is a Moment of Magic?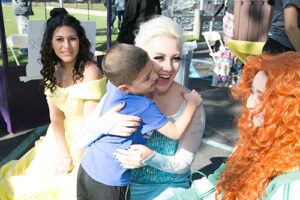 Hello future 'Phins! My name is Gesselle Sanchez and I am a 20-year-old, full-time student majoring in psychology and Spanish, as well as minoring in general science. Despite having a busy class schedule, I have become increasingly involved in various organizations including clubs at school, Up to Us, Millennium Fellowship, however, the most rewarding of all is A Moment of Magic (AMOM).
You may be thinking what is A Moment of Magic? Well, I can give you the typical answer that A Moment of Magic Foundation is a 501(c)(3) nonprofit organization that provides medically vulnerable children with creative programming, outlets, and support to foster imagination, friendship, and hope through our college student volunteers. It is also crucial to say that this whole organization began at our school and was founded by Mount Saint Vincent alumna Kylee McGrane '17. The organization has now expanded to 22 different chapters all over the country, which have served 75,000 children since 2015. However, there is so much more to the organization than what meets the eye.
Kylee recently appointed me as the President for the Mount Saint Vincent Chapter. While I did not feel I was ready to take on such a big role, I am excited to rise to the challenge. I know that if I wasn't capable to fill this position, Kylee would not have selected me. It is also safe to say that we are not expected to do everything right the first time. Instead, we get to attend a one-week intensive New Chapter President Training Conference, which is typically held in New York City. All the presidents of the 22 chapters meet to go through this training, which doubles as a bonding week, during which we get ready for our big roles.
Sadly, the conference looked very different this year. Instead of being in New York City, we all were in our home states and did our training via Zoom calls. Each day, we had a different theme: Luau Day, Character Day, Twin Day, College Pride Day, and AMOM Pride Day. This was a super fun way to keep us all engaged and excited for the next day. It also allowed us to have more interaction with other presidents without having to be with them physically. The training consisted of presentations and panels. The presentations focused on giving us the information needed to be successful when it comes to visits and delegating successfully to our teams. The panels were focused on the different things we can do to grow our leadership skills not only in the organization but also in our own career paths.
These training sessions have prepared me so much that I feel ready to take on the responsibilities of being the chapter president. My role is now to ensure that the members in the organization feel prepared to bring happiness to the superheroes and princesses we meet when we go to hospital visits. The smile that we see in the child's face is worth the countless hours of training and getting into character. My expectations for my presidency is to ensure that the people in our club feel like they are part of a family and to remind them about "Restoring the magic of believing at a time when a child needs to 'just-be-a-kid' and remind them to be Brave, Strong, and Fearless."
If you would like to join this amazing organization do not hesitate to fill out this form.
—Gesselle Sanchez '22