What to Ask Your Admission Counselor?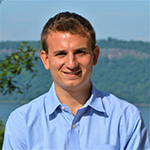 Tyler Margolis, Assistant Director for Admission, sat down and listed the most important questions a high school student should ask their admission counselor during their college search. These questions will help you navigate the admission process, as well as help to discover which college is the best fit for you.
Whether it is at a college fair or an increasingly-prevalent virtual high school visit, college applicants should always be prepared with a handful of questions when interacting with an admission counselor. Here are a few ideas to help you get started on this exciting new journey!
What type of internship opportunities does your school have access to?
While the beginning of your career may seem a lifetime away when you're in high school, it is quite important to have a thorough understanding of the promising careers college can lead to. Therefore, you should know if the school that you are interested in will set you up for success in an industry you see yourself in. Additionally, it is important to ask what type of support a college provides when preparing their students for the professional world (i.e. resume writing, interview prep, etc.)
What type of activities and events do students participate in outside the classroom?
Many students may think that athletics are the main extracurricular at most schools, but there are tons of different things a school can offer! Find out if there are activities outside of your major that you are interested in. Additionally, you will want to ask what student life is like on campus.
What are the important dates and deadlines for your admission cycle?
While it may be a simple one, many students do not ask this extremely important question. I highly encourage every student to ask about application deadlines for both early action and regular decision, in addition to special programs, deposits, etc. In the admission process, preparation and planning are key. Having a clear understanding of what you need to complete and when is of the utmost importance. Also, feel free to ask your admission counselor if he or she will be the person reviewing your application. Then if you have any questions while completing your application, you have a familiar face to help you!
Is your school "test optional" for this upcoming admission cycle?
Due to the Coronavirus, many SAT/ACT exams were cancelled. As a result, many universities and colleges have switched to a test optional model for their admission process. Therefore, it is crucial to ask if a school is indeed test optional, and if they are test optional, what other areas of the application will they be looking at more closely.
What special academic programs does your school have?
At the College of Mount Saint Vincent, we offer a variety of Premier Programs that are geared towards students pursuing a particular academic path. For example, we have our NSF-STEM scholarship offered to students who are pursuing a science-related major. These Premier Programs usually offer additional financial aid, early class registration, and a variety of other perks. Therefore, it is important for you to know if there is a section on the college's application where you can indicate your interest in a specific program. At the College of Mount Saint Vincent, we recommend that all students who are interested in pursuing Premier Programs apply early action, in order to prepare for our school's Premier Program Day!