Douglas McNabb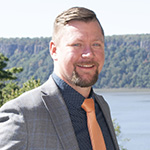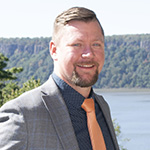 Associate Vice President of Enrollment 
douglas.mcnabb@mountsaintvincent.edu
(718) 405-3762
How long have you been at Mount Saint Vincent?
I started at the Mount in September of 2021. It is an amazing experience, as I love working with such a passionate and caring group of colleagues and students.
What did you do before joining the Mount?
For the past 17 years I have had the opportunity to experience working at all types of higher education institutions, including a medical school, community college, graduate school and both public and private four-year institutions. A vast majority of my experience has been within admissions and enrollment management. I did spend the beginning of my career in student life and special events. This was a great experience for me, as I had the opportunity to meet a lot of amazing people, most notably, the 14th Dalai Lama.
How do you spend your free time?
I spend every free moment with my wife and two children. We love to travel, go camping and explore the world. I am always looking for new places to visit! Let me know your favorite!
Fun fact
I have an addiction to coffee and candy. If you are ever in need of a chocolate or a coffee pick-me-up, feel free to visit me on campus.