Gabriela Donato, M.A.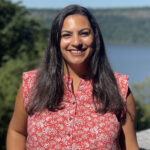 Senior Assistant Director for Admission
gabriela.donato@mountsaintvincent.edu
(718) 405-3734

Territories
Staten Island, New Jersey, Pennsylvania, Delaware, Maryland, and Virginia
Where are you from?
Brooklyn, N.Y.
How long have you been at Mount Saint Vincent?
Since June 2022
What is your favorite vacation destination?
Puerto Rico | St. Pete Beach | Italy
Why did you decide to join the admission team?
With so many options for choosing a college and a career, the process can become very overwhelming. I love being able to help students and families navigate the process and provide support in making such an important decision.
What is your advice for succeeding in college?
Always advocate for yourself and never be afraid to ask for help. Everyone working on a college campus was once in your shoes and can probably recall the challenges they faced. Always know that the faculty and staff are here to support and guide you.
How do you spend your free time?
Traveling, trying new foods, and spending time with family and friends.
What is your favorite quote?
"Be fearless in the pursuit of what sets your soul on fire." – Jennifer Lee