Jayleen Mercado '21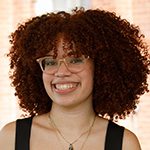 Assistant Director for Admission 
Events Coordinator
jayleen.mercado@mountsaintvincent.edu
(718) 405-3734
Territories
New Jersey, Staten Island, Delaware, Maryland, and Virginia
Where are you from?
Jersey City, New Jersey
How long have you been at Mount Saint Vincent?
I'm a Class of 2021 alumna and began working in the Office of Admission Fall 2021.
What were your favorite activities as a Mount student?
Student Government, Being an Orientation Leader and Leadership Weekend. I met amazing people through these activities and it showed me how important it is to get involved!
What is your favorite Mount memory?
Meeting my amazing lifelong friends who were by my side all four years of undergrad.
What is your favorite vacation destination? 
Visiting family in the Dominican Republic and exploring with them is always the best vacation.
Why did you decide to join the Admission team?
The amazing environment and team of course! The Mount will always be a second home for me.
What is your advice for succeeding in college?
Don't be afraid to ask for help, no one wants to see anyone fail!
How do you spend your free time?
I like to spend my free time drawing, painting and listening to music. 

What is your favorite quote?
"The best way to predict your future is to create it"—Abe Lincoln