Margaret McAndrew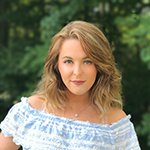 Assistant Director for Transfer and International Students
Events Coordinator
margaret.mcandrew@mountsaintvincent.edu
(718) 405-3735
Where are you from?
Connecticut
How long have you been at Mount Saint Vincent?
Since July 2020
What were your favorite activities as a Mount student?
As a proud alumna of the college graduating magna cum laude in 2017 with a B.A in English., I enjoyed being an Orientation Leader, Student Government Senator and Head Tour Guide.
What is your favorite Mount memory?
My favorite memory of the Mount is hanging out with friends in the cafeteria and student pavilion.
Why did you decide to join the admission team?
A former teacher, I joined the admission team with a passion for helping first-generation college students become proud members of the Mount community.
What is your advice for succeeding in college?
Take advantage of all the wonderful opportunities the Mount has to offer. From clubs, internships, and a close proximity to New York City, Mount Saint Vincent is a great place to grow and become the best version of yourself.
How do you spend your free time?
Cooking, reading, and spending time with family and friends