Robert Tyrrell, MSEd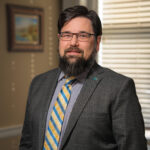 Director for Undergraduate Admission
robert.tyrrell@mountsaintvincent.edu
(718) 405-3795
How long have you been at Mount Saint Vincent? 
I joined the Mount in February of 2023.
Where are you from? 
Grew up in, and still live in, Suffern, New York. Attended college at St. Bonaventure University.
What did you do before joining the Mount? 
My career has been in college admissions, working with first-year, transfer, and accelerated program students.
How do you spend your free time?
I enjoy spending time with my family, going to concerts, and playing softball.
Favorite travel destinations? 
Hawaii, but I truly enjoy traveling anywhere, and experiencing new places!
Fun fact
I am a huge Mets fan!