Reunion Celebration Kit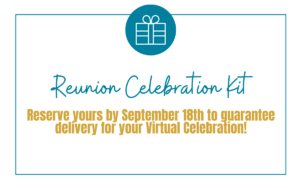 All Reunion Celerbation Kit purchases made after September 18th at 5pm are not guaranteed to arrive in time for your Virtual Reunion Celebration event. Please contact the Office of Alumane/i Relations and Giving at (718) 405-3336 or at alumnioffice@mountsaintvincent.edu with any questions.
We want you to be able to celebrate with your class from the comfort of your own home!
All members in this year's celebratory classes ending in 0 and 5 can reserve a Reunion Celebration Kit full of Mount goodies to help you toast your class this year.
All boxes are free of charge. You just have to pay for shipping, which is $10 per box. All box reservations must be in by September 18, 2020 to ensure delivery in time for your virtual celebration.
To reserve your kit today, click here!
Please note: You will also be able to register for your Virtual Reunion Celebration event at the same time! To learn more about the Virtual Celebration and your class' date and time, click here.