CMSV's Next Top Entrepreneur
5/22/2019
Marketsmith, Inc. Award 2019
Six months ago, Mount Saint Vincent students from various majors submitted more than 20 innovative and exciting business plans to be evaluated by seven faculty members from different disciplines. The prize? A chance to win the 2019 Marketsmith, Inc. Award for Entrepreneurship—which includes a $5,000 investment in an original business plan.
By May, the submissions were narrowed down to four finalists, who were selected to present their final plans in front of an executive panel on May 10.
Meet Our Student Entrepreneurs
Elise Rose Fober '19 | "Elise's Craft Space"
Mikaela-Rose Blanchard '19 | "Collegiate Dance Challenge"
Isidoros Bartziokas '21 | "Bases Loaded Baseball"
Juliette Borghesan '20 | "Nurse Now"
"We are committed to encouraging entrepreneurship in our students and supporting their dreams," said Nina Aversano, Chair of the Department of Accounting, Business, and Economics and Assistant Professor of Management—plus one of the faculty members involved with the Marketsmith, Inc. Award. "Our students have worked incredibly hard and they have quite an array of exciting ideas for business ventures—this is such an exciting competition."
Our finalists not only shared their original and innovative ideas—which considered real-life factors including profitability, growth potential for the target market, and start-up costs—but they also experienced a new platform to present their work, allowing them to pitch their ideas while interacting as entrepreneurs and tycoons.
The judges worked diligently to review, critique, and explore each entrepreneur's concept, product, or business model—and our featured panelists included a range of industry leaders: Kathryn Swintek '74, Managing Partner of Golden Seeds Fund 2 LLC and Managing Director of Golden Seeds LLC, C. Edward Chaplin, Chairman of Brighthouse Financial, Inc., Patrick Yu, Partner at Baker Tilly Virchow Krause, LLP, and Nicholas Cappiello, Supervising Project Manager at Financial Accounting Standards Board.
After four exceptional presentations and thorough evaluations from our judges, a winner was selected.
Juliette, a junior nursing student who explored the development of an app, "Nurse Now," took home the grand prize—the title of the 2019 Marketsmith, Inc. Award for Entrepreneurship and the prize, endowed by Mount alumna Monica C. Smith '90, President and CEO of Marketsmith, Inc., a multi-channel marketing company.
Juliette's executive summary?
Nurse Now is a mobile app which connects patients with Registered Nurses (RNs) to assist with their medical needs by facilitating on-demand quality long-term or short-term care. RNs and patients can connect, schedule appointments, communicate through chat, and securely make payments through third-party integrations.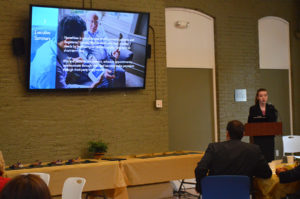 Congratulations to the 2019 participants and judges—and best of luck to the Mount's future entrepreneurs!
About the College of Mount Saint Vincent
Founded in 1847 by the Sisters of Charity, the College of Mount Saint Vincent offers nationally recognized liberal arts education and a select array of professional fields of study on a landmark campus overlooking the Hudson River. Committed to the education of the whole person, and enriched by the unparalleled cultural, educational, and career opportunities of New York City, the College equips students with the knowledge, skills, and experiences necessary for lives of achievement, professional accomplishment and leadership in the 21st century.