Master of Science Physician Assistant Program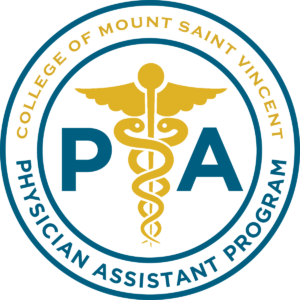 Accreditation

The ARC-PA has granted Accreditation-Provisional status to the College of Mount Saint Vincent Master of Science Physician Assistant Program sponsored by College of Mount Saint Vincent.
Accreditation-Provisional is an accreditation status granted when the plans and resource allocation, if fully implemented as planned, of a proposed program that has not yet enrolled students appear to demonstrate the program's ability to meet the ARC-PA Standards or when a program holding Accreditation-Provisional status appears to demonstrate continued progress in complying with the Standards as it prepares for the graduation of the first class (cohort) of students.
Accreditation-Provisional does not ensure any subsequent accreditation status. It is limited to no more than five years from matriculation of the first class. The program's accreditation history can be viewed on the ARC-PA website at http://www.arc-pa.org/accreditation-history-college-of-mount-saint-vincent/.
Physician assistants are licensed medical professionals who diagnose illness, develop, and manage treatment plans, prescribe medications, and often serve as a patient's principle healthcare provider. Physician assistants exercise autonomy in medical decision making and provide a broad range of diagnostic and therapeutic services. Physician assistants practice in every state and in every medical setting and specialty, improving healthcare access and quality. Physician assistants are qualified to practice by graduation from an accredited physician assistant educational program and certification by the National Commission on Certification for Physician Assistants (NCCPA).
Did you know? Physician assistant is one of the highest-paying and fastest-growing jobs in the nation. In 2021, it was ranked as the Best Job overall and the Best Healthcare Job by U.S. News & World Report.
About the Program
The College of Mount Saint Vincent Master of Science Physician Assistant Program trains you to practice as a physician assistant in a broad range of clinical settings. It is a 28-month program designed to prepare students for clinical practice at top healthcare facilities. The program consists of 16-month didactic phase in four semesters and 12-month clinical phase in three semesters. Students will learn how to care for patients in many settings. The program offers seven required core and one elective rotation in the clinical year.
The program is located in Founders Hall, on the 4½ Floor, which is adjacent to the College's new, state-of-the-art 19,000 sq. ft. simulation laboratories housed in Corazon C. Aquino '53 Hall.
Contact
(718) 405-3739
physicianassistant@mountsaintvincent.edu