Meet the Graduate | Adult Admission Team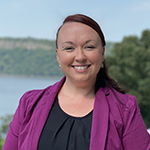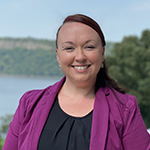 Ellen Lloyd '10
Director for Admission
Office of Professional and Graduate Studies
Graduate and Accelerated Nursing Students
ellen.lloyd@mountsaintvincent.edu
(718) 405-3320
While pursuing her undergraduate degree at the Mount, Ellen worked as an office assistant in Admission and as a student ambassador. Her love of college admissions developed during her time spent in the Office of Admission and working with incoming students and families at admission events. After graduation, she was hired as an information manager and within two years was promoted to Graduate Admission Counselor. This position allowed her to work with the adult population and assist students in returning to school and furthering their education.
Ellen now oversees admission for the Office of Professional and Graduate Studies and recruits students who want to pursue graduate degrees in business, education, or nursing at the Mount. She also talks to prospective students who wish to start careers in nursing by enrolling in the College's Accelerated Nursing program or who want to advance their careers by earning certifications through the Mount's professional programs in Additional Classroom Teaching Certificate in ESOL, Advanced Certificate Program – Family Nurse Practitioner, Applied Behavior Analysis (ABA), and Certified Financial Planning (CFP®). During her time off, she works as a volunteer EMT and enjoys spending time with friends and family.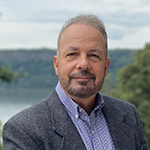 Charles Frank
Associate Director of Admission for Graduate and Enterprise Programs
charles.frank@mountsaintvincent.edu
(718) 405-3269
A New Jersey native, Charlie spent 30 years in the restaurant field before earning a Master's degree in School Guidance Counseling in 2008. With 11 years in higher education, Charlie joined the College of Mount Saint Vincent in December of 2019 as Associate Director of Graduate and Enterprise Programs. Prior to joining Mount Saint Vincent, he served at The College of New Rochelle as Assistant Director of Graduate Admissions and Concordia College-New York as Director of Off-Site Graduate Education programs. During his time off, Charlie enjoys rooting for his favorite New York sports teams, the Mets and the Jets. His advice for potential students is the same advice he has for himself: "Nothing ventured, nothing gained."
Barbara Palombo
Office Manager for the Office of Professional and Graduate Studies Program Development
(718) 405-3322
barbara.palombo@mountsaintvincent.edu
Pursuing Bachelors of Science
Barbara came to the Mount in the summer of 2014 from Mount Sinai Medical Center and joined the Office of Professional and Graduate Studies in June 2015. This position has allowed her to work with many different programs, such as the International Teacher Training Program from China and the Humanistic Learning Experience with medical professionals from Thailand. In her spare time off, she enjoys socializing with friends and spending quality time with her family.