Campus Tours
Fall 2021 Campus Tours
Thank you for your continued interest in Mount Saint Vincent! Due to COVID-19, the Office of Admission is currently offering in-person tours with limited availability. These tours are by appointment only.
COVID-19 Vaccine Requirements for Visitors
In an effort to mitigate the impact of COVID-19 and to align with the guidance from the
Centers for Disease Control and Prevention (CDC) and the New York City Executive Order, all visitors of the College of Mount Saint Vincent must show proof of COVID-19 vaccination records upon arrival to the main gate, to enter campus.
Proof of vaccination means proof of receipt of at least one dose of a COVID-19 vaccine for emergency use, licensed for use by the U.S. Food and Drug Administration, or authorized for emergency use by the World Health Organization. Failure to verify your vaccination status will result in the denial of entry to campus.
There are a few ways to show you are vaccinated, all of which will be accepted:
CDC COVID-19 Vaccination Record card (a photo or photocopy of this card is
acceptable)
NYC Vaccination Record or other official immunization record from the jurisdiction, state, or country where the vaccine was administered, reflecting the person's name, vaccine brand, and date administered  (a photo or photocopy of this card is acceptable)
Mount Saint Vincent also requires the proper use of masks by all individuals when indoors and in designated public areas. Please review our COVID-19 Resources for more information.
If you are unable to visit the campus, we encourage you to explore our campus through our virtual tours!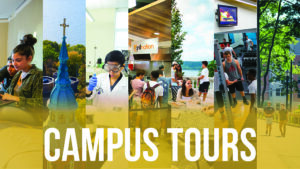 And be sure to stay in touch with all things Mount Saint Vincent, including live events with students, professors, and graduates via our our Instagram and Facebook pages.