Campus Tours
The health and well-being of our community remains the top priority. Mount Saint Vincent will continue to follow all public health advisories and guidance. We are committed to providing answers as efficiently as possible. See our COVID-19 webpage for updates.
Fall 2021 Campus Tours
Thank you for your continued interest in Mount Saint Vincent! Due to COVID-19, the Office of Admission is currently offering in-person tours with limited availability. These tours are by appointment only.
Please review the following COVID-19 guidelines:
To facilitate social distancing, we are allowing a maximum of six people per tour
All visitors are required to wear a mask for the entirety of their stay on campus
As you walk through the campus, you must practice social distancing
Proof of COVID-19 vaccination records to enter campus (please see the note below for more information)
Note from President Susan R. Burns
Effective immediately, visitors of the College of Mount Saint Vincent must show proof of COVID-19 vaccination records to enter campus. We ask that you and your guest be prepared to show proper documentation when you arrive at the College's main security gate. Failure to verify your vaccination status will result in the denial of entry to campus.
There are a few ways to show you are vaccinated:
CDC COVID-19 Vaccination Record card (a photo or photocopy of this card is acceptable)
NYC Vaccination Record or other official immunization record from your healthcare provider (a photo or photocopy of this card is acceptable)
NYC COVID Safe
Excelsior Pass In its ongoing effort to mitigate the impact of COVID-19 and to align with the guidance from the Centers for Disease Control and Prevention (CDC)
Mount Saint Vincent also requires the proper use of masks by all individuals, regardless of vaccination status, when indoors in designated public areas. As a part of this mandate, the College's requirement for face coverings in hallways and instructional spaces remains in effect.
If you have additional questions as we navigate another successful, in-person academic year, I encourage you to visit our COVID-19 Resources for more information.
As always, thank you for your unwavering commitment and selflessness. We appreciate your care, support, and daily efforts to keep us safe as we begin this semester.
If you are unable to visit the campus, we encourage you to explore our campus through our virtual tours!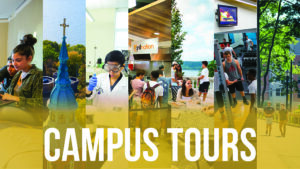 And be sure to stay in touch with all things Mount Saint Vincent, including live events with students, professors, and graduates via our our Instagram and Facebook pages.