James Fitzgerald '18, MBA '21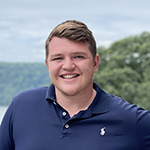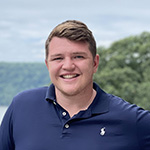 Senior Assistant Director for Admission
Head Men's Lacrosse Coach
james.fitzgerald@mountsaintvincent.edu
(718) 405-3701
Territories
Putnam, Rockland, and Westchester
Where are you from?
Cortlandt Manor, New York (Northern Westchester County)
How long have you been at Mount Saint Vincent?
I was a student at the Mount and obtained my undergraduate degree in communication with a minor in sports management, as well as my Master of Business Administration degree.
What were your favorite activities as a Mount student?
I enjoyed supporting my friends at their sporting events. We are really a family here at the Mount, which has always held a special place in my heart.
What is your favorite college memory?
My favorite memory was walking across the stage with my master's degree.
What is your favorite vacation destination?
My favorite vacation destination has to be Ireland. Aruba is a close second.
Why did you decide to join the admission team?
The College opened so many doors for me and, now, being able to open doors for prospective students truly means a lot to me.

What is your advice for succeeding in college?
Time management, organization, and just be yourself!
How do you spend your free time?
Sports, sports, and more sports. Then occasionally video games.
What is your favorite quote?
"Perfection is not attainable, but if we chase perfection we can catch excellence." – Vince Lombardi