Mount Made
More than 17,000 students have graduated from the College of Mount Saint Vincent. Much like you, they came to the Mount full of promise and hope. Here, they prepared for a career, not just a job.
Our alumnae/i study at the finest graduate and professional schools in the nation. They become leaders and innovators in the global community. They are proud to be Mount Made.


Meet Kathy Benitez '16, who currently works as a bilingual school psychologist for the New York City Department of Education (DOE) and is entering her fourth year working in a middle school right here in the Bronx, NY. Kathy learned how to advocate for herself as a student at the College—which she, in turn, uses to advocate for her own students in her school building. She can confidently say that, because of the professors who taught her and the peers she worked alongside, she was fully prepared to launch her career and navigate different challenges and leadership styles wherever she goes.
Meet Yafreisy Carrero '10, who is part of a small percentage of the world population (17%—to be exact) that is multilingual. She is able to express herself and communicate with people all over the globe, but there's one other language Yafreisy considers herself a fluent speaker of that exists as a common denominator around the world: mathematics. She's had the opportunity to present her research in Landscape Mathematics at the Clinton Global Initiative University (CGI U) in 2016, and she's even traveled to Brazil to implement Landscape Mathematics projects to bring clean water to underserved communities.
Meet Maire Fox '12, who's very meticulous about her work. Between writing her doctoral dissertation, preparing coursework for the college classes she teaches, and coordinating museum exhibits across the pond in Ireland—she's got her hands full with plenty of projects to keep her busy. Maire's spent the past ten years or so deep-diving into the history of 19th century Irish pathoanatomy, autopsy, and dissection. She recently marked the culmination of years of work with the launch of an exhibit overseas in Ireland that opened at the Heritage Center of the Royal College of Physicians of Ireland (RCPI).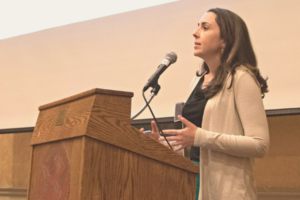 Meet Ellen Carlin '99, who's serious about her work and won't let anything get in the way of her dedication to her craft. Okay, okay—except for maybe the cutest baby chimpanzee… She currently serves as an Assistant Research Professor at Georgetown University in the Department of Microbiology and Immunology's Center for Global Health Science and Security, a position she's held since February 2020. Alongside her role as a professor, Ellen also leads Georgetown's Master of Science in Global Infectious Disease as the Program Director.
Meet Richard "Rick" Garcia '10, who knows that, when it comes to advertising the newest book titles and up-and-coming authors to readers around the globe, it's best to leave it to the prose. Rick has set himself aside as one of those "pros," having been hard at work as the Director of Digital Advertising at HarperCollins Publishers—one of the nation's leading publishing companies—for the past year. When asked to tell the story of how he became interested in the publishing field, Rick joked that "it's a real page-turner!"
Meet Annalisa Teekah Vazquez '07, '11 MBA, who, for the past 12 years, has prospered in several positions at Signature Bank. She began her relationship with the company with an entry-level position and quickly climbed the ranks. Following three promotions, she now serves as an Associate Group Director. Reaching such high heights would have been impossible without the education and guidance she received as a student at Mount Saint Vincent—and not only as an undergraduate, but for her graduate degree as well!
Meet Jerome Viloria '16, who has been serving as the full-time program administrator in the public health practice for NYU School of Global Public Health. In this role, he is responsible for providing guidance to students in the Master of Public Health curriculum and assembling their individualized applied practice experiences (APE). He credits his time at the Mount with preparing him for launching his career—not only academically, but outside the classroom—with the honor of having been named one of the College's Corazon C. Aquino '53 scholars for his cohort and his involvement in SAMAHAN, a student club that celebrates Filipino heritage through projects and events.
Meet Cynthia Ramos '14, who is setting the bar high for herself as a newly practicing attorney in civil defense. Cynthia's currently putting her argumentative skills to the test as a staff attorney for Legal Services NYC, the nation's largest civil legal services provider. Legal Services NYC is a citywide force of over 500 staff who help more than 110,000 low-income New Yorkers annually—talk about leaving a tremendous impact on our city!
Meet Nicholas Malizia '17, an orthopedic surgery physician assistant who has been busy putting the skills he learned in the classroom at the Mount into action as he helps his patients get back to enjoying their activities of daily living—and completing those activities pain-free. And he keeps returning to the Right Place on the River to share the knowledge he acquired from his undergraduate and graduate studies with students at the Mount as an adjunct faculty in the Division of Natural Sciences.
Meet Mallorie Bocachica '10, who at only 12 years into her career in education, is heading a robust and rigorous building of teachers and students. She is leading the charge to change how students learn at  charter network called Uncommon Schools, an educational system consisting of 57 schools serving over 21,000 low-income students across the northeast—including areas of Boston, Camden, Newark, Rochester, Troy, and right here in New York City.
Meet Joy Cote '12, who is working as a research scientist at Prelude Therapeutics, a clinical-stage precision oncology company focused on discovering and developing small molecule therapies optimized to target the key drivers of cancer cell growth, resistance, and survival. And she sees science all around her—even in the kitchen, where she measures ingredients, mixes things together, and changes their chemical composition. It's all science.
Meet Kelly Martin '10, Senior Vice President and Head of Talent Relations and Communications at Barstool Sports. Kelly's playing a significant role in changing the face of modern media. At Barstool, hosts and contributors of shows and podcasts aren't afraid to make their opinions known, while still sticking to the facts and letting their audiences know what's happening in the world. As a senior vice president, Kelly's responsible for managing almost every single talent that represents one of Barstool's many platforms—something that takes organization, skill, and guts.
Meet Christopher Summo '15, who landed his dream job @Twitter. Majoring in communication during his time at the Mount, Chris had an original interest of pursuing a career as a sports broadcaster. Then he got his start at Resolution Media, a full-service social media advertising agency for high-growth, future-focused clients.
Meet Eugene Toussaint '10, who founded Attorneys with Swag. As a lawyer, his goal is to not only advocate for his clients, but to also educate and empower the general public on an understanding of the law. He first got his start as a staff attorney in criminal defense practice with The Legal Aid Society, one of the largest and most influential social justice law firms in New York City.
Meet Michelle Ross '14, who finds herself ripping through the streets of the Bronx to get to the scene of the fire—ready to bring the latest local live news. As a multimedia journalist and reporter at News 12 the Bronx, Michelle is responsible for all aspects of news production: seeking out stories, scripting, setting up equipment, interviewing, filming, and editing. It's a job that requires flexibility under pressure and the ability to work almost anywhere—from the subway to her car to the office.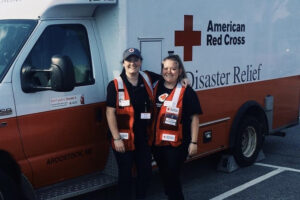 Meet Carly Jenkinson '16, who isn't afraid of brown bears. Because for the last four years she's been living, working, and volunteering up in Juneau, Alaska—giving her plenty of opportunities to become acquainted with those grizzly beasts. After learning about an opportunity to work with the American Red Cross of Alaska in response to those who lost their homes in fires, she jumped into a full-time volunteer position as a Preparedness and Casework Specialist through a partnership between Jesuit Volunteer Corps Northwest (JVCNW) and Americorps.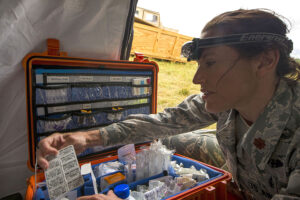 Meet Carolyn Concia '90, who is playing a critical role in the fight against COVID-19. As a frontline worker, she's providing essential care to those finding themselves ailing from its effects. But Carolyn's not your traditional healthcare provider. As a nurse in the United States Air Force Reserves, when the COVID-19 pandemic hit, she jumped into action on the frontlines, beginning a 200-day temporary deployment as a flight nurse in Germany.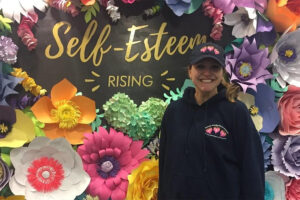 Meet Amy Fox '15, a Mount alumna on a mission to serve. She believes that positive self-esteem and a commitment to human dignity are qualities indispensable to the human experience—something that was nurtured in her during her time as an undergraduate student at Mount Saint Vincent. She began her career in a social adult day program on Long Island—where she held her first masters-level internship. This and other experiences prepared Amy for her current position as a school social worker for the New York City Department of Education at an elementary school in Jamaica, Queens.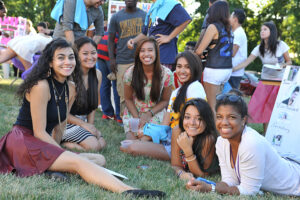 Meet Ciara Rosa '15, a trendsetter who has carried her campus experience into her career. During her days at the Mount, she was never afraid to express her unique sense of style. And her pioneering ideas and enterprising attitude are what launched her career in the competitive (and stylish!) New York City marketing sphere.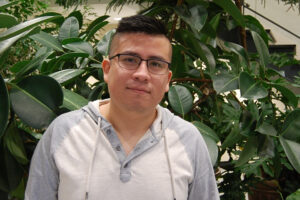 Meet Gerardo Reyes '18, who earned a spot in an Ivy League Ph.D. Program, proving that a Mount Saint Vincent education has the power to turn talent into opportunity. Here, all dreams are welcome. As a first-generation college student and an immigrant, he faced many challenges during his first few years in New York. But at the Mount, he found his passion for science.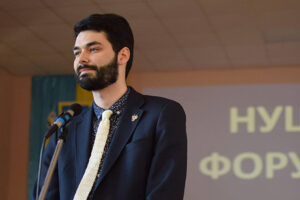 Meet Todd Gable '15, who only a few years after graduating, has accomplished far more than he ever imagined, diligently working to bring sustainable development to the public education system in Ukraine as a Peace Corps Volunteer. Prior to that life-defining experience, Todd enrolled in a Mount-sponsored service project that sent him to Thailand to teach English to Burmese refugees.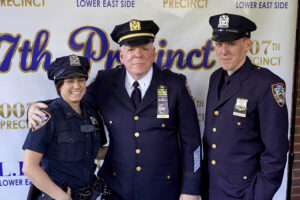 As a police officer with the New York City Police Department, Blair Butler '13 has made it her goal to protect the citizens of the greatest city in the world. Before she launched her career as a police officer, Blair spent over three years working with long-term volunteer projects across the nation. She joined AmeriCorps, a national network of service organizations that address critical community needs, from fighting poverty to preparing for natural disasters and more.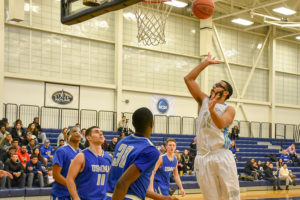 Meet Andrew 'Drew' Curiel '18, who suited up in his Dolphins gear in 2018. Aside from his dedication on the court and in the classroom as a business major, the Bronx native established Be You Stay True (BYST), a program he founded during his freshman year with his roommate, Francisco Zeno '19. The group now hosts annual events, including youth camps, a Jr. NBA Skills Challenge, community service initiatives, and workshops both at the Mount and across the Bronx.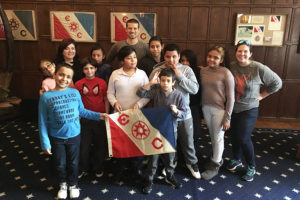 Meet Christina Mesk '04, who won a Fulbright to expand educational opportunity. Her journey began at the College of Mount Saint Vincent, where she was mentored by caring and dedicated educators. Now she is one herself. Serving as a fourth and fifth grade special education teacher at Brooklyn's P.S. 1K—a position she's held for the past 12 years—Christina works with learners with special needs, including students with learning disabilities, speech and language impairments, autism, and ADHD.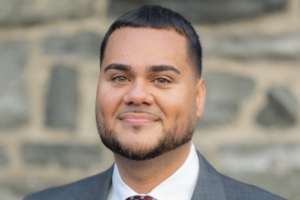 As an undergraduate Mount student pursuing a bachelor's degree in business administration, James Vazquez '06, '11 MBA knew that in college as in anything, you get back what you put in. Today, he serves as a Vice President, Treasury Solutions Officer for Bank of America. But getting to where he is today required patience, dedication, and, of course, a Mount education. Learn about how he has found success.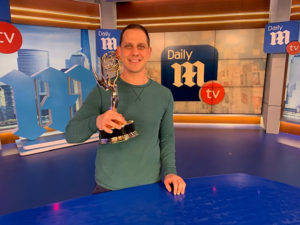 Meet Armando Cataldi '11, who won a Daytime Emmy award. Since jump-starting his career in television and media, he has worked behind the camera of over a dozen popular news and talk shows—from the Rachel Ray Show to VH1's Big Morning Buzz Live and the Nate Berkus Show to Who Wants to be a Millionaire—just to name a few.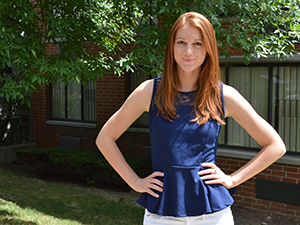 Meet Jennifer Blatus '11, who secured the Max Rose campaign win, flipping the seat in New York's 11th Congressional District in 2018. While at the Mount, she interned with the FDNY Press Secretary and with Bronx Borough President Rubén Díaz Jr. After graduation, she held separate communications director positions for Council Member Andrew Cohen and for the Advance Group, a political consulting group based in NYC.