Mount Made: Giving It His Best Shot
8/7/2023
From Nurse to VP, Mount Graduate Alum Climbs the Hospital Ranks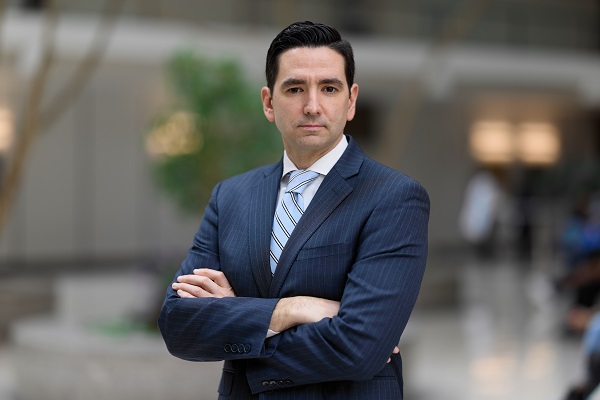 Robin Ferrer '13 MS, '15 MBA is committed to helping others—no matter if that's manning the frontlines during the COVID-19 pandemic, advocating for his colleagues in the hospital system, or brainstorming ways to improve access to healthcare services across New York City and beyond.
For the past two and a half years, Robin has held a position as Vice President, Emergency Medicine for Mount Sinai Health System. Prior to his current role, he had a 15-year career at NewYork-Presbyterian—starting as a bedside nurse in the emergency department and working his way up to Director of Operations and Nursing in the adult emergency department.
At Mount Sinai, Robin is responsible for leading and transforming clinical operations, nursing, and administrative functions for six emergency departments across the entire Mount Sinai Health System. He oversees more than 1,100 interdisciplinary personnel, 700 RNs, and over 550,000 annual visits to the emergency room.
Talk about high (blood) pressure!
Additionally, he collaborates with hospital presidents, COOs, CNOs, and other key stakeholders on a daily basis to improve all facets of hospital care and enhance the Mount Sinai mission.
But exactly how did Robin become interested in nursing and hospital administration? Luckily, we have the inside scoop!
Robin was fortunate enough to be invited to attend Milton Hershey School in Hershey, P.A. beginning at age 13. Milton Hershey School is one of the best private schools in the nation, where qualifying students in grades pre-k through 12 live on campus and receive an exceptional education—with all costs covered. It was founded by Milton Hershey and his wife in 1909 using profits from their chocolate company. Robin took advantage of every opportunity offered to him, including taking a vocational course that served as his introduction to healthcare.
"I had the opportunity to visit several healthcare facilities and I was intrigued by the thought of taking care of people and turning that into a career," Robin shared.
That experience led Robin to earn a BSN from Penn State University in 2004. He served as a staff nurse for a few years before realizing that he had another passion: healthcare leadership.
Wanting to expand on his studies as he climbed the ropes in the hospital, Robin found his way to the Mount and graduated with not only one, but two master's degrees: an MS in nursing in 2013 and an MBA in 2015. We'd like to think that means it makes him not just an alum, but a super alum—double the degrees, double the Dolphin!
"As I gained more and more experience as a nurse, I began to identify opportunities for improvement within the healthcare system. I wanted to be the person people come to in order to make things better in the hospital—for both the patients and the staff."
A typical day for Robin involves talking to the staff to see what's the "pebble in their shoe," as he so aptly puts it (but perhaps the "stone in their kidney" is the better way to phrase it…). He spends time meeting with different teams to see what problems in the hospitals need to be fixed, as well as what can be done to improve overall operations.
And his favorite part?
"The people, without a doubt," affirmed Robin. "My team is my inspiration. I love hearing their stories—what drives them, what motivates them. I wouldn't be where I am today without the people around me."
Robin's been fortunate enough to receive several awards for leadership over the course of his career. For Robin, leadership isn't just about promotional opportunities or the chance to add framed certificates to his walls—it's about furthering his reach and sharing his gifts of patient care and employee advocacy with the world.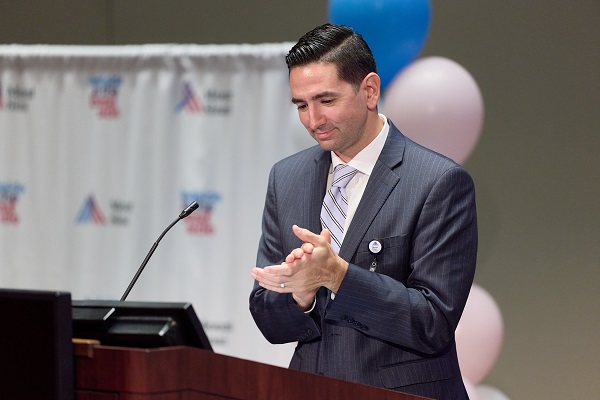 "My dream is to one day become the president or CEO of a hospital. I love working with large groups of people—all with different levels of expertise and from different backgrounds—but who all share one common goal: seeking to improve healthcare."
Of course, the Mount has played a significant role in Robin's success and he firmly believes that he was able to transfer the skills he learned in the classroom during both his master's programs into the field. He was grateful to be taught by such devoted professors who share their lived experience with their students and make course content applicable to the real world. He was able to look further ahead than what he originally intended to do with his career and find a way to merge his strong clinical background with a new expertise in business.
Robin noted that the Mount's MBA program prepared him in a way that he didn't expect. He gained a broader scope of the healthcare system beyond bedside nursing and was able to start to see the bigger picture. Part of that is thanks to people like Assistant Professor of Management Nina Aversano, Professor of Business and Economics Ed Meyer, and Associate Professor of Business and Economics Teresita Ramirez. The small classes and diversity of dialogue among teachers and students will be something Robin will never forget.
"Successful professors shape successful students, and that's exactly why I wanted to come back to the Mount to teach," Robin noted.
He's been teaching an introductory course on healthcare management at the Mount for the last six or seven years now, helping to give undergraduate students the same inspiration he received to launch a career in the health sciences.
"Unfortunately, you don't often see a Latino serving as a hospital system vice president—especially not one who grew up in West Harlem. I'm breaking down barriers, and I've made it a mission to share my experiences with the students of today to set an example and show students share a similar background with me that anything is possible for them."
Outside of the office (and the classroom), Robin is part of several hospital administration organizations, including the American College of Healthcare Executives (ACHE) and the Greater New York Hospital Association (GNYHA). He was also awarded the Milton Hershey School Alumnus of the Year Award earlier in 2023. Additionally, Robin fell in love with Riverdale when he started attending the Mount—inspiring him to move to the community where he still resides today!
We're proud of everything Robin has accomplished in his career so far—and we're even happier to still have him as a member of the Mount community! We can't wait until he's president of one of New York City's top hospitals one day (and we can flood his inbox with resumes from fellow Mount Saint Vincent grads!).
Are you Mount Made? Do you know other alums carrying out the mission of the College? Let us know—we'd love to share how the Mount helped launch your career. Contact us to be featured!
---
About the College of Mount Saint Vincent
Founded in 1847 by the Sisters of Charity, the College of Mount Saint Vincent offers nationally recognized liberal arts education and a select array of professional fields of study on a landmark campus overlooking the Hudson River. Committed to the education of the whole person, and enriched by the unparalleled cultural, educational, and career opportunities of New York City, the College equips students with the knowledge, skills, and experiences necessary for lives of professional accomplishment, service, and leadership in the 21st century.