Nina Aversano, M.B.A., D.B.A.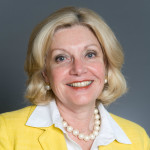 Chair
Assistant Professor of Management
D.B.A., Case Western Reserve University
M.B.A., Pace University
B.A., St. John's University
nina.aversano@mountsaintvincent.edu
Areas of Interest
International business management
Management organizational behavior
Executive management
Role of leadership in creating effective organizations
Telecommunications and information technology

An experienced administrator, executive, and teacher, Dr. Nina Aversano has received numerous accolades throughout her career. Her teaching excellence in the classroom was recognized with the 2014 Region 1 Accreditation Council for Business Schools and Programs (ACBSP) Teaching Excellence Award. Her devotion to both her profession and community was awarded with the President's Spirit of Service Award from St. John's University. Additionally, Dr. Aversano was named a 2011 Collegium Faculty Fellow at the College of Mount Saint Vincent.
While serving at AT&T as vice president of global operations, Dr. Aversano received the prestigious AT&T Catherine B. Clearly Award for exemplary professional and civic service. She also received the Women Achievers Award from the YWCA City of New York for her leadership and role model behavior in business.
Courses
BUSN 105 Principles of Management
BUSN 309 International Business
MBA 510 Interpersonal and Organizational Communication
MBA 664 Managing Organizational Quality and Commitment
MBA 665 Organizational Diagnosis and Change Management
MBA 702 Strategic Management
MBA 704 Decision Laboratory
Professional Affiliations
Academy of Management
Accreditation Council for Business Schools and Programs
American Management Association