Edward Meyer, JD, PhD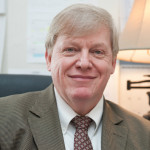 Professor of Business and Economics
PhD, University of Nebraska-Lincoln
JD, New York University School of Law
MBA, New York University
MA, Columbia University
MA, Fordham University
BA, Fordham University
edward.meyer@mountsaintvincent.edu
Edward Meyer has been an educator for more than 30 years. His academic interests and professional training span several disciplines including mathematics, higher education, law, business, and human resources management. Professor Meyer is a member of the New York Bar. He is the former national president and a member of the board of directors of the Accreditation Council for Business Schools and Programs (ACBSP).
Professor Meyer's courses include Business Law, Business Strategy, Management and Organizational Behavior, Human Resource Management, and Leadership. His research interests are interdisciplinary and include the law of higher education, the management of not-for-profit organizations, and the application of leadership theory to the higher education sector.
Dr. Meyer joined the faculty at the College of Mount Saint Vincent in 1982. He served as Department Chair for the Department of Accounting, Business, and Economics for more than 20 years, leading the faculty's effort to achieve national accreditation of the Mount's business programs. He also served as founding Dean of the School of Professional and Graduate Studies.
Courses
BUSN 105 Principles of Management
BUSN 301 Business Law I
BUSN 302 Business Law II
BUSN 318 Human Resource Strategy
BUSN 400 Business Strategy
BUSN 408 Labor Relations and Collective Bargaining
MBA 507 Business Law for Managers
MBA 508 Management and Organization Theory
MBA 509 Managing Human Resources
MBA 653 Law for Heath Care Professionals
MBA 661 Managing Organizational Behavior
MBA 666 Executive Development & Principle Centered Leadership
MBA 684 Employment Law
MBA 701 Leadership, Ethics, and Social Responsibility
Honors and Awards
Excellence in Teaching, College of Mount Saint Vincent, 2003
Hall of Fame, Accreditation Council for Business Schools and Programs
Star of the Year Award, Accreditation Council for Business Schools and Programs