Mount Made: No Reverse Psychology Here
5/24/2023
Mount Alumna Leads as Bilingual School Psychologist
Kathy Benitez '16 has always been a leader—a leader in the classroom, a leader beyond it, and a leader who inspires others to be the best they can be.
Those leadership qualities were instilled in Kathy from the moment she stepped foot on the Mount's campus. She was eager to be involved with the Student Government Association (SGA), holding roles among her class and later as the Executive Council chief justice her junior year and vice president her senior year. Those roles gave her the opportunity to be part of a team that represented the voice of the entire student body—and she's maintained and transferred those skills into her professional life today.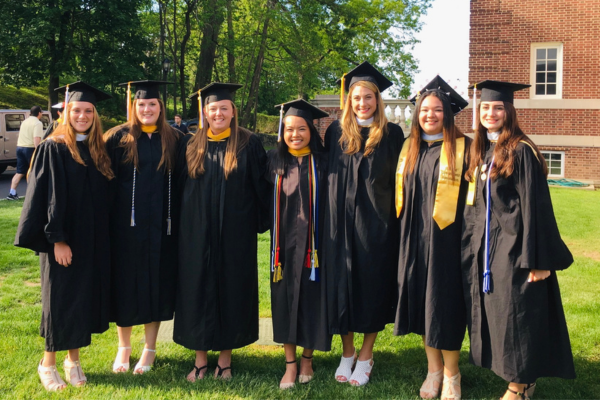 Kathy currently works as a bilingual school psychologist for the New York City Department of Education (DOE) and is entering her fourth year working in a middle school right here in the Bronx, NY.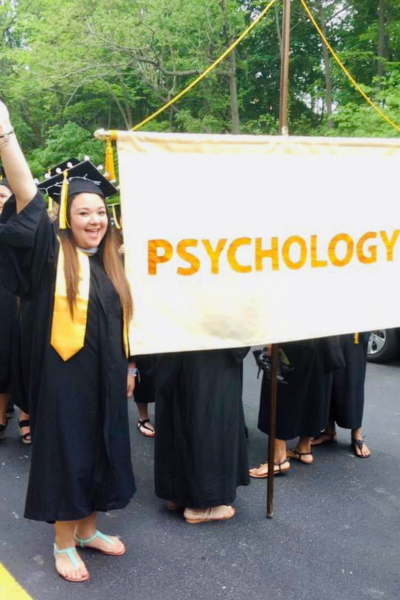 While at the Mount, Kathy majored in psychology and minored in sociology—setting her up for her present success. She was grateful for her time at the College, as her experiences solidified her passions and showed her exactly what she wanted (and didn't want!) to do.
"From the time I started babysitting at age 14, I knew in my heart that I wanted to work in education in some way," said Kathy. "When I began my Mount journey, I thought I wanted to pursue a career in speech and language pathology. However, that quickly changed."
After taking more and more in-depth courses in psychology, Kathy began to realize that she was developing a real interest in analyzing the way the brain works. Plus—working closely with her tight-knit family—Kathy often translated school documents from English to Spanish and advocated for her younger brother's needs to make sure his special education and academic programming supports were met. She began to wonder if she could somehow combine these two interests into a career.
"Advocacy work is very important to me, and I realized that I could potentially do what I did for my own family for other students and their families—especially those who are Spanish speaking."
While still pondering that thought, Kathy worked in Applied Behavioral Analysis (ABA) after graduating from the Mount—administering therapy to children on the Autism spectrum.
"The few years I spent in ABA fueled my drive to work not only with kids on the Autism spectrum, but with any student with a diagnosed disability—and that's what finally drove me to pursue a career as a school psychologist."
She contemplated pursing a master's in special education, but found that school psychology was the perfect combination of her interests: education, student advocacy, sociology, and, of course, psychology.
Shortly after that epiphany moment, Kathy enrolled in a graduate program in school psychology at Long Island University's Hudson Campus (which also had the bilingual extension she sought after) and worked simultaneously as a teacher's aide in a special education classroom in Scarsdale, NY. There, she was able to shadow and work closely with both the district's ABA therapist and school psychologist—finding wisdom in their mentorship and joy in the opportunity to learn more about school psychology before even beginning her official internship.
"Gaining experience in a classroom was a crucial part of my understanding of school psychology," Kathy reflected. "Most graduate students do not get the opportunity to work directly in a special education classroom during their course of study, so I consider myself very lucky."
Once she reached her internship, Kathy then put her language skills to the test: administering bilingual testing and conducting meetings in Spanish. Her family's native language, she grew up speaking Spanish and the language has always been an important part of her life.
"I see firsthand, working with Spanish-speaking parents, that people are grateful to have someone who speaks their native language explaining processes in terms they're able to understand," Kathy explained. "Families find comfort in knowing that someone who understands their language (and culture) is working with their child to make sure all his or her needs are met and supported."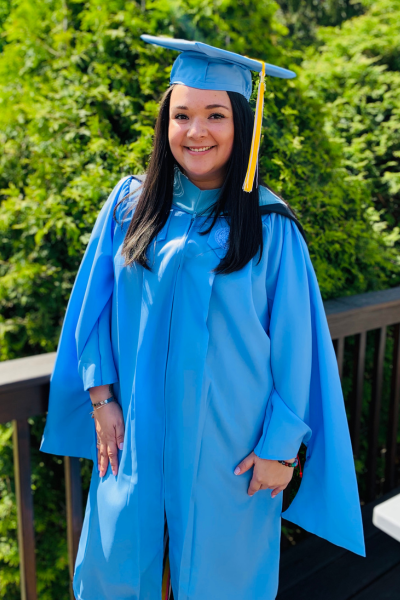 She graduated with her master's degree in 2020 as a first-generation Mexican-American—one of her biggest accomplishments to date.
"One of the many things I love about my job is that my days rarely look the same," Kathy noted. "Working in a school is always exciting and my day can always change depending on what might be occurring."
She is a key member of the school-based support team, which includes two other psychologists and a social worker. Together, the team oversees all of the students' Individualized Educational Plans (IEPs). As the school's only bilingual school psychologist, Kathy, specifically, works with all of the bilingual students who have their language of assessment listed as Spanish and often require testing in their native language.
"Some days, my schedule is jam-packed with testing sessions for evaluations that need to be completed, counseling sessions, and IEP meetings," said Kathy. "Other days, I have consultations with teachers and special education department meetings—where we review the quality of our IEPs and the professional development opportunities that our district provides."
And when she's not testing or in a meeting, Kathy can likely be found observing a classroom or compiling data sheets for a student with a behavior plan. She also makes sure to continue her relationships and rapport with each student she works with! She often pops into classrooms to visit her students and checks in with their teachers to discuss their progress. With students comes their parents, and Kathy frequently touches base with parents to discuss their concerns and determine how the school can best support their children.
What about Kathy's favorite part of her job?
"My favorite part of my job is that I'm not only able to conduct testing for students, but also be involved in all things special education. Plus, I love it when students stop by my office to say hello or give me a little wave in the hallway!"
Recently, Kathy put together a Donors Choose project to fund a sensory corners initiative for her school's self-contained classrooms (which house students with higher academic, language, and cognitive needs). Donors Choose is a nonprofit organization where teachers can request funding for projects for schools and classrooms. Once a project is funded, Donors Choose fulfills the supply order—making it so that teachers do not have to use their own money to get the supplies they need and their students deserve.
"We wanted to integrate a space into our classrooms where the students would have the opportunity to take time to themselves to decompress, practice mindfulness, and self-regulate," explained Kathy. "Working on projects like this—for the students—reminds me of why I love what I do."
Always looking to further her knowledge to serve her students best, Kathy plans on attending next year's National Association of School Psychologists (NASP) convention in New Orleans, LA. There, she'll be able to network, meet, and learn from fellow school psychologists.
Kathy's not shy about admitting the amount of influence the Mount has had on her career and her life. She is grateful for the multitude of opportunities she had to network and put her interpersonal skills into practice, and she is thankful that the Mount held all students to a high level of professionalism—even as only young adults.
"We lived out the Mount's motto of 'teach me goodness and discipline and knowledge' and the values of 'service over self' and put them into practice in our daily lives both within and beyond the classroom," Kathy explained. "To this day, this is something I incorporate into any position I hold, both personally and professionally."
Kathy also learned how to advocate for herself as a student at the College—which she, in turn, uses to advocate for her own students in her school building. She can confidently say that, because of the professors who taught her and the peers she worked alongside, she was fully prepared to launch her career and navigate different challenges and leadership styles wherever she goes.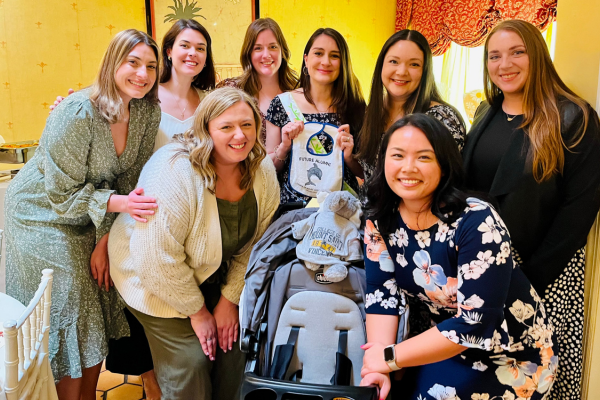 The Mount also gave Kathy a core group of lifelong friends. She still keeps in touch with many of her friends from her days at the Right Place on the River—celebrating weddings, graduations, promotions, new babies (can we assume some future alums?!), and so much more. A tightknit campus community, it was easy for Kathy to make friends to last a lifetime.
"It's inspiring to be surrounded by people who are career-driven, knowing we all graduated from the same alma mater and share the same values," said Kathy. "To this day, whenever we see each other, we pick up right where we last left off no matter how much time has passed."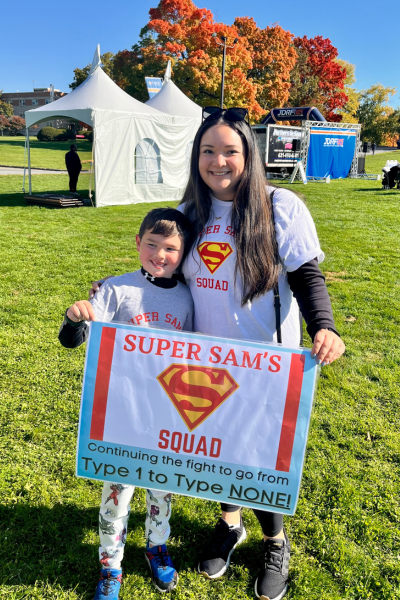 Outside of work, Kathy is part of an incredible team of leadership members at Elmwood Day Camp. There, Kathy and the rest of the team help children both with and without disabilities be the best version of themselves and develop a diverse set of skills within an 8-week period. Her background as a school psychologist affords her the opportunity to support campers who may otherwise struggle during the school year with either behavior or social difficulties learn to be themselves and have a successful, fun Summer. In addition, Kathy has had the unique privilege of working with a camper who has Type 1 Diabetes (T1D).
"Learning the ins and outs of T1D has been one of the most eye-opening and incredible experiences outside of my career," Kathy explained. "Not only does this camper live with T1D, but he was recently diagnosed with Celiac Disease. In partnership with his parents and our director, I've helped to curate tools to guide his counselors in managing his day-to-day care so he doesn't miss a single beat of his camp experience. What was only supposed to be a camper-counselor relationship for one summer has turned into such a special bond between him, his family, and myself. We will be part of each other's lives forever and more."
Where will the next five to ten years take Kathy? Well, no one knows exactly, but Kathy's got a few ideas!
"I'd love to soon be in the process of pursuing my doctoral degree in clinical psychology. My ultimate goal is to one day go into private practice to provide educational testing and therapy services for children and adolescents. And, if I'm lucky, I'd love to open a bilingual preschool for students with disabilities."
A leader through and through, we know that not even the sky's the limit for Kathy. She still has plenty of jobs left accomplish and people to inspire. We know this isn't the last we'll be hearing from her—so stay tuned!
Are you Mount Made? Do you know other alums carrying out the mission of the College? Let us know—we'd love to share how the College helped launch your career. Contact us to be featured!
---
About the College of Mount Saint Vincent
Founded in 1847 by the Sisters of Charity, the College of Mount Saint Vincent offers nationally recognized liberal arts education and a select array of professional fields of study on a landmark campus overlooking the Hudson River. Committed to the education of the whole person, and enriched by the unparalleled cultural, educational, and career opportunities of New York City, the College equips students with the knowledge, skills, and experiences necessary for lives of professional accomplishment, service, and leadership in the 21st century.