Mount Made: How One Alum Flipped a Seat
6/27/2019
Jennifer Blatus '11 Secures Max Rose Campaign Win
Alumna Jennifer Blatus had plans to graduate ready to be the next leading journalist for the New York Times—or so she thought.
During her time at the Mount, she double majored in communication and history, spearheaded the College's newspaper—The Mount Times—as editor-in-chief, worked for the Riverdale Review, and even held internships with the FDNY Press Secretary and with Bronx Borough President Rubén Díaz Jr.
From her work on campus, her dedication outside the classroom, and her commitment to the Bronx, Jenn had already built quite an impressive resume for a young professional. It's no surprise that she immediately landed a job after her 2011 graduation with the Bronx Tourism Council, followed by separate communications director positions for Council Member Andrew Cohen and for the Advance Group, a political consulting group based in NYC.
As she grew in her career, so did her passion for the thrill and fervor of the political world. With the help of her expanding professional network, she was tipped off about an open communications director position by a former colleague—and though many had low expectations, Jenn had a feeling about the opportunity. So, she decided to take a leap of faith, quit her job, and join the Max Rose for Congress campaign.
Taking the job was a risk, but Jenn felt energized and excited to work with a team of millennials eager to support Max Rose and his fight for a seat in the U.S. House of Representatives. Max, a millennial himself, was the oldest member of the team. At 31 years old, he was easier than most to work with—and perhaps that's what helped make for such an enthusiastic and driven campaign.
"We were changing the game, and we were having fun doing it," she recalled. "Everyone came to work each day motivated to help." And that didn't just include Max's team, but volunteers, too. "We even had high school students helping with the campaign—students that couldn't even vote yet, but were excited and involved."
Max ran in the 2018 Democratic Party primary for New York's 11th Congressional District against five other candidates, winning with 65 percent of the vote. But for the general election, he was up against Republican incumbent Dan Donovan. The 11th district has a history of being the most conservative congressional district in NYC—long serving as the only district in the City to lean toward the Republican Party in national elections. As a democrat, Max knew he had little fight in a historically red district—but Jenn and her team were ready.
When asked what her position as Rose's communications director entailed, Jenn laughed, replying: "Everything!"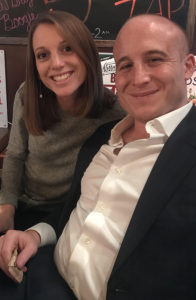 She handled all aspects of his media presence—she served as his official spokesperson, managed bookings, authored and refined speeches, prepared him for appearances and debates, and supervised various social media accounts, among anything else she could to contribute to the campaign.
"He's young, but he's professional, fun, smart, and disciplined," she said. "We were really winging it—Max had never run for office before and being a politician was new to him. Prior, he spent years in the military with the U.S. Army and he wanted to continue to serve his country—so he made the decision to run."
In the weeks leading up to the election Max was down in the polls, but that only drove Jenn to work harder, longer, and more passionately to help him rise to the top. On the evening of election day, Jenn, Max, and the rest of the team gathered together to watch the votes roll in live—and unfortunately, by this point, they were expecting the worst.
The entire team was in disbelief until the very last second, when they realized that all of their dedication over the past few months helped him to secure the victory.
"We couldn't believe it when we realized we were going to win," she recalled. "We cried, we celebrated, we hugged, and we began to pray. Our staff represented all different religions, but praying together felt right—it made the moment real."
For Jenn and the rest of the Max Rose team, flipping the seat in New York's 11th Congressional District was just a bonus—the campaign was about spreading Max's promise to represent the residents of New York, while supporting education reform, health care, and veteran's rights. And they did just that, earning the trust of voters, walking door to door, meeting people, and making connections.
"When I said I was going to quit my job and head to Staten Island, lots of people told me I was crazy to drop everything for a long-shot campaign, for a no-name Democrat," she said. "But I believed it was possible, all because Max Rose has a knack for doing the impossible. What an adventure."
Now, Jenn continues her adventure in a new role—she's currently a media strategist with Stu Loeser & Co., a strategy and corporate intelligence firm that helps organizations and individuals navigate the world's most complicated news markets. Plus, she remains connected to the Mount, serving her second term as an Alumnae/i Association Executive Board Member.
Learn more about the exceptional achievements of our students, alumnae/i, and faculty.
Are you Mount Made? Do you know other alums carrying out the mission of the College? Let us know—we'd love to share how the Mount helped launch your career. Contact us to be featured!
About the College of Mount Saint Vincent
Founded in 1847 by the Sisters of Charity, the College of Mount Saint Vincent offers nationally recognized liberal arts education and a select array of professional fields of study on a landmark campus overlooking the Hudson River. Committed to the education of the whole person, and enriched by the unparalleled cultural, educational, and career opportunities of New York City, the College equips students with the knowledge, skills, and experiences necessary for lives of achievement, professional accomplishment and leadership in the 21st century.