Come Back Home for Reunion and Homecoming Weekend 2023
9/13/2023
It's That Time of Year Again: Celebrate the Past, Present, and Future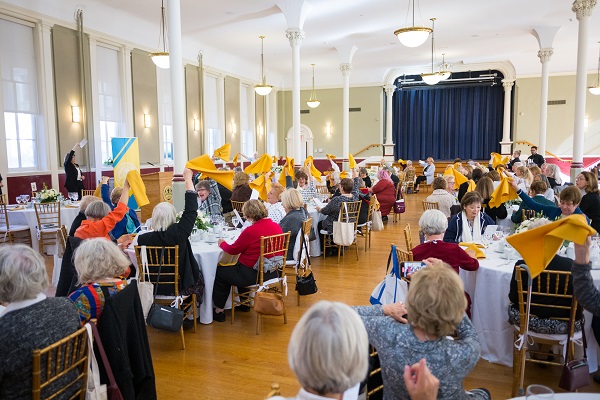 It's often said that dolphins always find their way home—even from thousands of miles away.
So, it's no wonder nearly 300 Mount Saint Vincent Dolphins from the past and present (and future!) will be making their way back to the place they once called home for Reunion and Homecoming Weekend 2023!
There's no better place to celebrate than at the #RightPlaceOnTheRiver, where friends both old and new will gather for our annual Reunion festivities. This year's Reunion and Homecoming Weekend will take place from Friday, October 13 through Sunday, October 15. And, as per usual, we have a whole gamut of activities planned for all generations of Mount alumnae/i!
This year, classes ending in "3" and "8" will celebrate special anniversaries. The Class of 1973 will receive special honors for their Golden Jubilee. But, as with every reunion year, all class years are invited (and encouraged!) to attend all or part of the weekend to cheer for the white and the gold!
"There's so that much goes into planning Reunion and Homecoming Weekend," shared Kristin Yanniello, the College's Director for Alumnae/i Relations and Giving. "We start planning for next year's festivities the day after this current year's weekend concludes! From individual class planning Zoom meetings to deciding on the menus, and from sending out invitations to packing a gift bag for each guest—it takes a whole team of individuals to help prepare. I can't wait for this year's celebrations, and I hope you'll join us!"
Whether you graduated 5, 25, for 50 years ago, there's an event for you! Check out some of the schedule highlights below:
Friday, October 13
Cruise Down Memory Lane | 6:30 PM
Saturday, October 14
Women's Volleyball Alumnae/i Day and Reception | 10 AM
Coffee with President Burns | 11 AM
Explore the Mount | 12:30 PM
Reunion and Homecoming Festival | 12:30 PM
White and Gold Luncheon | 1:30 PM
Class Gatherings | 3:45 PM
Nursing Alumnae/i Reception | 4 PM
Student Leader Alumnae/i Reception | 4:30 PM
Reunion Dinner Celebration | 6 PM
Dolphin Dessert Hour | 8 PM
Sunday, October 15
Reunion Brunch | 9:30 AM
Organ Concert | 11:30 AM
Reunion Mass | 12:30 PM
For the first time, we're introducing special affinity group reunions for alums who were involved in different areas across campus. Were you a student leader back in your days—or maybe you graduated from the nursing program? Check out this year's reunion gatherings specifically for you!
Not part of an affinity group? Don't worry: all of the traditional Reunion and Homecoming Weekend events are still scheduled, including the Cruise Down Memory Lane (which will sail up and down the Hudson past the Mount and the Statue of Liberty), Coffee with President Burns, the White and Gold Luncheon, and the Reunion Dinner Celebration.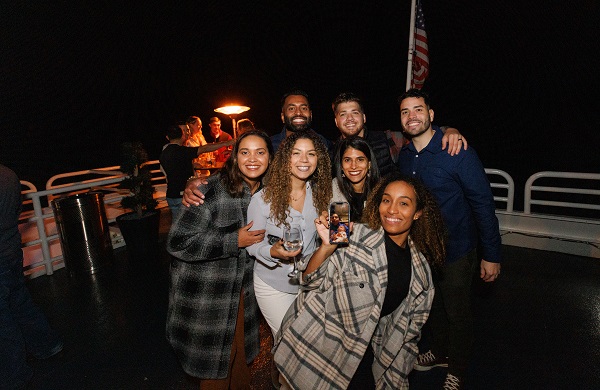 Additionally, the Reunion and Homecoming Festival is the perfect opportunity for families of current students to visit campus, with something for everyone! Food trucks, rides, games, a soccer game, and activities for the whole family will abound. Trust us—you don't want to miss it!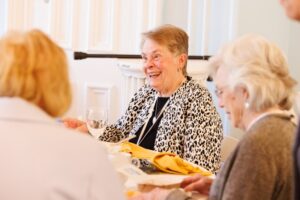 The Weekend will also include the presentation of the Alumnae/i Distinguished Service Award to Peggy Steffann '65. Peggy has been instrumental in keeping together the tight-knit community of 1965 Mounties. For decades, she has planned luncheons, gatherings, and other social events to keep her class engaged. She has also served on their reunion planning committee—personally reaching out to each and every one of her classmates to help the Class of 1965 consistently garner some of the highest attendance records across their reunions. What's more? Peggy has also served several terms on the Executive Board of the Alumnae/i Association, most recently as the latest president emerita. Peggy is truly deserving of this honor, and we encourage everyone to gather together at the Reunion Dinner Celebration as she is presented with her award.
Reunion and Homecoming Weekend will conclude on Sunday with a special Mass celebrated by The Most Reverend Bishop John O'Hara of the Archdiocese of New York. The College will conclude its 175th Anniversary celebrations at the Mass, marking the end of over a year's worth of memorable festivities. Prior to the Mass, a Sunday morning brunch will take place in Smith Hall, followed by an Organ Concert featuring the Mount's Roosevelt Opus IV Organ and performances from the CMSV Conservatory.
Information on all of the Weekend's events, including pricing and locations, can be found here. See something you want to join us for? Don't forget to register! Tickets are selling out fast—so don't wait!
Autumn is one of the most wonderful times of year at the Mount's waterfront Riverdale campus, and we encourage our alumnae/i, friends, trustees, current students, employees, and families to visit us and see the College at one of its most vibrant times of year.
We can't wait to welcome you home in just about a month!
Questions? Contact the Office of Alumnae/i Relations and Giving.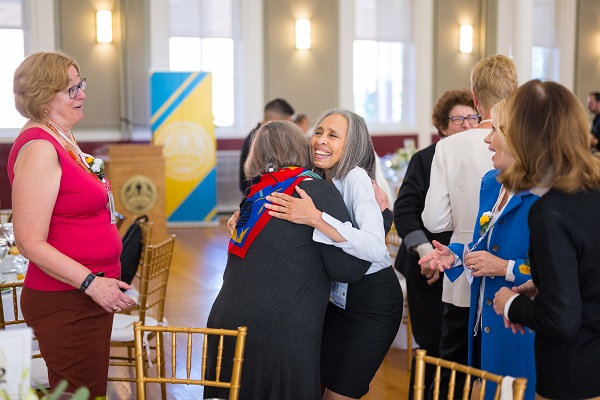 ---
About the College of Mount Saint Vincent
Founded in 1847 by the Sisters of Charity, the College of Mount Saint Vincent offers nationally recognized liberal arts education and a select array of professional fields of study on a landmark campus overlooking the Hudson River. Committed to the education of the whole person, and enriched by the unparalleled cultural, educational and career opportunities of New York City, the College equips students with the knowledge, skills and experiences necessary for lives of achievement, professional accomplishment and leadership in the 21st century.