Integrating Living and Learning: Aquino Hall
11/27/2018
During the 2018 Reunion and Homecoming Weekend, the College held a groundbreaking ceremony for its newest building: a combined residence hall and nursing education facility named in honor of one the Mount's most illustrious and influential alumnae, Corazon C. Aquino '53.
View construction progress of Aquino Hall
Maria Corazon "Cory" Cojuangco Aquino served as the 11th President of the Philippines, becoming the first woman to hold that office—and Asia's first female President. Yet before she entered politics, she was a self-proclaimed "plain housewife," married to Senator Benigno Aquino, Jr., a staunch critic of President Ferdinand Marcos. After her husband was assassinated, she emerged as a leader of the opposition and wrested the presidency from Marcos's 21-year rule.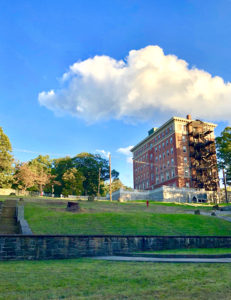 Widely recognized as a champion of democracy throughout Asia and a defender of human rights worldwide, Corazon Aquino garnered scores of awards and honors, among them the J. William Fulbright Prize for International Understanding, the Eleanor Roosevelt Award for Human Rights, and Time magazine's Woman of the Year.
She returned to her alma mater over the years—she was celebrated as an honorary degree recipient, Doctor of Humane Letters honoris causa; honored with the Saint Vincent de Paul Award at the annual Scholarship Tribute Dinner; and received the College's highest honor, the Elizabeth Seton Medal.
"There are heroic figures in history," said President Charles L. Flynn, Jr., "and Corazon Aquino is one of them. The College of Mount Saint Vincent is very proud to have been an influence in her life. By naming our new multipurpose building for her, we are creating a memorial to her courage and service."
Excitement about the new project has been swirling around campus.
"In memorializing Corazon Aquino, the College is asking us all to follow her example," said Susan L. Whitney '72, Chair of the Board of Trustees. "She was a remarkable person who embodied the highest ideals of this College— including faith, service, modesty, and moral courage."
Aquino Hall, a five-story, 56,000 square-foot building, will be situated between Founders Hall and Seton Hall. The top three floors will provide housing for 120 students—these will be the first residential additions since the opening of Mastronardi Hall in 2007. Since then, the College's student population has grown by nearly 20 percent.
The lower two floors of Aquino Hall will house technologically advanced nursing simulation laboratories that will support the latest and best practices for training nursing professionals. Nursing remains one of the College's signature programs and the new simulation laboratories will keep our program strong and at the cutting edge of the profession. Through instructional technologies—including state-of-the-art patient simulators, live-action simulation, and observation areas—the laboratories will allow students to master the essential skills for several nursing specializations: clinical assessment and adult/primary care, as well as pediatric, maternity, and community health nursing.
Planning any major construction project requires careful preparation. In recent months, the College has completed all engineering and architectural work, filed necessary permits and site surveys, and obtained approvals from the community board and city planners.
"Now comes the exciting part," said Kevin DeGroat, Vice President for Operations. "It has taken a lot of cooperation among many departments and individuals, but everyone has been focused and on point. And of tremendous value was the College's long-standing master plan, which clearly states how campus growth should dovetail with the institution's mission and vision."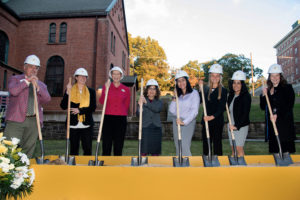 The $15.5 million project—the first new construction on campus since the Peter Jay Sharp Athletic and Recreation Center in 2009—is expected to open in late 2021.
About the College of Mount Saint Vincent
Founded in 1847 by the Sisters of Charity, the College of Mount Saint Vincent offers nationally recognized liberal arts education and a select array of professional fields of study on a landmark campus overlooking the Hudson River. Committed to the education of the whole person, and enriched by the unparalleled cultural, educational, and career opportunities of New York City, the College equips students with the knowledge, skills, and experiences necessary for lives of professional accomplishment, service, and leadership in the 21st century.