D&D at CMSV
11/6/2019
100% of Event Proceeds to Benefit Midnight Run
Put on your Gauntlets of Ogre Power and get out your Cloaks of Displacement!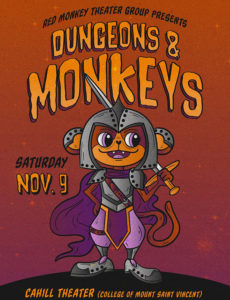 Red Monkey Theater Group (RMTG) presents their third annual Dungeons & Monkeys immersive event this weekend, inviting the Mount community to partake in the fantasy role-playing game Dungeons & Dragons (D&D) in Cahill Theater.
Slated for Saturday, November 9 from 11 a.m. to 10 p.m., the D&D charity gaming event will allow participants to battle the forces of evil alongside their favorite RMTG actors and crew, who will help new players learn the game.
And participants won't just be creating characters, exploring fantastical kingdoms, and taking in adventures along the way—they'll also be supporting a great cause: 100 percent of ticket proceeds will benefit the Midnight Run, an organization that invites volunteers to travel to midtown Manhattan to hand out food and clothing while engaging in conversation with the homeless.
"Dungeons & Monkeys is an experiment in collaborative theatrical storytelling," says RMTG Artistic Director Tal Aviezer. "We're inviting the public to join us for one day in creating stories together with us, having fun, slaying dragons, and supporting a great cause."
Whether you're curious about how to play D&D or if you're an expert, Dungeons & Monkeys encourages all who are interested to take part in the gameplay. Join the Mount's in-residency theater company for two afternoon sessions during which the public can participate in the board game, then enjoy a free performance at 8:15 p.m., where RMTG actors will embark on an adventure before the audience's very eyes—complete with special music and sound effects created by the theater's design team.
The event is free for Mount Saint Vincent students and staff with a College ID, though donations are welcome. Tickets at the door are $15 per game or $30 for an all-day pass—however if participants order online in advance, tickets are $10 per game or $20 for an all-day pass (which includes play in both sessions, free pizza, and the final adventure at 8:15 p.m.).
The event will also include a raffle with D&D and theater prizes, as well as a miniature painting workshop.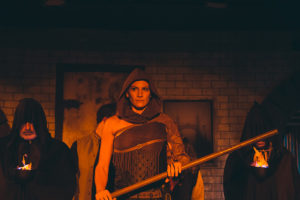 For more information and to purchase tickets, please visit redmonkeytheater.org.
About the College of Mount Saint Vincent
Founded in 1847 by the Sisters of Charity, the College of Mount Saint Vincent offers nationally recognized liberal arts education and a select array of professional fields of study on a landmark campus overlooking the Hudson River. Committed to the education of the whole person, and enriched by the unparalleled cultural, educational, and career opportunities of New York City, the College equips students with the knowledge, skills, and experiences necessary for lives of professional accomplishment, service, and leadership in the 21st century.