Different Strokes for (Diverse) Folks
8/8/2023
Faculty Spotlight: Professor Hsiao Uplifts NYC Immigrant Artist Community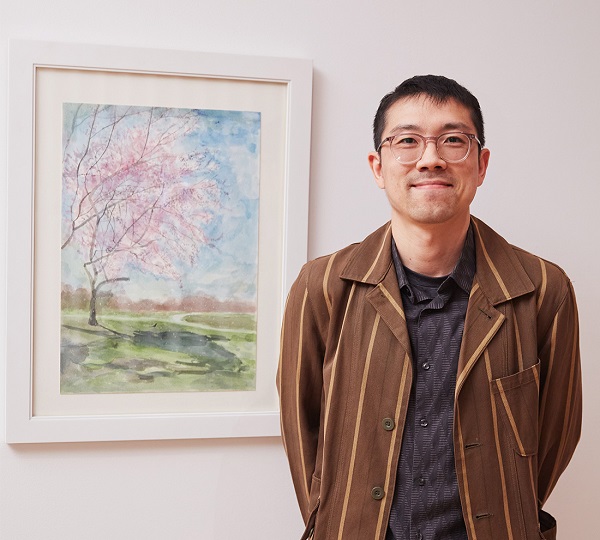 Headshot courtesy of Julian Walter.
Adjunct fine arts professor Chemin Hsiao is always finding ways to give advice to not only his students, but the immigrant artist community in New York City:
"Be patient while you search for the answers of why you do what you do. Live and experience your life fully at your own pace—it's okay if you have to leave art practice for a while and do other necessary things; they are all parts of your work. Run your own race."
Professor Hsiao grew up in Taiwan—a beautiful island in the Pacific Ocean. He originally came to the United States to study art in 2008 and stayed to work after graduation—and the rest is history!
"I stayed because all my visual arts education was received in New York City," noted Professor Hsaio. "Here, I can find endless resources to participate in or solve any questions art practice-wise. For instance, having teacher/curator/art administrator/artist friends' support and being able to ask them questions if required. This allows me to continue to grow as an artist in this environment."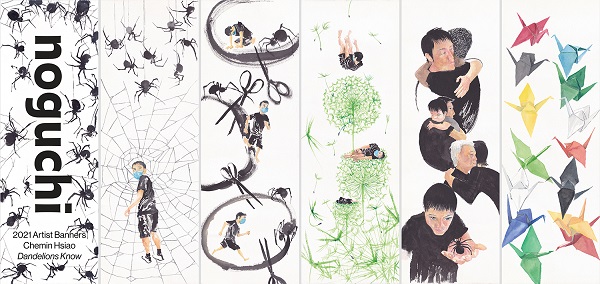 "Dandelions Know," Professor Hsiao's winning entry of the Noguchi Museum's Artist Banners Open Call.
He originally studied English literature at the Soochow University in Taipei, Taiwan. But always yearning for more avenues to explore his interest in the arts, Professor Hsiao received a BFA in animation and a MFA in illustration as visual essay at the School of Visual Arts right here in NYC.
We're sure you're wondering: exactly how did Professor Hsiao find his passion for art?
"I was interested in drawing and painting while growing up, and my parents were very supportive in providing arts education opportunities. As a child in the 90s in Taiwan, I grew up with Japanese manga and Disney animation from the United States. It was very natural for me to want to learn more about visual arts from those entrances. Once I was able to receive proper visual arts education in NYC, I made sure to grow my artistic practice professionally."
And part of growing his professional practice was joining the Immigrant Artist Program (IAP) as a mentee at the New York Foundation for the Arts (NYFA) in 2016. The IAP pairs immigrant artists from all disciplines with artist mentors who provide their mentees with one-on-one support. According to the NYFA, this is the only known program of its kind in the United States. It has provided over 450 immigrants from 76 countries and regions with mentorship, community, and exposure for their work since its founding in 2007.
Professor Hsiao was invited back to the IAP as a mentor in both 2022 and 2023—with the opportunity to share what he's learned with a new generation of immigrant artists.
A selection of watercolor paintings (top, from left: "Goldfish Pond," "Geraniums," and "Snow Shadow") and woodblock prints (bottom, from left: "Field," "Goldfish Pond Summer," and "Tigerlily") Professor Hsiao had on display at the Queens Botanical Garden.
"As a mentor for the IAP, I'm paired with an individual immigrant artist for a period of about three months each year to provide feedback and support to his/her artistic practice," Professor Hsiao explained.
In 2022, the IAP Resource Center was created from the NFYA IAP staff to serve as a hub where immigrant artists can access resources, exchange ideas, collaborate, and amplify their voices in the American cultural landscape. The Resource Center offers free consultations with IAP staff on healthcare options, visa applications, creating and locating opportunities, and networking events.
"Through my existing relationship with the organization, I was invited to serve as one of the four one-on-one NYFA Immigrant Artist Consultants in 2023," shared Professor Hsiao. "In this role, I provide 40-minute consultations to answer any question an immigrant artist might have—anything from how to write an artist statement or project proposal, or how to locate local and international artist opportunities, such as residencies, open calls, and grants."
And even beyond his work with the NYFA, Professor Hsiao continues to find it important to give back to the immigrant artist community in NYC.
"Looking back to 2016 when I first joined the IAP as a mentee, I appreciated the time and conversations I had with my mentor and remembered the relief I felt knowing that somebody had the same struggle or situation to deal with as an immigrant artist. Thus, as long as I might be of help, I will try my best to support the immigrant artist community here in the United States."
Part of his mentorship of young, aspiring artists also colors over into his work as an adjunct fine arts professor here at the Mount.
As a visual artist whose main medium is watercolor on paper—but who also dabbles in ink, acrylic, Japanese woodblock printmaking (mokuhanga), and egg tempera—Professor Hsiao was trying to locate teaching opportunities at the college level, specifically for watercolor painting, which he admits is comparatively rare to find for general studio art courses. Luckily, he saw that the Mount was looking for a professor of this type while was conducting his research, and that's how Professor Hsiao found his way to Riverdale.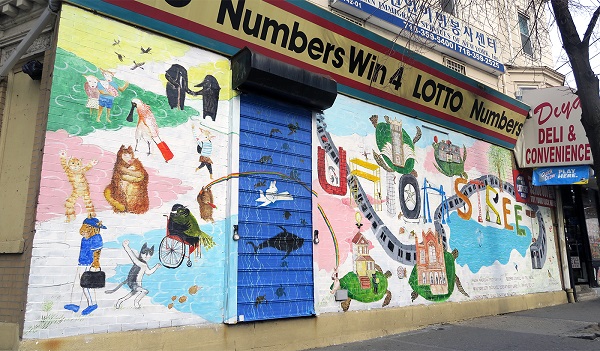 Professor Hsiao created a mural in Flushing, Queens titled: "Union Street: Where Home Is." 
"After I graduated with my MFA, naturally I was looking for jobs related to my studio practice," said Professor Hsiao. "Teaching seemed to be one of the best places to begin with, so I started teaching visual arts for various organizations and for different age groups."
He worked with children, teenagers and adults at the Abrons Arts Center and the Queens Botanical Garden; with children at ProjectArt through the Queens Public Library; and with older adults at senior centers in Queens and Brooklyn through the SU-CASA program.
Those experiences built up and led to other teaching opportunities for Professor Hsiao at the Met, the Noguchi Museum, the Queens Museum, the New York Botanical Garden, and other colleges in recent years.
And don't think Professor Hsiao pushed aside his own artwork! He's been diligently creating masterpiece after masterpiece—including a few he's particularly proud of:
"In 2021 I painted a set of six banner images, titled 'Dandelions Know,' and was the winner of the Noguchi Museum's Artist Banners Open Call to raise awareness around the anti-Asian violence surging during the height of the COVID-19 pandemic," Professor Hsiao explained. "I also did several public murals for the Queens community, including a jumbotron piece titled 'Sunflower's Wedding' for the Shops at Skyview Center and a mural titled 'Union Street: Where Home Is' in the Flushing area."
Interior and exterior shots of "Sunflower's Wedding."
More recently, during the start of the pandemic in 2020 through some time in 2022, Professor Hsiao worked on a body of paintings as a daily meditation process to center himself at each moment during a difficult time—which can be viewed on his website. These are the pieces he is most proud of, and they also helped serve as inspiration and led to the creation of the banners for the Noguchi Museum.
Additionally, Professor Hsiao has had several works on exhibit, including two solo exhibitions at the Queen Botanical Garden—which are among his favorites in his body of work. One was a watercolor painting collection titled "Sitting with the Garden," exhibited in 2017, and another was a collection of Japanese woodblock prints titled "Shapes of the Garden," exhibited in 2022.
After so many years of dedicated work, Professor Hsiao is fortunate to still find inspiration.
"I simply enjoy the process of drawing and painting as a visual communication form. I'm still learning each day and finding how to do it properly and artistically ever since my childhood. My path is organically built from this simple intuition, and it's something I share with those around me."
And the last bit of advice Professor Hsiao leaves for not only his students, but for all aspiring immigrant artists in the United States?
"Be patient with your creative practice, especially with the consideration of your living circumstances as an immigrant artist in the United States."
To learn more about Professor Hsiao and view his body of work, visit his website.
A sampling of images Professor Hsiao created during the pandemic. Top left: "Dream within a Dream." Top right: "Solitary Exercise." Bottom left: "Koi Nobori." Bottom right: "Barber Shop."
---
About the College of Mount Saint Vincent
Founded in 1847 by the Sisters of Charity, the College of Mount Saint Vincent offers nationally recognized liberal arts education and a select array of professional fields of study on a landmark campus overlooking the Hudson River. Committed to the education of the whole person, and enriched by the unparalleled cultural, educational and career opportunities of New York City, the College equips students with the knowledge, skills and experiences necessary for lives of achievement, professional accomplishment and leadership in the 21st century.