Internship Experience, Career Exploration
7/1/2019
Steven Hansen '20 has been keeping busy in and outside the classroom.
Studying toward a B.S. in Accounting, Steven knew he wanted to secure the right internship to gain valuable career experience. His hard work and determination paid off—for the past year (and continuing through the summer), he's secured a role as a credit analyst intern at Maspeth Federal Savings Bank in Queens.
Steven has found success in his new role as he's able to utilize what he's learned in his business classes at the Mount, specifically as he processes loan requests and referrals.
"It's a lot of fun," he said. "It doesn't feel like I'm going to work each day. I'm learning so much—I know my preparation at the Mount and this internship will help me in my future career."
In addition to his work at Maspeth, Steven is involved in several other activities at the Mount, including volunteering as a member of the College's Seton Service and Leadership Program and playing as an infielder on the baseball team.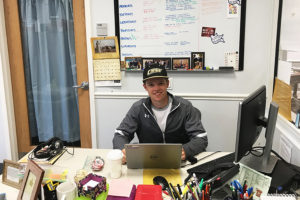 Plus, Steven is a participant in the Mount Mentors Program, which matches driven students with successful alumnae/i, friends, and trustees of the College, offering them the opportunity to receive career guidance and discover vital connections between their academic studies and the professional world.
Steven has flourished in the program and credits his mentor, John Caruso '82, for keeping him motivated to pursue his passion for accounting.
"John and I meet a few times a semester," he said. "He's a role model for me and shows me how important it is to network. You never know who might be your future boss!"
Following his graduation from the Mount, Steven plans to expand his education by pursuing a master's degree and becoming a licensed CPA.
Learn more about the exceptional achievements of our students, alumnae/i, and faculty.
About the College of Mount Saint Vincent
Founded in 1847 by the Sisters of Charity, the College of Mount Saint Vincent offers nationally recognized liberal arts education and a select array of professional fields of study on a landmark campus overlooking the Hudson River. Committed to the education of the whole person, and enriched by the unparalleled cultural, educational, and career opportunities of New York City, the College equips students with the knowledge, skills, and experiences necessary for lives of achievement, professional accomplishment and leadership in the 21st century.