Jennifer's Journey to the Middle of the World
3/11/2020
Follow along with Jennifer as she travels across Ecuador!
March 16 | Exploring Manchu Picchu and the Galapagos Islands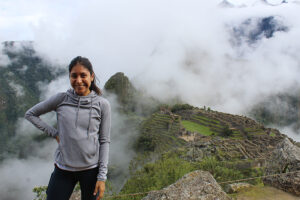 When exploring Machu Picchu, it was a very surreal experience. My eyes honestly could have not believed that one the world's greatest wonders was vividly beautiful in its entirety. The mountains were endless and the aesthetic views were breathtaking. I learned so much about the Incan empire on the Andes Mountains and their sophisticated engineering system that still exists after several centuries.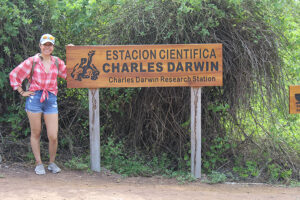 What I liked most about the Galápagos Islands was the number of seal lions, tortoises, iguanas, geckos, and pelicans that were at every corner of the island. I was amazed by the views of the blue skies and clear oceans, compared to the oceans back home in New York (which I don't miss at all due to the polluted waters). What struck me the most was how conservative the island was about preserving species, water, and life on land. Though there is much more progress to be made to live a sustainable lifestyle in the Galápagos Islands, great efforts are being made.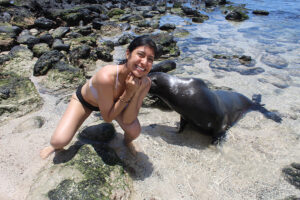 After two weeks of traveling, I was most excited to get back into the routine of school work and physical activities such as CrossFit and hiking. After hiking the Vinicunca Rainbow Mountain of 5,200 meters, I have physically prepared myself for more hikes in the mountains of Ecuador. One thing I am proud to have progressed in is how I am able to have full Spanish conversations and become more physically in shape than I have ever been before.
View more photos from Jennifer's trip to the Galapagos Islands, Machu Picchu, and the Amazon
February 13 | A trip to the Amazon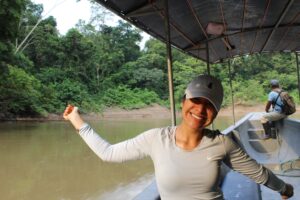 The past few weeks I have been immersing myself with the culture in Ecuador. I have been trying new foods and several exotic fruits, such as maracuya, granadilla, guava, and naranjilla.
My classes in Spanish are going great and I'm learning 120 new words every month! I have made amazing friends, who I have journeyed with to the Equator and Amazon.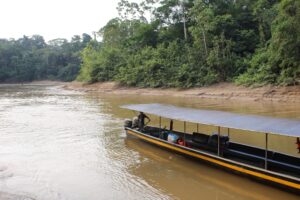 Recently, I went to the Tiputini Biodiversity Research Station in the Amazon for a weekend trip and was surrounded by over 2,000 species. I was fortunate enough to have met researchers who spend 8 to 10 hours everyday doing observational studies and writing research papers of their current findings. Aside from the educational aspect, I took several hikes to lakes, rivers, and endless routes of trees. I found many insects, plants, and animals. The most amazing part was being able to connect and reflect with mother nature and what it has to offer. I never thought in my life I would be traveling to the Amazon, a part of the world that is unfortunately being destroyed by massive human consumption and production. I am very blessed to be in Ecuador, a country that is not highly represented. The country has so much to offer in terms of food, culture, nature, and travel.
Stay turned for my trips in Ecuador, Peru, and the Galapagos Islands (where Charles Darwin discovered evolution!)
View more photos from Jennifer's trip to the Amazon
—
January 8 | Jennifer arrives in Ecuador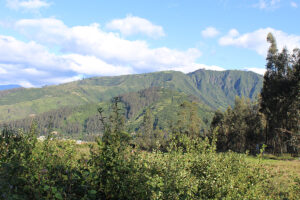 I have been getting to know my host family, familiarizing myself with the neighborhood and university, as well as taking many hiking trips up the mountain. I have also been continuing my cooking adventure by eating, planting, and learning about Ecuadorian food. I just started my first week of classes and can't wait to improve my Spanish, do research, continue serving communities, and travel the country and South America.
—
January 22 | From Riverdale to Quito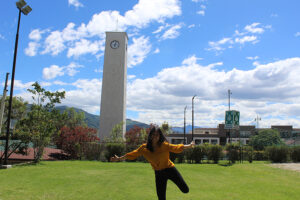 Jennifer Puac '21–an honors student majoring in psychology and Spanish (and one of Mount Saint Vincent's most recent Gilman Scholars!)–has departed for a semester abroad in Quito, Ecuador.
"In Ecuador, I plan on taking a semester of classes in Spanish, while continuing my journey in service outreach. I anticipate to learn more about the culture, while also traveling to nearby locations, such as the Galapagos Islands, the Amazon, and Macchu Pichu in Peru."
Along the way, Associate Professor of Spanish Mariela Wong guided Jennifer through the competitive scholarship application process.
"I told her that I always wanted to travel abroad, no matter where, in order to pursue my academic and personal goals," Jennifer said.  "I never had the chance to travel, which can be expensive. The scholarship granted me a full ride while paying for other expenses."
Stay tuned for updates on Jennifer's journey abroad, as we will be updating this story with her latest adventures.