Katherine Perez '19 Presents at Her Legacy Conference and Gala
2/2/2018
Riverdale, N.Y. – Last month, Katherine Perez '19 and Angela Abreu '19 attended the second annual Her Legacy Conference and Gala at Columbia University. The event was organized by WEBelieve and welcomed over 400 guests, including Tarana Burke. Ms. Burke, a civil rights activist and founder of the #MeToo movement, was recently recognized as one of "The Silence Breaker's"—Time magazine's 2017 Person of the Year.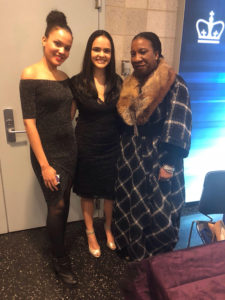 WEBelieve, which stands for "Women Everywhere Believe," has a mission to equip women of all ages with the tools they need to positively change their lives and the lives of those around them. The organization aims to eliminate issues affecting women of color, including educational inefficiency, economic inequality, and lack of opportunities and resources.
Ms. Perez, the president of Mount Saint Vincent's WEBelieve chapter, was one of four chapter presidents invited to introduce a gala speaker. She had the pleasure of introducing Valencia D. Clay, co-founder of The Flourishing Blossoms Society for Girls, a nonprofit organization that works with women leaders across the world to provide support to young women who want to participate in building their communities. Ms. Clay is also completing her 10th year as an eighth grade English teacher and critical theory professor in Baltimore, Maryland.
"I grew up in the public school system and teachers have played an immense role in my development—not just as a student, but as a critical thinker," Ms. Perez stated in her introductory speech. "In high school, I had one teacher who saw my potential and pushed me to be better and do better. If it were not for this teacher giving me the wake-up call that I needed, I would have remained a mediocre student. That's why I'm so grateful to be able to play a similar role in the lives of the young women I am able to mentor through WEBelieve."
Ms. Perez had the opportunity to speak at the gala in part because she attended WEDay at Madison Square Garden in October 2017—an event with the purpose of empowering a generation of change-makers. The WEBelieve co-founders sent an email to chapter presidents offering a ticket to the first to reply. Through her swift response, Ms. Perez garnered the opportunity to attend WEDay, which welcomed guests including Whoopi Goldberg, Prime Minister of Canada Justin Trudeau, Olympic gymnast Laurie Hernandez, and actress Skai Jackson, as well as the WEBelieve co-founders, Chelsea Miller and Akua Obeng-Akrofi.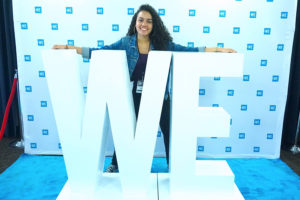 In September 2017, Ms. Perez was accepted into WEBelieve, which has allowed her to open a chapter at the College. Members of the organization have access to scholarship, internship, and mentorship opportunities, as well as digital seminars and leadership coaching. WEBelieve currently has 13 chapters at higher education institutions including Mount Saint Vincent, Columbia University, Harvard University, Stanford University, and the University of Pittsburgh. The organization is planning to expand to 30 chapters by next year.
Additionally, WEBelieve members have the opportunity to engage with middle school students from under-resourced communities through the Dare to Dream Program, which provides supplemental educational outreach for young women on topics such as self-esteem, social challenges, financial literacy, and civic engagement, among others.
"WEBelieve has allowed me to mentor young girls who were like me—shy, unconfident, unaware of the power and purpose that is within them," said Ms. Perez. "The power to better their future with a positive impact is enough to change the world."
About the College of Mount Saint Vincent
Founded in 1847 by the Sisters of Charity, the College of Mount Saint Vincent offers nationally recognized liberal arts education and a select array of professional fields of study on a landmark campus overlooking the Hudson River. Committed to the education of the whole person, and enriched by the unparalleled cultural, educational, and career opportunities of New York City, the College equips students with the knowledge, skills, and experiences necessary for lives of professional accomplishment, service, and leadership in the 21st century.