Mount Named #1 for Social Mobility
9/18/2023
CMSV Tops U.S. News & World Report's Rankings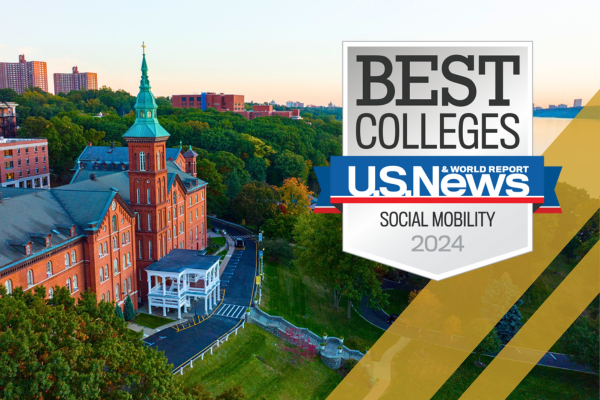 Put. It. In. The. Books. 👏
The College of Mount Saint Vincent has been named #1 in Top Performers for Social Mobility among regional colleges in the north, according to a recent list published by U.S. News & World Report.
You read that right: #1!
For the fifth consecutive year, the Mount has been selected as one of the top colleges in the nation for social mobility. In fact, Mount Saint Vincent has been highly ranked every year since U.S. News began a separate ranking for social mobility—and this year, we topped the charts.
But the good news doesn't stop there. The Mount was also ranked #9 overall among Regional Colleges North—another impressive feat in the 2024 Best Colleges Rankings and two positions higher than we were ranked last year.
"Being recognized as #1 for social mobility in our region speaks to the ways in which the College of Mount Saint Vincent transforms the lives of our learners. For nearly two centuries, we have been serving well those who are not served by others with access to an academically excellent education that has proven successful. This ranking not only demonstrates how the Mount successfully competes with public and private institutions of higher education in New York, but how we stand out in the region. Committed to providing support to all of our learners, but especially those who are Pell-receiving, the Mount is skilled at supporting our students from matriculation to graduation and beyond."
— Dr. Susan R. Burns, President
Our exciting announcement from U.S. News also comes on the tailwinds of another piece of national recognition: just a week ago, Mount Saint Vincent was named to The New York Times' list of the Top U.S. Colleges With the Greatest Economic Diversity.
It's an unfortunate reality that the landscape of higher education has been undergoing a profound transformation in recent years, presenting challenges for colleges and universities across the map. News headlines have consistently flashed highlights of dwindling enrollments, program cuts, and even institutional closures. Declining birth rates have led to a smaller pool of traditional college-age students—a looming demographic cliff expected to peak in 2025.
However, the rise of alternative education models, including online learning and hybrid programs, has diversified the options available to prospective students. The Mount has always been a pioneer in this field, actively researching and implementing new strategies to appeal to both traditional and non-traditional learners. We continue to thrive with a growing enrollment—we just welcomed our largest class for the third year in a row—and shatter records across the country as more than just the little liberal arts college that could.
We've said it before, and we'll say it again: we're the Right Place on the River for a reason.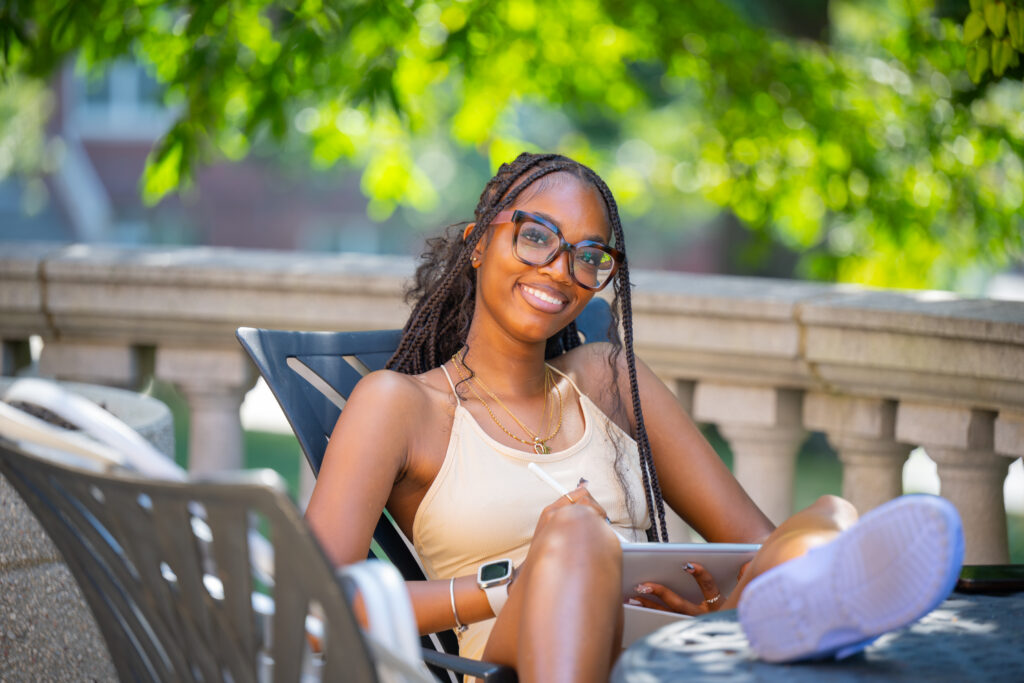 Social mobility is an essential factor in determining how well a college prepares its students to not just find a job, but launch a career—which is precisely what we do here at Mount Saint Vincent. Unfortunately, students who come from lower socio-economic backgrounds are, statistically, less likely to finish college. The Mount enrolls one of the highest percentages of undergraduate students in the country receiving Federal Pell Grants—over 50%—which has consistently made us one of the best engines for social mobility in the nation.
When compiling the Top Performers for Social Mobility, U.S. News aggregated two ranking factors assessing the graduation rates of Pell Grant-awarded students—Pell graduation rates (the six-year graduation rates of students awarded Pell Grants) and Pell graduation performance (comparing each school's six-year graduation rate among Pell Grant recipients with its six-year graduation rate among non-Pell Grant recipients).
The fact that the Mount was ranked first in this category is a remarkable recognition that highlights the College's commitment to providing a transformative education that is both affordable and attainable to all students—regardless of family means. However, our recognition also acknowledges the Mount's efforts to retain and graduate a diverse body of students, ready to take on all the world has to offer as ethically and morally responsible citizens.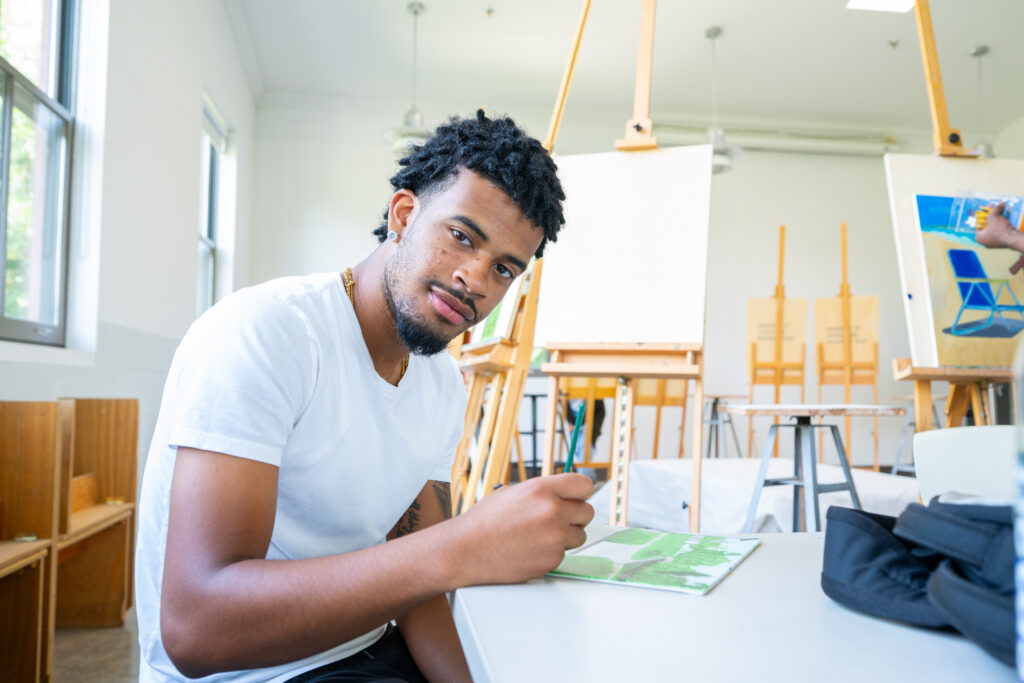 Part of the Mount's rising success story is due in part to the dedicated efforts of the faculty and administration across the College—especially our dedicated student advisors. Advisors in the Oxley Integrated Advising Program offer comprehensive academic and career advising to all undergraduate students. Each student is also paired with a faculty advisor. Working in tandem, Oxley advisors and faculty advisors work collaboratively to guide students throughout their years of study and strategize to put them on the path to graduation and beyond. Getting to know both of their advisors personally, students learn how to translate what they learn in the classroom into the real world.
"The holistic network of advising we provide at the Mount demonstrates to our students that we are all partners in learning committed to their success. Dedicated career guidance, an endless amount of internship opportunities in the greater New York City area, and leadership and motivation activities help students realize what matters most: turning their passion into a profession. Our students are driven and eager—and they do not let their financial means stop them from learning. This all proves that our ranking for social mobility is both earned and well deserved."
— Dr. Lynne Bongiovanni, Provost and Dean of the College
The Mount has a nearly two centuries-long history of meeting learners when, where, and how they need us—as Dr. Burns so aptly puts it. Following in the footsteps of the Sisters of Charity of New York, who founded Mount Saint Vincent over 175 years ago, we are dedicated to providing equal access and opportunity for all—while remaining committed to the Vincentian/Setonian tradition, the liberal arts, and the development of the whole person.
We're beyond humbled and proud to be ranked number one for social mobility, and not just because distinguished honors look great, but because it means much more than that; our commitment to student success is tangible and something every single Mount graduate can attest to.
Our ranking affirms just that.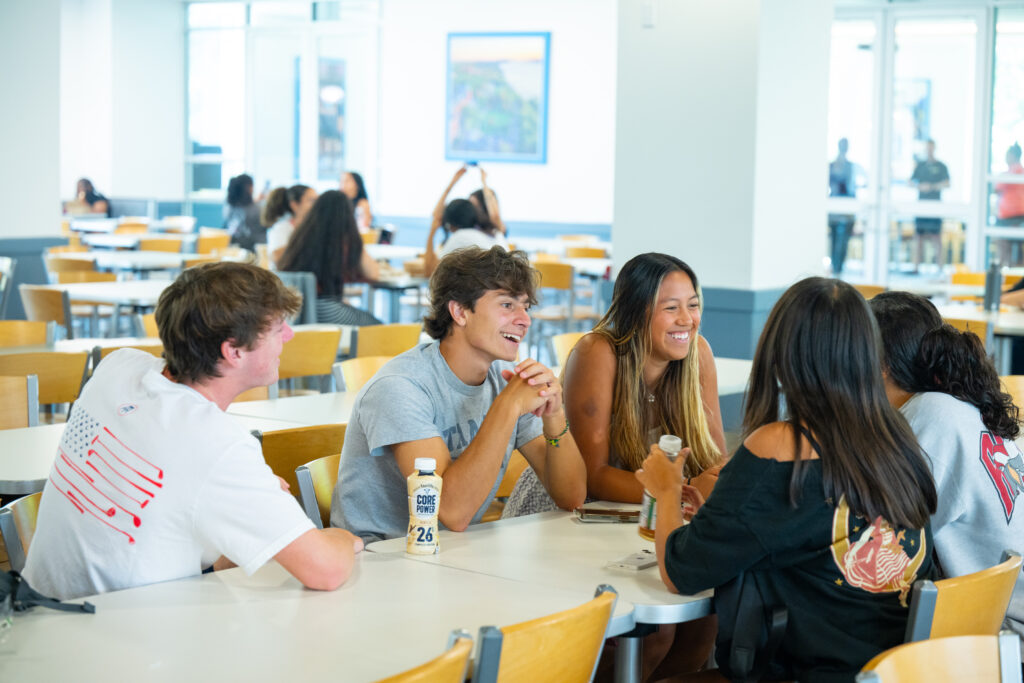 In an ever-fluctuating world of higher education where people are even beginning to question the value of a bachelor's degree, it is evident that the future of Mount Saint Vincent remains strong. Our growing prominence and reputation among colleges and universities not just in our area, but across the country indicates our flourishing success.
Of course, we need to thank our community for their unwavering support of the Mount and its mission. Our students, employees, alums, trustees, and friends are what make the College the special place it has been and continues to be—catalyzing generation after generation of promising futures.
Number one in our hearts, and number one on the charts. What more could we ask for?
---
About U.S. News & World Report's Top Performers on Social Mobility
Economically disadvantaged students are less likely than others to finish college, even when controlling for other characteristics. But some colleges are more successful than others at advancing social mobility by enrolling and graduating large proportions of disadvantaged students awarded with Pell Grants. The vast majority of these federal grants are awarded to students whose adjusted gross family incomes are under $50,000. For the fifth consecutive year, U.S. News published a distinct social mobility ranking for all ranked schools, which was calculated by aggregating the two ranking factors assessing graduation rates of Pell-awarded students—Pell graduation rates (six-year graduation rates of Pell grant students) and Pell graduation performance (compares each school's six-year graduation rate among Pell recipients with its six-year graduation rate among non-Pell recipients).
About the College of Mount Saint Vincent
Founded in 1847 by the Sisters of Charity, the College of Mount Saint Vincent offers nationally recognized liberal arts education and a select array of professional fields of study on a landmark campus overlooking the Hudson River. Committed to the education of the whole person, and enriched by the unparalleled cultural, educational, and career opportunities of New York City, the College equips students with the knowledge, skills, and experiences necessary for lives of professional accomplishment, service, and leadership in the 21st century.