Sound the Horns! Bang the Drums!
5/31/2023
CMSV Conservatory and Bronx Arts Ensemble to Host Open House and Community Day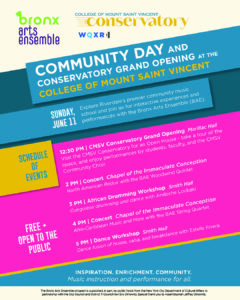 The College of Mount Saint Vincent is excited to announce that—in partnership with the Bronx Arts Ensemble (BAE)—an Open House and Community Day will take place on the Mount's Riverdale campus on Sunday, June 11.
This accented afternoon will consist of performances by the two BAE ensembles and two workshops presented by BAE teaching artists. And, as part of the grand opening of the CMSV Conservatory, students, parents, families, and music aficionados of all ages are welcome to attend an Open House to learn more about how they can make music at the Mount. Everyone is encouraged to enjoy performances by CMSV Conservatory students and faculty members, as well as the CMSV Community Choir.
"It's thrilling to be able to make the Conservatory's presence truly publicly known, and to welcome all to our campus for a small taste of what music at the Mount can be," said Keith Kreindler, Director of the CMSV Conservatory. "The plan has always been to be so much more than just music for the CMSV students—we are here for the whole community. Community Day and the wonderful relationship we're developing with the BAE, an organization which has been bringing arts programs of the highest quality to communities in the Bronx for over 50 years, is just the beginning."
The schedule of events is as follows:
12:30 PM | Conservatory Grand Opening
Attend an Open House and performances by students, faculty, and the CMSV Community Choir.
Location: CMSV Conservatory, Marillac Hall
2 PM | BAE Woodwind Quintet Concert: North American Redux
Enjoy works by historic and living North American composers. Music will range from Scott Joplin's opera Treemonisha to works by living Canadian and Mexican composers.
Location: Chapel of the Immaculate Conception, Founders Hall
3 PM | African Drumming Workshop
Learn more about Congolese drumming and dance with Andoche Loubakia.
Location: Smith Hall, Founders Hall
4 PM | BAE String Quartet Concert: Afro-Caribbean Music and More
From Jamaican and Haitian folk songs to Florence Price's monumental Five Folksongs in Counterpoint, the Bronx Arts Ensemble String Quartet will celebrate the works of Black composers and musicians in the Americas and more.
Location: Chapel of the Immaculate Conception, Founders Hall
5 PM | Dance Workshop
Learn more about a dance fusion of house, salsa, and breakdance with Estelle Rivera.
Location: Smith Hall, Founders Hall
The CMSV Conservatory is a new community music school that provides private music instruction and performance opportunities to community members of all ages, experience levels, and learning styles. It promises to spread inspiration, enrichment, and community while supporting the crescendo-ing arts culture in Riverdale and beyond.
The BAE contributes to the arts and culture of the Bronx communities, uplifting them worldwide, through performances and innovative arts education, both in-person and online. BAE programs are supported, in part, by public funds from the New York City Department of Cultural Affairs in partnership with the City Council and District 11 Councilman Eric Dinowitz. A special thank you is also offered to Assemblyman Jeffrey Dinowitz.
For more information about the events, please contact Keith Kreindler, Director of the CMSV Conservatory, at keith.kreinder@mountsaintvincent.edu or 718.405.3446. A map of the Mount's campus and directions can be accessed here.
We hope you'll join us for what promises to be a melodious medley of musical minuets, marches, and movements!
---
About the College of Mount Saint Vincent
Founded in 1847 by the Sisters of Charity, the College of Mount Saint Vincent offers nationally recognized liberal arts education and a select array of professional fields of study on a landmark campus overlooking the Hudson River. Committed to the education of the whole person, and enriched by the unparalleled cultural, educational and career opportunities of New York City, the College equips students with the knowledge, skills and experiences necessary for lives of achievement, professional accomplishment and leadership in the 21st century.