STEAM Revolution @ CMSV
5/17/2019
Curious-on-Hudson Brings Experiential Learning Camp to Riverdale
Things are getting curious at the College!
Mount Saint Vincent is excited to welcome a new camp to campus this summer:
Curious-on-Hudson's STEAM Revolution.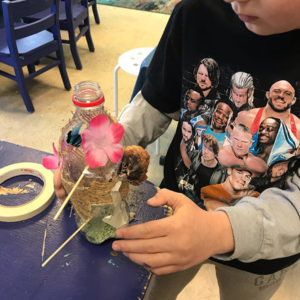 From June 27 through August 16, the STEAM Revolution Camp will include a variety of daily activities for school-age children and will cycle on a weekly basis to include a new list of activities—featuring coding and game design, first-hand experience with physics, chemistry, and natural sciences in the Mount's science laboratories, as well as a MAKER space where participants will learn how to do woodworking, DIY projects, and creative art projects.
And this isn't Curious-on-Hudson's first camp. The group has provided STEAM enrichment programs to schools and communities in the NYC region for over five years and has operated summer camps and classes annually since 2013.
"Our expansion is based on the desire to have a more open and flexible space to do our work and we fell in love with the College of Mount Saint Vincent campus," said Adele Falco, founder and CEO of Curious-on-Hudson. "Riverdale is the ideal nexus of urban life. We also see the campus as a classroom and ideal learning environment. We will incorporate the Hudson River estuary into our natural science curriculum and we will use the space to design a camp that integrates the environment into everyday projects and activities."
The Riverdale camp will also feature a weekly mentor. This individual will work directly with students, sharing their passion and knowledge for STEM, arts, design, and other topics, equipping the children with life-long skills and support as they grow in a collaborative, supportive, and educational environment.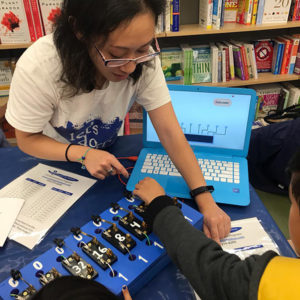 The schedule includes an individual design challenge, a wacky ideas lab, technology exploration (including computer and non-computer-based activities), group design work, and more. Students will be able to attend the camp for multiple weeks and can always expect new experiences because the camp's framework repeats, but the activities within the framework change weekly.
The STEAM Revolution Camp is just one example of Curious-on-Hudson's innovative learning opportunities for students in K-5 and middle school. They create and deliver STEAM enrichment programs focusing on science, technology, engineering and creative and applied arts.
"We see the benefits of hands-on experiences every working day," Ms. Falco said. "You only need see the joy in young people's faces when they create something, the pride they take as they walk out the door with a handmade project is evident to us and to their families. But research has also shown that we learn better in this multi-sensory way, by applying all of our capacities in an integrated way. We like to think of it as building the roots for learning—now and into the future. We endeavor to build and support curiosity with the thought that a curious mind is one that can flourish. That is essentially our work."
Similar to the Mount, Curious-on-Hudson strives to make education affordable for all, offering a number of scholarships to students who are interested in attending the camp but whose families may not be able to afford the experience.
"I think this partnership with the College is a real gift to us and will allow more students to have the kind of summer experience that can really change the way they see themselves and what's available to them in the world around them," Ms. Falco said. "Our vision is coming into focus more clearly at the Mount than ever before. To that end, we are offering scholarships and aid to students who would like to attend but whose families may not have the funds available to send them."
Learn more and register for the STEAM Revolution Camp
About the College of Mount Saint Vincent
Founded in 1847 by the Sisters of Charity, the College of Mount Saint Vincent offers nationally recognized liberal arts education and a select array of professional fields of study on a landmark campus overlooking the Hudson River. Committed to the education of the whole person, and enriched by the unparalleled cultural, educational, and career opportunities of New York City, the College equips students with the knowledge, skills, and experiences necessary for lives of achievement, professional accomplishment and leadership in the 21st century.