Students Advance U.N. SDGs
8/21/2019
Nine Mount Scholars Selected for Prestigious Millennium Fellowship
In 2018, the United Nations Academic Impact and Millennium Campus Network (MCN) launched the Millennium Fellowship, a semester-long leadership development program that convenes, challenges, and celebrates student leadership for U.N. goals.
The program is exceptionally competitive, attracting applicants from the most prestigious colleges and universities across the world. This year was no different.
Over 7,000 students applied from 1,209 campuses across 135 nations, submitting proposals meant to advance the Sustainable Development Goals (SDGs) in their communities and beyond. As the applications were accepted, the results were significant. Only 69 campuses worldwide were selected—just six percent.
We're proud to announce that of that percentage, nine exceptional Mount students were chosen to represent the Class of 2019 Millennium Fellows.
"Your projects are an important model for higher education worldwide," said President Charles L. Flynn, Jr., as he personally congratulated each member of the group. "You have earned this recognition, and the College is totally delighted to celebrate your accomplishment."
The College of Mount Saint Vincent is in good company. Harvard University, the University of Pennsylvania, Cornell University, and Georgetown University are just as proud.
Mount participants—made up of students involved in the College's Mott Street Scholarship Program, Higher Education Opportunity Program (HEOP), Honors Program, and Texas IDEA Network—include Amber Campbell '22, Cristal Almonte '22, Elaine Pollock '22, Emily Perez-Garcia '22, Geselle Sanchez '22, and Jahnay Roberts '21, as well as Jennifer Puac '21 and Wantoe Wantoe '22, who will serve as campus directors for the fellowship initiative.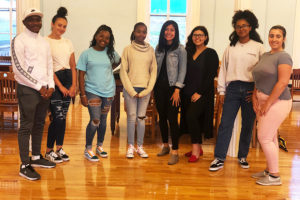 "Students at the College of Mount Saint Vincent are regularly involved in outreach programs to help communities tackle issues of poverty, education, and the environment," said Jennifer Puac, a junior psychology major in the Honors Program and Co-Director of the Mount's Millennium Fellows. "I anticipate the success of all projects from the Fellows who are targeting communities at home and abroad. With such a strong commitment to leadership and service, I have no doubt that this program will go far in achieving its goals. We are aiming to tackle the most pressing issues of our time—and we are ready to get started."
The 2019 Millennium Fellowship proposals are bold, innovative, and inclusive—and they're set to positively impact the lives of over 978,400 people globally this year alone.
The College's submissions offer solutions: from launching after-school programs that decrease violence among children in communities, to educating individuals in crisis shelters and transitional living houses in New York City, to integrating the U.N.'s SDGs within the College curriculum, encouraging student participation in conference seminars and symposiums.
"These actions will ignite students' awareness about humanitarian issues, the U.N., and the SDGs, while empowering them to take action in addressing concerns on campus and throughout the community," said Millennium Fellows Co-Director Wantoe Wantoe, a sophomore sociology major in the Honors Program.
Together, Mount Saint Vincent's Millennium Fellows will progress, making the U.N.'s 17 Sustainable Development Goals and 10 United Nations Academic Impact Principles a reality.
"On every campus and in every community, student leaders are committed to making positive contributions while committed to our ethos: empathetic, humble, inclusive leadership," said Sam Vaghar, Executive Director and Co-Founder of MCN. "Emerging leaders need requisite training, connections, and recognition to deepen their social impact as undergraduates and throughout their careers. Partnering with the United Nations Academic Impact enables us to engage more students, providing a powerful framework to help them convene, take action, and elevate the important contributions they make. I congratulate the College of Mount Saint Vincent's Fellows for their bold commitment to strengthen community and help make U.N. goals reality."
About the College of Mount Saint Vincent
Founded in 1847 by the Sisters of Charity, the College of Mount Saint Vincent offers nationally recognized liberal arts education and a select array of professional fields of study on a landmark campus overlooking the Hudson River. Committed to the education of the whole person, and enriched by the unparalleled cultural, educational, and career opportunities of New York City, the College equips students with the knowledge, skills, and experiences necessary for lives of achievement, professional accomplishment and leadership in the 21st century.