To Present, Or Not To Present… Actually, There Is No Question!
2/13/2023
Mount Hosted Medieval and Early Modern Undergraduate Symposium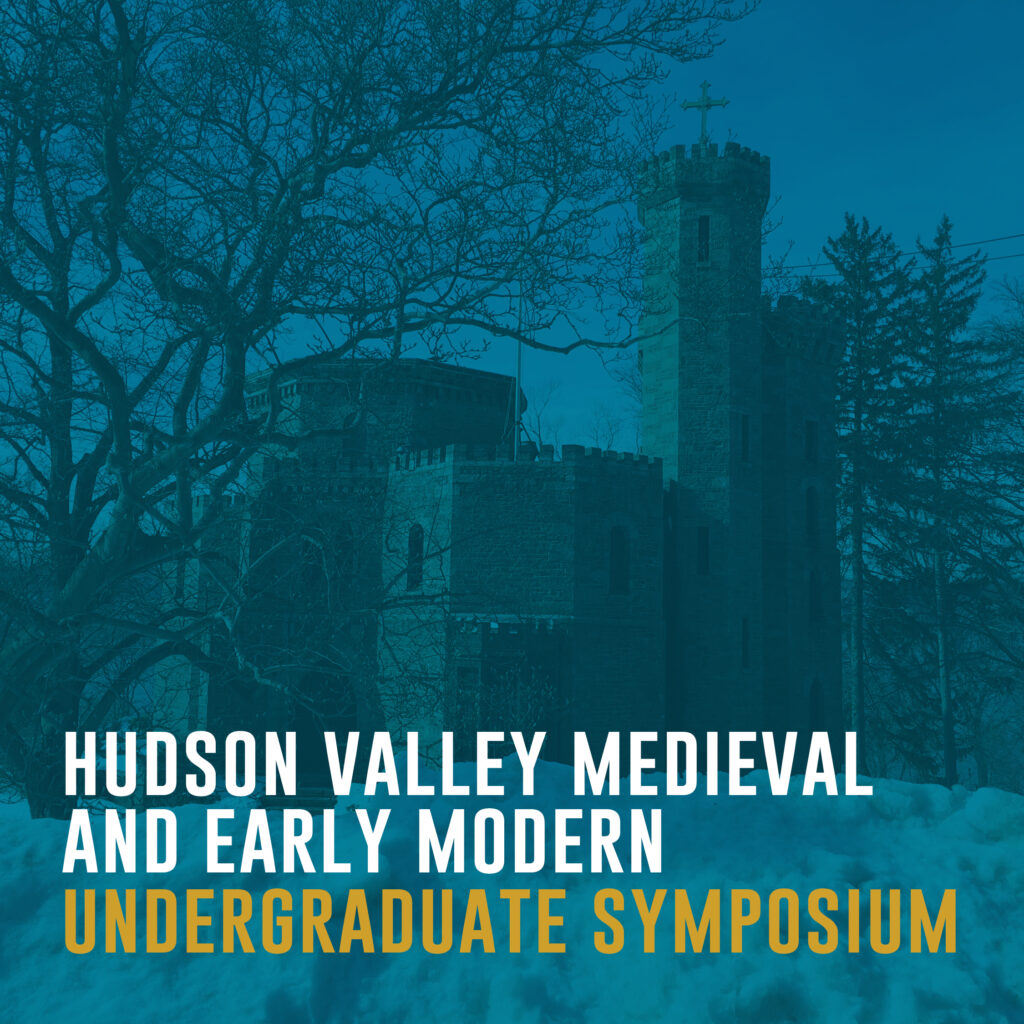 The College of Mount Saint Vincent is thrilled to announce that it was the host of the seventh annual Hudson Valley Medieval and Early Modern Undergraduate Symposium.
The Symposium, which took place on Saturday, February 11, welcomed student presenters and faculty members from area institutions to the Mount's historic campus on the banks of the Hudson River. As with many gatherings over the past three years, the pandemic forced the Symposium to be put on hold in 2021 and 2022. Attendees were happy to see the Symposium return this year, and were eager to share their knowledge and love of the medieval and early modern periods with this year's guests.
The day's program took place in Benedict's Hall (located on the first floor of Founders Hall) and began with a light breakfast at 9 AM. There were four sessions throughout the day—with a few breaks and lunch in between—and a keynote address. The Symposium was organized by a planning committee consisting of Stephanie Pietros, Associate Professor of English here at the Mount; Cathryn McCarthy, recently retired Associate Professor of English at the Mount; Christina Carlson, Associate Professor of English at Iona University; and Janine Larmon Peterson, Professor of History at Marist College.
With Fonthill Castle as their backdrop, over a dozen undergraduate student researchers from area colleges and institutions—including SUNY New Paltz, Mount Saint Mary College, Vassar College, Marist College, Iona University, and our very own College of Mount Saint Vincent—presented their research across four different panels, with topics ranging from the role of women in Beowulf and Sir Gawain and the Green Knight to representations of different ideologies in the time period's art and literature (and even a Gossip Girl-style retelling of Chaucer's Troilus and Criseyde).
"This symposium allows us to showcase the remarkable scholarship and talent of some of our local students—both here at the Mount and across the Hudson Valley," said Dr. Stephanie Pietros. "Students are able to combine their interests across the humanities—including English, history, philosophy, art history, and religion—to answer original questions and perform in-depth research on topics that arose some six (or, in some cases, more!) centuries ago."
Representing Mount Saint Vincent this year were Jacqueline Crupi '23 and Douglas Johnson '23. Jacqueline presented her paper, "Costly Consequences of Crooked Courtly Love," during the panel titled "Negotiating Gender, Race, and Societal Norms," and Douglas presented his paper, "Juliet's Love as an Undermining of Patriarchy," during the panel titled "Paradigm Shifts: Social and Cultural Transformations."
This year's keynote address featured speaker Dr. Scott Miller from the Department of Medieval Art at The Met Cloisters. Dr. Miller's presentation, titled "The Embriachi Studio and the Aesthetics of the Mediterranean World," concluded the day's program.
It was a day filled with informative scholarship and creative thinking, and the Mount is eager to continue to be a partner in this Symposium and welcome our neighbors from up the Hudson to campus.
---
About the College of Mount Saint Vincent
Founded in 1847 by the Sisters of Charity, the College of Mount Saint Vincent offers nationally recognized liberal arts education and a select array of professional fields of study on a landmark campus overlooking the Hudson River. Committed to the education of the whole person, and enriched by the unparalleled cultural, educational, and career opportunities of New York City, the College equips students with the knowledge, skills, and experiences necessary for lives of professional accomplishment, service, and leadership in the 21st century.