Verses in Two Voices
10/31/2023
Department of Modern Languages and Literatures and the CMSV Conservatory Hosted an Evening of Bilingual Poetry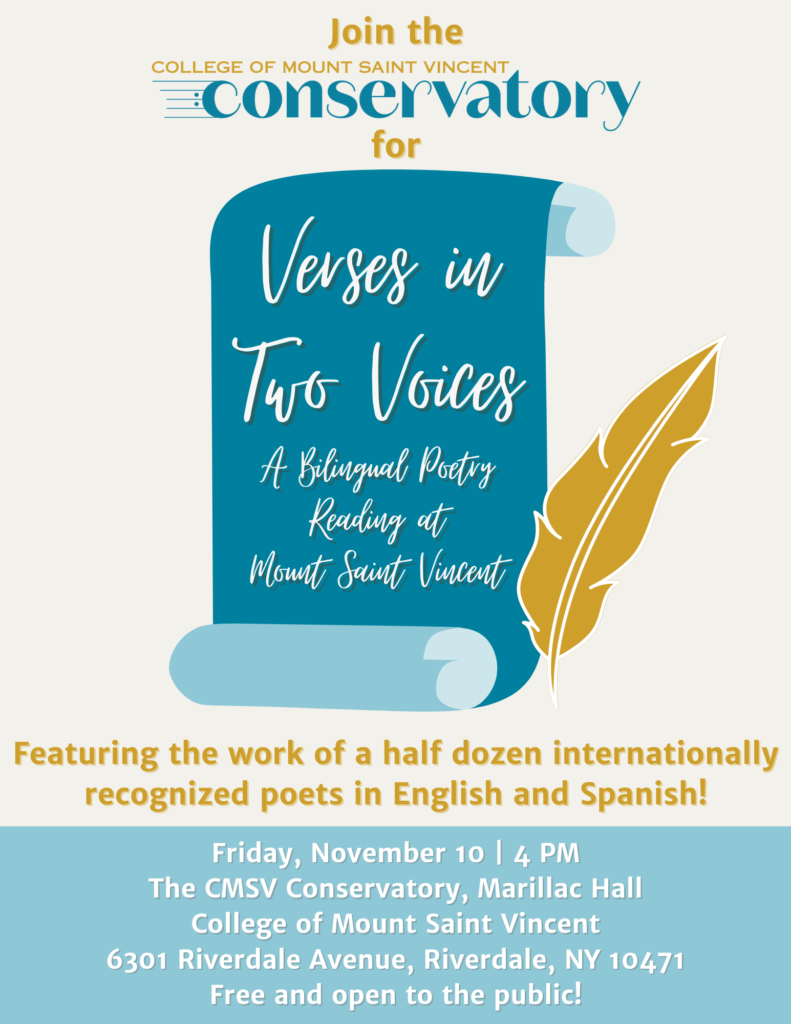 The College of Mount Saint Vincent Department of Modern Languages and Literatures and the CMSV Conservatory, in collaboration with Adjunct Professor of Modern Languages and Literatures Carlos Velásquez Torres, were delighted to present Verses in Two Voices: A Bilingual Poetry Reading at Mount Saint Vincent.
The first-ever event of its kind at the Mount was held on Friday, November 10 at 4 PM in the CMSV Conservatory space in Marillac Hall. The event featured readings and performances from a half dozen internationally recognized poets in both English and Spanish.
Professor Velásquez Torres worked diligently with Director for the CMSV Conservatory Keith Kreindler to bring the event to life. Apart from his Spanish teaching duties at the Mount, Professor Velásquez Torres is deeply entrenched in the international poetry circuit, coordinating festivals throughout the Americas and Europe, authoring books, and serving as the co-director of The Americas Poetry Festival of New York. And, fun fact, he's also a voice student at the Conservatory!
"We want to consolidate the CMSV Conservatory as a holistic space for the arts," said Professor Velásquez Torres. "So far, it has been a place for visual arts exhibitions and musical performances. I discussed with Keith the idea of integrating poetry into this space at Mount Saint Vincent, and the poetry reading came to life."
Below, find bios and more information on the event's featured poets.
---
Carlos Aguasaco | Colombia/United States
Carlos Aguasaco is one of the most influential voices of the new Hispanic poetry in the United States. He is Professor of Latin American cultural studies and Director of the Department of Interdisciplinary Studies at City College of the City University of New York. He has edited thirteen literary anthologies and authored several poetry collections, including "The New York City Subway Poems/Poemas del metro de Nueva York" (Ashland Poetry Press-Ashland University: Ohio, 2020), recipient of the 2021 Juan Felipe Herrera Award for the best bilingual book of poetry granted by ILBA. The Academy of American Poets awarded him the 2021 Ambroggio Prize, the only national award for an author whose first language is Spanish for his book "Cardinal in My Window with a Mask on Its Beak," translated by Jennifer Rathbun (Arizona University Press, 2022). Aguasaco is the founder and Editor in Chief of Artepoética Press in NYC. He also coordinates the Americas Poetry Festival and the Americas Film Festival of New York. Since 2021, Aguasaco has been a columnist for Newsweek En Español.
Tomás Modesto Galán | Dominican Republic/United States
Tomás Modesto Galán was born in 1951 in Santo Domingo, the capital of the Dominican Republic, into a modest family. He received his education at the Autonomous University of Santo Domingo (UASD) and the Technological Institute of Santo Domingo (INTEC). He worked as a professor at UASD and the Dominican University O&M. After moving to the United States, he taught at Pace University and the City University of New York. Antonio Arroyo Silva has noted that Tomás' poetry is "eminently urban" and that he "masters many formal and expressive registers (free verse, prose poem, poetic prose, intertextuality, etc.), as well as the blending of cultured poetry and Dominican popular speech." In his verses and narratives, one can find political and social critiques related to the memory of Rafael Leónidas Trujillo's dictatorship, life in the neighborhoods of New York, and an interest in issues related to black identity, all with a touch of irony. Eduardo Moga has described his writing as a "constant interaction between the lyrical and the critical" and recalls the biographical episode of the disappearance of the author's brother, Ramón Galán, allegedly murdered by Trujillo's police. His work has been considered a "mandatory reference in Dominican poetry written in the United States" He is also the author of short stories and novels. Involved in the social and cultural development of the Dominican community in New York, especially in the Bronx, Tomás Modesto Galán served as the cultural coordinator of the Dominican Commissioner of Culture in the United States from 2004 to 2008. He is also the founder and president of the Association of Dominican Writers in the United States (ASEDEU). He co-directed the Emem-Ya magazine alongside Esteban Torres.
Jacqueline Loweree | Mexico
Jacqueline Loweree is an anthropologist and sociologist who works as an evaluator and strategist in the field of philanthropy in New York City. For more than a decade, she has been involved with multimillion-dollar investment portfolios for several NGOs, corporations, and institutions, such as: Habitat for Humanity International, National Alliance on Mental Illness, ViiV Healthcare, National Institutes of Health, and the Association of American Medical Colleges. When she is not wearing her social impact warrior hat, she dedicates her time to literature. She is the author of three books of poetry, "El tiempo de la mariposa" (2019), "Canciones de una urraca" (2022), and "El suicidio del escorpión" (2023). In her verses, she shares personal problems, such as bipolar disorder and suicide, or of a social nature, such as the femicides in Mexico. Her poetry explores the everyday life of her environment and conveys the emotional instability of what she calls a "captive mind."
Yrene Santos | Dominican Republic/United States
Yrene Santos is a writer and professor at the City University of New York and St. John's University. Her published books include "Septiembre casi termina" (Dominican Republic, 2016), "Por el asombro" (Ecuador, 2015), "Me sorprendió geométrica" (New York, 2013), "Después de la Lluvia" (Dominican Republic, 2009), "Por si alguien llega" (New York, 2009), "El incansable juego" (Dominican Republic, 2002), "Reencuentro" (New York, 1997), and "Desnudez del silencio" (Dominican Republic, 1988). She is co-author of the book "Desde la Diáspora: Cuentos y poemas de niños y niñas dominicanas" (New York, 2005). As a poet, two fairs have been dedicated to her: in 2016, the X Fair of Dominican Writers of the Dominican Cultural Commissioner in New York, and in 2013, the 10th International Book Fair of Dominican Women Writers, organized by the Dominican Women's Development Center (DWDC) in New York. She has participated in conferences, book fairs, and international poetry festivals. Her work was interpreted by the Pregones Theater, directed by Puerto Rican actress and director Miriam Colón in 2012. She is a co-organizer, along with Carlos Aguasaco, of The Americas Poetry Festival of New York. Her texts have been translated into English, French, and Italian.
Carlos Velásquez Torres | Colombia
Carlos Velásquez Torres, PhD is a poet, translator, musician, and scholar. He attended the National University of Colombia, where he studied music and literature. Later, he earned a master's degree in literature and cultural studies at the University of Washington in Seattle. Subsequently, in Tucson, he completed his doctorate with a specialization in Latin American literature, film, and literary theory at the University of Arizona. He has taught at Bowling Green State University and New Mexico Highlands University. He has published two poetry collections, "Versos del Insilio" and "Es de tontos el regreso" (winner of the International Poetry Prize from Revista Hybrido in New York). Carlos Velásquez Torres has been appointed as a full member of various art academies in Italy and Romania, where he has received awards for both his quality as a poet and his editorial work and cultural management. He serves as the co-director of The Americas Poetry Festival of New York, a significant multilingual festival held annually in the Big Apple. He is the general editor of the Rambla de Mar collection at Artepoetica Press. He currently works as a faculty member at The City College of New York, the College of Mount Saint Vincent, and the Instituto Cervantes.
Bill Wolak | USA
Bill Wolak is a poet, collage artist, and photographer who lives in New Jersey and has just published his eighteenth book of poetry, entitled "All the Wind's Unfinished Kisses" with Ekstasis Editions. He has been a featured poet at The Mihai Eminescu International Poetry Festival in Craiova, Romania; Europa in versi, Lake Como, Italy; The Pesaro International Poetry Festival, Pesaro, Italy; The Xichang-Qionghai Silk Road International Poetry Week, Xichang, China; The Ethnofest, Pristina, Kosovo; the Chengdu International Poetry Week, Chengdu, China; and the International Poetic Conference, Poznań, Poland. Recently, he was awarded the Grand Prize for Poetry at the 2022 International Poetry Festival Mihai Eminescu, Craiova, Romania.
---
About the College of Mount Saint Vincent
Founded in 1847 by the Sisters of Charity, the College of Mount Saint Vincent offers nationally recognized liberal arts education and a select array of professional fields of study on a landmark campus overlooking the Hudson River. Committed to the education of the whole person, and enriched by the unparalleled cultural, educational and career opportunities of New York City, the College equips students with the knowledge, skills and experiences necessary for lives of achievement, professional accomplishment and leadership in the 21st century.