You Can Have Manhattan
3/21/2019
RMTG's Mount Student Showcase Debuts This Weekend
The College of Mount Saint Vincent's in-residency performing arts company, Red Monkey Theater Group (RMTG), is at is again—but this time, Mount students are taking center stage in Cahill.
On Friday, March 22 and Sunday, March 23, RMTG presents You Can Have Manhattan, a two-night production showcasing the talents of Mount students. Performances include three short plays and a monologue, directed by RMTG Education Director Amelia Huckel-Bauer.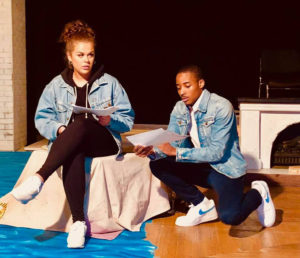 Don't miss these captivating works, featuring many dedicated and talented students who have been inspired by the energy and sophistication of theater.
"I'm very excited to be working with Red Monkey Theater Group and I'm honored to be a part of such a humble and hardworking cast" said student performer Ainsley Brundage. "Amelia is a fantastic director—she has fostered an environment that's fun, loving, and supportive, which has really allowed me to be open to exploring various ideas and themes."
The showcase includes: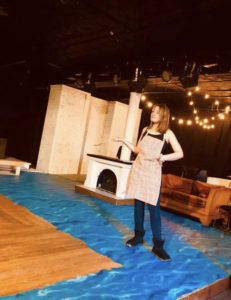 The Statue of Bolivar by Eric Lane, starring Kaitlyn Fresco '21 as Elizabeth and Elaine Pollock '22 as Jemma.
Long Ago and Far Away, A Winter's Tale by David Ives, starring Joan Scardigno '21 as Laura, Ainsley Brundage '20 as Gus, Quincy Tyler '19 as Jack, and Kaitlyn Fresco as Landlady.
A monologue from Unspoken Words by Miriam Concepcion '19, with Elaine Pollock as Emily.
And The Spot by Steven Dietz, starring Elaine Pollock as Chumley, Quincy Tyler as Wagner, Ainsley Brundage as Roger, Joan Scardigno as Nelson, Miriam Concepcion as Gloria, and Kaitlyn Fresco as Betsy.
Mount students also impress behind the scenes, with Marianna Gonzalez '21 as stage manager. She's joined by RMTG's Will Spitzer on lighting design and Rachel Tamarin coordinating sound design.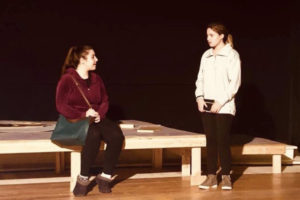 All are invited to attend—both performances are free and open to the public.
For more information about RMTG and for details on other upcoming performances, please visit redmonkeytheater.org.
—Breeze-Lyn Morita '20
About the College of Mount Saint Vincent
Founded in 1847 by the Sisters of Charity, the College of Mount Saint Vincent offers nationally recognized liberal arts education and a select array of professional fields of study on a landmark campus overlooking the Hudson River. Committed to the education of the whole person, and enriched by the unparalleled cultural, educational, and career opportunities of New York City, the College equips students with the knowledge, skills, and experiences necessary for lives of professional accomplishment, service, and leadership in the 21st century.