Chasing Purpose
2/8/2019
A journey of self-discovery
After that thrilling moment of graduating high school, we are stuck feeling obligated to know what we are going to do for the rest of our lives. The truth is, most people have no idea what they want to do and that's completely understandable. College is where we truly find ourselves as we discover our greatest passions, reach our fullest potential of intelligence, and ultimately pave a path towards future accomplishments.
Katherine Perez '19 was one of those students. She was unsure of her purpose when she began her journey at the Mount, but she has never stopped searching for what matters most to her.
When Kat arrived to campus as a freshman, she was an eager nursing student who was ready to take on four years of scientific and clinical study—or so she thought.
Kat always had another passion—a creative instinct that kept urging her to keep exploring her options in and outside the classroom. She even considered changing her major, but was unsure what the right move would be. Her curiosity led her to minor in communication where she asked herself: What would happen if I took a class in a subject that I actually liked?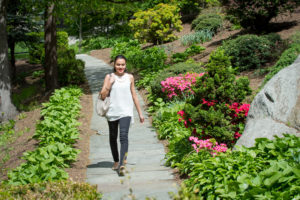 As she answered this and other questions, her self-reflection led to a defining moment in not only her college career, but in her life. She knew her purpose was to use her talents to inspire and empower others. And with the support of the Mount community, she put her passion in action—she changed her major from nursing to visual arts and experimental media.
Now a senior, Kat reflects back on her story through Chasing Purpose, a documentary she directed, in which she shares her experiences at the Mount.
So, what's next for Kat? We'll just have to tune into her next documentary to see.
—Breeze-Lyn Morita '20
About the College of Mount Saint Vincent
Founded in 1847 by the Sisters of Charity, the College of Mount Saint Vincent offers nationally recognized liberal arts education and a select array of professional fields of study on a landmark campus overlooking the Hudson River. Committed to the education of the whole person, and enriched by the unparalleled cultural, educational, and career opportunities of New York City, the College equips students with the knowledge, skills, and experiences necessary for lives of achievement, professional accomplishment and leadership in the 21st century.