Expanding the Mount's Footprint in the Health Professions
1/25/2023
A Conversation With Four Mount Leaders Spearheading Efforts and Growing Curriculums
This story originally appeared in the 2022 Annual Report.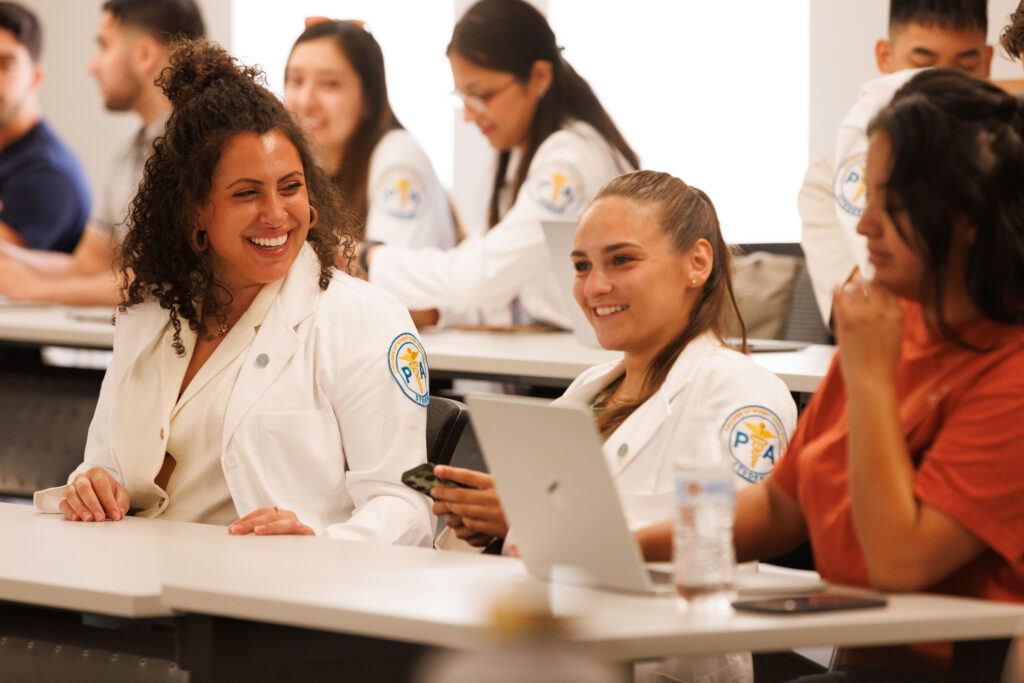 The College of Mount Saint Vincent enjoys a well-deserved reputation for offering exceptional programs in the health sciences, specifically in nursing education. The Mount first began training nurses nearly 80 years ago, through an innovative partnership with Saint Vincent's Hospital that allowed students to simultaneously earn a bachelor's degree and the RN certification. The College continued to advance the standards of nursing education through the implementation of a Bachelor of Science in Nursing degree nearly 50 years ago—and established a master's degree in nursing more than 30 years ago. In the recently completed academic year, the College's traditional undergraduate, second degree accelerated nursing, and graduate nursing degree leading to certification as a Family Nurse Practitioner (FNP) collectively served 915 aspiring healthcare professionals.
The importance of these programs cannot be overstated. Even before the pandemic, job growth in healthcare was increasing at a higher rate than any other employment sector. From 2006-2016, the field grew 20%—adding 2.8 million jobs—while all other sectors grew at a much lower rate of 3%. The need for healthcare professionals is expected to outpace other industries in the current decade as well. Experts predict that the U.S. will need 1.2 million new registered nurses by 2030 to meet current demand, and advanced practice nurses—like FNPs—will be increasingly necessary to address shortages in primary care providers.
Recognizing these trends and building on its curricular strength, this Fall the College enrolled the first cohort of students in its Master of Science in Physician Assistant (PA) Studies Program. Like nurses, demand for qualified physician assistants is high, with an expected growth rate of 31% by 2030.
The PA Program aims to educate individuals who aspire to achieve a higher level of medical knowledge in order to return to their communities and deliver quality medical care to all individuals across a culturally and socioeconomic diverse patient population. With an emphasis on community health, clinical research, health services, policy research, and medical education, the PA Program will create a tangible pathway to support key areas of need within our borough, the region, and beyond, while cultivating professionals prepared to serve any and all healthcare needs. The program will offer guidance to all students so as to fully develop the professional maturity necessary to achieve the highest levels of excellence and leadership in their professions, while becoming leaders within their communities.
Graduates of the Master of Science in Nursing/FNP and Master of Science in Physician Assistant Studies will be in high demand and play a critical role in meeting the healthcare needs of communities across New York City, the State, and the nation. PAs and FNPs both provide direct patient care, working under the auspices of a physician, but—due to their advanced training— make independent diagnoses and treatment plans. PAs are trained by the medical model, which is disease centered; PAs rely on analysis of anatomical and physiological needs to diagnose patients and achieve optimal patient outcomes. FNPs are trained by the nursing model, which is patient centered; their approach is holistic, meaning they consider the patient's mental, physical, and emotional needs in creating and implementing treatment plans to achieve optimal patient outcomes.
While both positions conduct examinations, diagnose, treat illness and injury, and provide treatment plans, FNPs focus more on preventative care. The positions' differences inform their specializations: FNP specializations are defined in terms of patient population, while PA specializations are defined in terms of specific areas of medicine. Both offer opportunities for the healthcare profession to expand the scope of practice.
Recently we spoke with four College leaders well-versed in the Mount's efforts to expand its professional offerings that augment an already solid health sciences curriculum.
Joining forces for a virtual roundtable were Lynne Bongiovanni, Ph.D., Provost and Dean of the College; Anthony Garofalo, D.P.M., Director of the Physician Assistant Program; Alanna Kavanaugh, Director of the Family Nurse Practitioner Program; and Cristóbal Stewart, Dean of the School of Professional and Graduate Studies.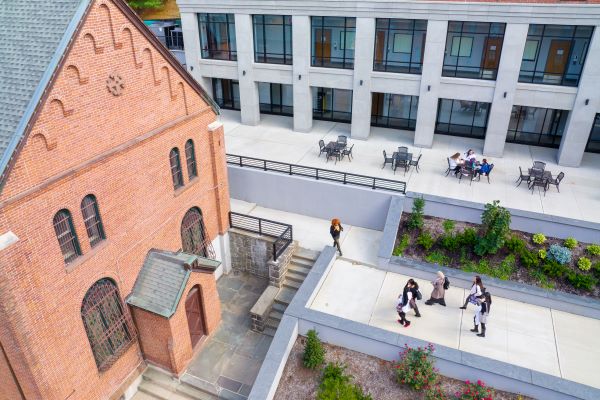 A bird's-eye view of the courtyard leading to Aquino Hall—the College's newly constructed building housing health professions labs on the first two floors.
---
Let's start with an overview of the Mount's master's programs in the health professions: the Physician Assistant Program and the Family Nurse Practitioner Program. How do these programs differ, and in what ways do they overlap?
Anthony Garofalo [AG]: Physician assistants and nurse practitioners are among the healthcare professions expected to see the most growth in the next decade. The Fall 2022 launch of the Physician Assistant Program has positioned the College to better meet the demand for professionals to serve the healthcare needs of New York City and beyond. To recap the role of the PA, these are skilled medical professionals who provide primary and specialty care to the same patients that were formerly seen only by MDs. Mount PA students follow the same curriculum used in medical schools for physicians in training.
Alanna Kavanaugh [AK]: Family Nurse Practitioners specialize in the primary and specialty care of patients of all ages—from birth to death, we often say. More than ever before, FNPs are serving as primary care providers, especially in underserved communities where physician shortages are a real challenge. FNPs monitor patient health, diagnose and treat conditions, prescribe medication, order tests and procedures—everything you'd expect from a primary care provider. The advanced training and certification allows them to apply for grant funding, develop community health initiatives, and address groups of decision-makers. Factor in the FNP's broad understanding of the overall health of the communities they serve, and it's clear that FNPs are a huge asset to interdisciplinary teams that are becoming more common. With their skill, training and outlook, nurse practitioners are changing the practice of medicine.
[AG]: As far as collaboration, students from both programs will share two floors of Aquino Hall, so training modules that are common to both professions can be done in a joint setting. In addition to sharing laboratory space, the two programs will take part in interprofessional activities and experiential learning that reflects the clinical settings in which the two professions function side by side. Working this way, they begin to understand the clear division and coordination of responsibilities. This improves team cohesiveness and makes for better patient outcomes.
How do these programs tie in with the Mount's mission as well as the mission of the Sisters of Charity?
Lynne Bongiovanni [LB]: Across all disciplines, a Mount Saint Vincent education facilitates critical thinking, analytical reasoning, and moral and ethical decision making. These are invaluable skills in any endeavor, but particularly for individuals who aspire to address the complex healthcare needs of our city and state.
Furthermore, the Mount has a strong track record of producing graduates who not only excel but also carry out the College's core mission of service to the underserved. Nowhere is this more evident than in our programs in the health sciences. It's a prime directive that guides how we choose our faculty and select our students. It also dovetails with the historical mission of the Sisters of Charity in serving marginalized communities. By offering these two indispensable and sought-after professional programs—and being the first in the Bronx to plant a stake in the ground, so to speak—the Mount is helping to create more healthcare stewards for the underserved.
How are the two programs addressing the needs of marginalized populations?
[AK]: After graduating from the Mount, health science professionals fan out into the hospitals of New York City, but they also remain in the community. Nurses, FNPs, and PAs frequently return to the Mount to expand their practice or pursue research—whatever it takes to meet the needs of their patient population. FNPs especially are trained to observe the needs of the community and initiate programs that best serve those neighborhoods. For example, in an area like the Bronx—which has a very high rate of diabetes—FNPs can educate, screen, and even treat patients in their own homes. Their understanding of the culture around them helps them meet patients where they are, opening alternative pathways to promoting health and preventing disease.
[AG]: There is an extreme deficit of primary care practitioners in the area surrounding the College. Research has shown that health professionals are more likely to practice in regions where they trained. And because they are known in this area, they first become role models for students still in high school or preparing for college—giving them a reachable, attainable goal. The second likely outcome is that our graduates become leaders in their community. So the Mount is not only training exceptional clinicians, it is also fostering leaders in the profession.
How does the Mount's commitment to diversity factor in?
[AK]: We all recognize the need to mirror the diversity of the population you serve. Nursing needs diversity, and patient care improves because of it. Patients can relate better with someone who understands their culture and doesn't judge them, and that results in better outcomes.
Cristóbal Stewart [CS]: The Mount's diversity is a very big plus. A diverse student body brings lived experiences to the learning process. In a creative community of learners, people learn from each other and the experiences they share with each other. It makes better practitioners and better teams, and builds an inclusive campus culture that students will look for throughout their careers. The Mount goes one step further by providing leadership opportunities for students. At the Mount's Leadership Summit this Fall, speakers addressed healthcare equality and the need for inclusiveness in healthcare. Leadership opportunities that expose students to this type of awareness help drive the conversation about ways they can be impactful in their field.
[LB]: Mount Saint Vincent is uniquely equipped to cultivate healthcare professionals to effectively serve New York City and State's diverse population. Millions of New Yorkers experience barriers to healthcare, including a lack of cultural understanding and limited language services. The College's ability to recruit and retain students of diverse backgrounds, coupled with our growing slate of diversity, equity, and inclusion programming, will facilitate the preparation of a more diverse medical workforce and ultimately improve care across our city and state.
What unique or added value do the Mount's two professional programs offer?
[CS]: The Mount's phenomenal investment in new labs, facilities, and equipment is a clear indicator of how much our students are valued. It's really astounding. Every time a student walks into one of our classrooms or works with state-of the-art equipment, they know they are valued. The College has made this investment to ensure they have the absolute best learning environment, and it shows. And there's one more aspect of this investment: the new programs and new facilities allow the Mount to host clinical obligations on our campus. Our relationships with clinical organizations comprise a strong part of the Mount's value to students, and now we can reciprocate.
[LB]: For the Mount's first cohort of PAs, we placed 55 students instead of the 15 we originally targeted. This is almost unheard of, especially in the first year. Our Admission and PA recruitment teams deserve credit for how hard they worked to attract this solid cohort in such a short period. It just proves what a strong market exists for this profession and how competitive PA programs are. I can't overstate the value of a Mount education. Among other things, it means we can select the very best and brightest students for each cohort.
How does having these programs at the Mount inspire higher goals among students?
[LB]: Nursing students in their clinical uniforms are a familiar sight on our campus, and it's been very exciting this Fall to see our first cohort of PA students entering and leaving Aquino Hall and walking around campus wearing their white coats. The uniforms and white coats instill pride and the importance of the professions, and when wearing them students are expected to demonstrate the integrity and qualities of their respective vocation. When undergrads see those powerful symbols, it may occur to them to ask questions about the profession. They'll find it's a fantastic pathway for anyone interested in a healthcare career.
What other advances in the health science professions are in the works?
[LB]: In addition to the two master's degrees in the health professions, our programs leading to a BSN in nursing maintain robust enrollment. We are working to make our accelerated second degree pathway even more accessible to students by offering some didactic coursework through online instruction.
As President Burns outlined at All College Day for faculty and staff to start the academic year, the College's revised strategic plan includes the development of a School of Health Professions. In addition to our existing programs, we will be working to identify and establish new academic programming for in-demand health professions—providing clinically rich learning experiences to undergraduate and graduate students. We will also collaborate with healthcare institutions to curate continuing education units (CEUs), utilizing the new state-of the-art cutting-edge instructional technologies in our simulation laboratories, for the continued development of their employees.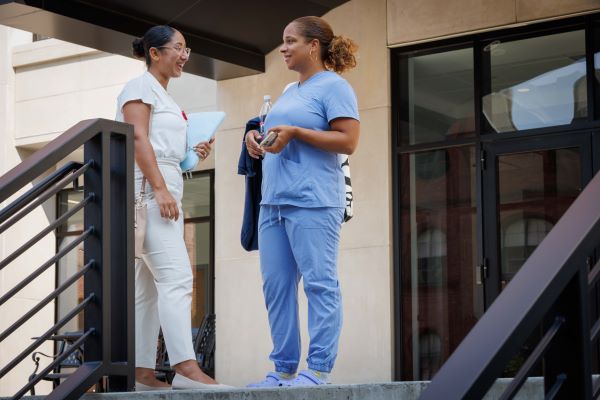 ---
About the College of Mount Saint Vincent
Founded in 1847 by the Sisters of Charity, the College of Mount Saint Vincent offers nationally recognized liberal arts education and a select array of professional fields of study on a landmark campus overlooking the Hudson River. Committed to the education of the whole person, and enriched by the unparalleled cultural, educational, and career opportunities of New York City, the College equips students with the knowledge, skills, and experiences necessary for lives of professional accomplishment, service, and leadership in the 21st century.