Founders Day 2019
4/4/2019
Mount Celebrates Its History, Mission of Saint Elizabeth Seton
Mount Saint Vincent celebrated Founders Day—the anniversary of the charter that established the academically excellent, authentically inclusive, independent liberal arts college—with campus-wide events and traditions on Wednesday, April 10, 2019.
All were invited to join in celebrating the College's history and mission through a variety of events: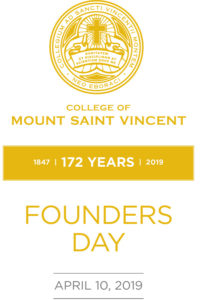 Originally founded as the Academy of Mount Saint Vincent in 1847 by the Sisters of Charity of New York, the Trustees of the University of the State of New York amended the charter in 1911, creating the College of Mount Saint Vincent. In the spirit of Vincent de Paul and Elizabeth Ann Seton, the College upholds its commitment to foster an understanding of our common humanity, a commitment to human dignity, and a full appreciation of our obligations to each other.
Furthering this notion, the Mount welcomed Kevin Ryan, President and CEO of Covenant House International, as the featured speaker for the 2019 Founders Day Forum, "A Place to Call Home: Continuing the Mission of Elizabeth Seton."
Watch the 2019 Founders Day Forum
Covenant House is one of the largest charities across North and Central America serving children, youth, and young families facing homelessness and human trafficking. In 2018 across six countries, Covenant House reached nearly 89,000 young lives. This is especially important as the College partners with Covenant House for its Mott Street Scholarship Program, covering tuition, room and board, fees, books, and insurance for young individuals eager to attend college, but who lack the necessary financial resources and support to get there. At the Mount, these students are finally home.
About the College of Mount Saint Vincent
Founded in 1847 by the Sisters of Charity, the College of Mount Saint Vincent offers nationally recognized liberal arts education and a select array of professional fields of study on a landmark campus overlooking the Hudson River. Committed to the education of the whole person, and enriched by the unparalleled cultural, educational, and career opportunities of New York City, the College equips students with the knowledge, skills, and experiences necessary for lives of professional accomplishment, service, and leadership in the 21st century.