Honoring Excellence: Commencement 2019
5/22/2019
The Class of 2019 is just days away from the conferring of degrees, signifying the end of their journey as Mount students and the beginning of their careers as Mount alumnae/i.
Watch Live:
Nursing Celebration of Achievement
Baccalaureate Mass and Senior Convocation
Commencement
But before our guests fill the tent along the Hudson River, our soon-to-be graduates have many special events and activities planned to kick off the week of celebrations.
As finals concluded on Tuesday, senior students were invited to a Commencement cap decorating event, followed by a trip to Citi Field, where they cheered on the New York Mets. Up next, our seniors will travel to Jericho Terrace for the annual Commencement Ball on Wednesday; gather on Seton Patio for the Final Bow: Champagne Toast hosted by Alumnae/i Relations on Thursday, followed by an evening on the Hudson River for a New York City dinner cruise; and enjoy the President's Farewell Senior Picnic following a graduation rehearsal on Friday.
Nursing students will also be welcomed into their new profession at the Nursing Celebration of Achievement—the pinning ceremony—on Thursday, May 23 at 10 a.m.
The traditions and excitement continue with the Senior Convocation and Baccalaureate Mass in Hayes Auditorium on Friday, May 24 at 5 p.m., which recognizes the achievements of the Class of 2019 and celebrates Mount students as they are awarded with departmental medals, program and graduation honors, and acknowledged for their inductions into various honor societies. Friday's ceremony also includes a baccalaureate mass and a Hooding Ceremony, further honoring our students' academic achievements.
As for the main event: The College's 107th Commencement Ceremony will be held on Saturday, May 25 at 10 a.m. on the Great Lawn of Mount Saint Vincent's Riverdale campus.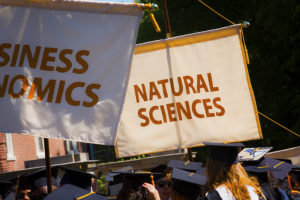 Undergraduate and graduate students will process from the top of campus to the Centennial Stairs, making their way into the tent to join families, friends, classmates, professors, and other attendees as they receive their diplomas, turn their tassels, and reach their graduation milestone.
During Saturday's ceremony, Global wildlife conservation expert James J. Breheny—Director of the Bronx Zoo and Executive Vice President and General Director of Zoos and Aquarium for the Wildlife Conservation Society—will receive an honorary doctorate of science and will deliver the Commencement address.
Mount Saint Vincent will also honor Daniel A. Reingold with an honorary doctorate of law. Mr. Reingold is the President and Chief Executive Officer of RiverSpring Health, a leading nonprofit senior care organization with a century of history and leadership, including the operation of the renowned Hebrew Home at Riverdale—the College's next-door neighbor and a partner in providing incomparable internship and practicum placement opportunities for hundreds of Mount students and rich opportunities for countless Mount volunteers.
The College will be streaming and posting live from the tent, so be sure to follow along on Facebook, Twitter, and Instagram.
Congratulations to the Class of 2019!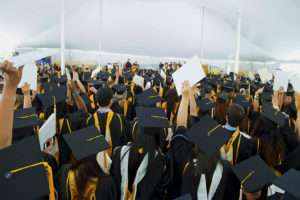 Questions about Commencement? Check our FAQ's for more information!
About the College of Mount Saint Vincent
Founded in 1847 by the Sisters of Charity, the College of Mount Saint Vincent offers nationally recognized liberal arts education and a select array of professional fields of study on a landmark campus overlooking the Hudson River. Committed to the education of the whole person, and enriched by the unparalleled cultural, educational, and career opportunities of New York City, the College equips students with the knowledge, skills, and experiences necessary for lives of achievement, professional accomplishment and leadership in the 21st century.