Mount Hosts 107th Commencement
5/28/2019
Riverdale, N.Y. – The College of Mount Saint Vincent held its 107th Commencement Ceremony on Saturday, May 25, 2019 on the Great Lawn of its Riverdale campus, where nearly 400 students received their undergraduate and graduate degrees.
Watch the Commencement Videos: 
Nursing Celebration of Achievement
Baccalaureate Mass and Senior Convocation
Commencement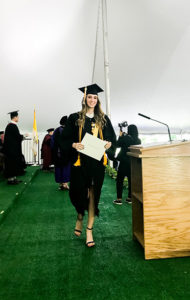 After a week of senior events and graduation activities, Commencement celebrations began on Friday, May 24, with the Senior Convocation and Baccalaureate Mass, which further recognized the achievements of Mount Saint Vincent's undergraduates and celebrated their hooding as graduates. The College's nursing students also were celebrated on Thursday, May 23, with the annual pinning ceremony, welcoming them into the profession.
With hundreds cheering on the Class of 2019 during their procession from the top of campus, excitement was palpable under—and around—the tent.
James J. Breheny served as the 2019 Commencement speaker, and prior to his address he received an honorary doctorate of science. A global expert on wildlife and wildlife conservation, he serves as the Director of the Bronx Zoo and Executive Vice President and General Director of Zoos and Aquarium for the Wildlife Conservation Society. A graduate of Manhattan College and Fordham University, he studied Biology at the College of Mount Saint Vincent and later returned to serve as an adjunct member of the Biology Department. He currently oversees five of New York's most important and impactful institutions: the Bronx, Central Park, Prospect Park, and Queens Zoos, and the New York Aquarium.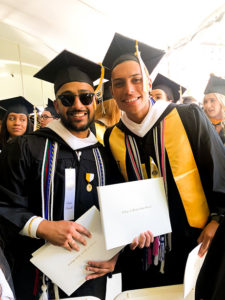 The College was delighted to welcome him home.
During Commencement, the College also honored Daniel A. Reingold with an honorary doctorate of law. Mr. Reingold is the President and Chief Executive Officer of RiverSpring Health, a leading nonprofit senior care organization with a century of history and leadership, including the operation of the renowned Hebrew Home at Riverdale—the College's next-door neighbor and a partner in providing incomparable internship and practicum placement opportunities for hundreds of Mount students and rich opportunities for countless Mount volunteers. A graduate of Hobart College, Columbia University, and Yeshiva University, he serves on the boards of directors of the Continuing Care Leadership Coalition, the Greater New York Hospital Association, and the Association of Jewish Aging Services.
Congratulations again, Class of 2019—you did it!
View photos from the 2019 Commencement Weekend
About the College of Mount Saint Vincent
Founded in 1847 by the Sisters of Charity, the College of Mount Saint Vincent offers nationally recognized liberal arts education and a select array of professional fields of study on a landmark campus overlooking the Hudson River. Committed to the education of the whole person, and enriched by the unparalleled cultural, educational, and career opportunities of New York City, the College equips students with the knowledge, skills, and experiences necessary for lives of achievement, professional accomplishment and leadership in the 21st century.