Mount Student Activist Finalist in SDGs Essay Contest
9/25/2018
Update, September 30: Wantoe T. Wantoe '22 has won the Global Young Voices Sustainable Development Goals (SDGs) World Cup for his story on environmental preservation in Liberia.
---
Since he was 9 years old, Wantoe T. Wantoe—now a 23-year-old international student from Liberia—has been an advocate for human rights.
He has written and published op-eds in the The Huffington Post. He has participated in several rallies, peer discussions, petitions, and awareness campaigns. He has given presentations at the U.N., upholding the rights of Liberian children. He is the president of the Liberian National Children and Youth Advisory Board. And he's even delivered a preliminary statement at the first ever U.N. World Humanitarian Summit in Istanbul, Turkey.
Now, he is furthering his career as one of the newest members of the Class of 2022. As a first-year public policy major at the College of Mount Saint Vincent, he is already continuing and expanding his passion for advocacy.
"I've done a lot of work professionally, created change, and participated in dialogs," said Wantoe, who has experienced first-hand how public policy can initiate real change to alleviate global and national issues and create innovation and opportunity. "If you live in a country with great injustice, you want to stand up against it, and protect and advocate for children and the environment."
And Wantoe is standing tall. He recently submitted an essay about his story and has been selected as a finalist through the Global Young Voices Sustainable Development Goals (SDGs) World Cup.
Global Young Voices' mission is to give a voice to young people to promote the values of multi-culture, social inclusion, and internationality. The team of writers and contributors are globally-conscious millennials who share factual and ethical stories from their countries to raise awareness about their people's lives.
Wantoe sprung at the opportunity to share his plans for change. His project, "Liberian youth's involvement in climate change action," has an objective to improve food security and resilience to climate change in 20 communities around Liberia, encouraging lowland farming and the Forestry Development Authority to halt deforestation.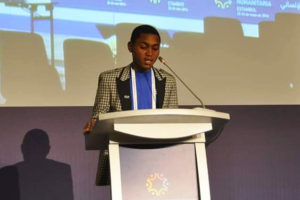 The project also seeks to address barriers of insufficient knowledge and awareness among farmers on climate change.
"With my vast experience in advocacy, I intend to join the campaign to revitalize the agriculture sector and ensure that adaptation to climate change is integrated into relevant policies and planning processes at a national level," he wrote in his essay, Young Generations Fighting for Environmental Preservation in Liberia.
Voters are actively supporting his efforts. His initiative is currently leading the competition, but voting will only remain open until September 30, 2018. With only days to go, he's reaching out to audiences across various platforms, including the Mount community.
All are encouraged to support, but votes can only be submitted on Facebook. The application that receives the most likes—or any other positive emoticons—on the Global Young Voices' Facebook page will be the winner of the competition. As for the top prize: the winner of the contest will receive funding for their initiative.
"We can't save the world alone, but we can make the world better," said Omar Nagi, Associate Professor of Sociology and Wantoe's First Year Experience Instructor. "Wantoe's success is everyone's success at the College of Mount Saint Vincent. We all benefit from association from people like him. We all can claim something great for our College because of his efforts—from professionals to students—and that's a goal worth reaching."
Click here to vote for Wantoe's story
About the College of Mount Saint Vincent
Founded in 1847 by the Sisters of Charity, the College of Mount Saint Vincent offers nationally recognized liberal arts education and a select array of professional fields of study on a landmark campus overlooking the Hudson River. Committed to the education of the whole person, and enriched by the unparalleled cultural, educational, and career opportunities of New York City, the College equips students with the knowledge, skills, and experiences necessary for lives of professional accomplishment, service, and leadership in the 21st century.