Mount's In-Residence Dance Group Runs the "Gamme"
8/1/2019
BalaSole Presents a New Program of Artistic Expressions at Ailey Citigroup Theater
BalaSole, the College of Mount Saint Vincent's dance company-in-residence, presents "Gamme," an evening of dance solos, which will be performed on the stage of the Ailey Citigroup Theater August 16 and 17 at 8 p.m.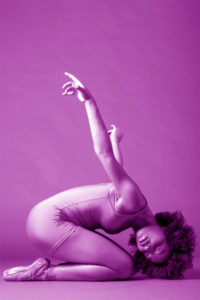 To show their affinity to the College, BalaSole is offering 15 complimentary tickets per show to Mount students, faculty, and staff. Please email info@balasoledance.org to reserve your ticket(s) by August 7. Don't miss out—reservations will be accepted on a first-come, first-served basis.
"Gamme" is BalaSole Dance Company's 2019 New York City Season Concert featuring a new program of solos in a broad range of artistry and styles. The concert will include a solo performance by guest artist Stephanie Rae Williams, member of the iconic Dance Theatre of Harlem, as well as solo artists Alex Bar, Alyssa Bar, Kat Bark, Jonalyn Bradshaw, Yu Fujiwara, McKenzie Mullan, Leigh Schanfein, Caroline Sheehan, and Tyreel Simpson.
Most notably for the Mount community, the cast will feature BalaSole's Executive and Artistic Director Roberto Villanueva, who serves as Director of Dance and Adjunct Instructor in the Division of Communication, Art, and Media.
BalaSole is the only dance company of its kind in the United States, with a mission to address the gaps in the field of concert dance.
"I created BalaSole because I believed it was time for a multiethnic organization that would open its doors to dance artists of all genres, styles, artistic expressions, shapes, sizes, ages, and background," Mr. Villanueva said.
The Company's artists are given artistic freedom and mentored to find their own voices. Diversity and individuality are the basis of BalaSole, which has  offered more than 200 dancers and choreographers the opportunity to perform on stage since its inception in 2010.
BalaSole has performed at many renowned establishments, including Baryshnikov Arts Center's Jerome Robbins Theater, Ailey Citigroup Theater, New York Live Arts, and Tribeca Performing Arts Center.
For more information about the shows, or to buy tickets, visit balasoledance.org.
About the College of Mount Saint Vincent
Founded in 1847 by the Sisters of Charity, the College of Mount Saint Vincent offers nationally recognized liberal arts education and a select array of professional fields of study on a landmark campus overlooking the Hudson River. Committed to the education of the whole person, and enriched by the unparalleled cultural, educational, and career opportunities of New York City, the College equips students with the knowledge, skills, and experiences necessary for lives of achievement, professional accomplishment and leadership in the 21st century.