New Landmark Fishlinger Priorities Segmentation Study
1/8/2018
Issues and Problems: Americans' Priorities and Expectations
The economy and health care are the top concerns of Americans, while issues that may not affect the majority of the public personally, such as LGBT concerns or teen pregnancy, are viewed as less crucial.
At the same time, the public is more optimistic about the future of those issues they personally consider important, while they are less sanguine about the prospects of those problems they are personally less concerned about.
Analysis of a recent surveys conducted by the Fishlinger Center for Public Policy Research at the College of Mount Saint Vincent suggests there are considerable differences among the public in their current concerns and expectations for the future.
The analysis is based on nationwide surveys conducted December 2016 and January 2017, January 2017 to June 2017 and July to December 2017. This report focuses on the initial survey results. Subsequent reports will focus on tracking these results over time.
Total Population
Looking at the American population as a whole, more than 70 percent consider the economy, health care and Social Security personally extremely or very important. At least 40 percent say they are extremely or very optimistic about these issues in the future. At the other end of the spectrum, less than 40 percent regard teen pregnancy and LGBT right to be personally important and less than 30 percent say they are extremely or very optimistic.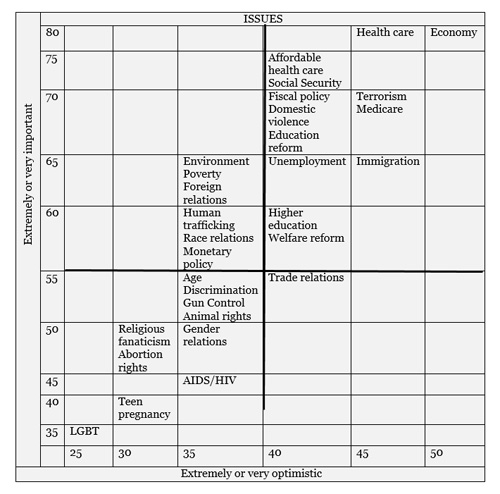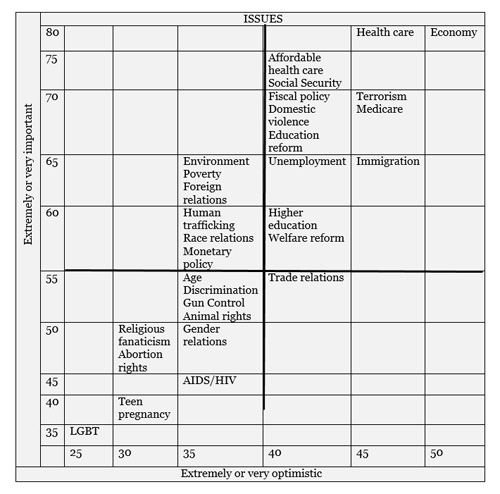 Attitude Segments

Looking at the population as a whole is an important first step; however, it tends to mask underlying differences among subgroups of the population. Further analysis identified four attitudinally homogeneous groups: "Younger Rights Advocates," "Older Self-Interested," "Educated Skeptics," and "Content Traditionalists." These differ significantly regarding the priority they place on different social issues.       
Younger Rights Advocates
"Younger Rights Advocates" tend to be liberal Democrats who voted for Hillary Clinton and live in urban areas. Under age 35, they tend to be active users of social media and are more likely than other Americans to work as volunteers and on community problems. With the exception of poverty, this group gives more importance to issues on the lower end of the spectrum than the rest of the public.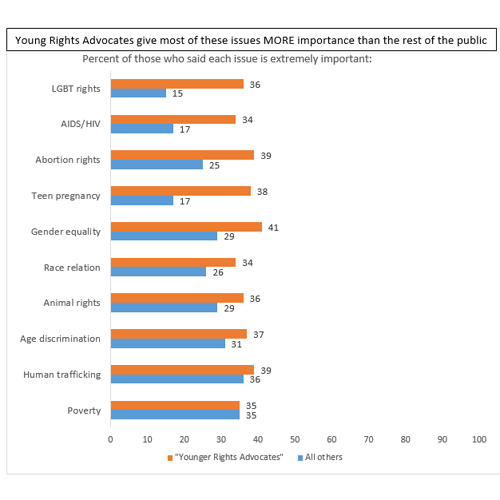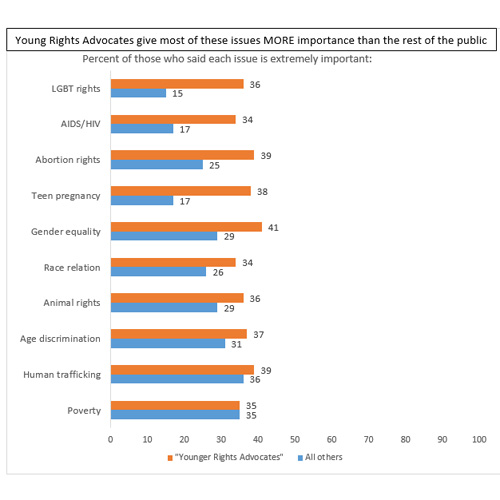 Older Self-Interested
The "Older Self-Interested" segment of Americans are aged 60 and older. They are Republicans or Independents who describe themselves as politically moderate and are more likely to have voted for Hillary Clinton than other Republicans. Rather than using social media, they are more inclined to watch television. While likely to donate to causes, they are less inclined than younger Americans to volunteer or become involved in community activities. They are traditional in their beliefs and values and tend to place more importance on issues that affect older Americans.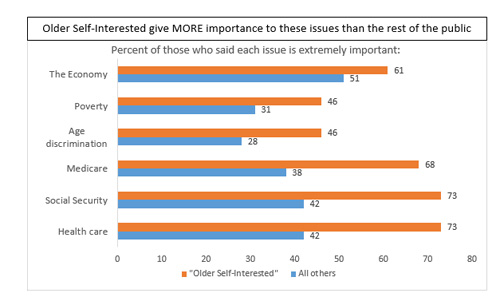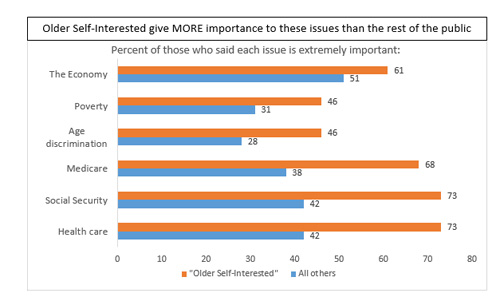 Educated Skeptics
"Educated Skeptics" are somewhat similar to "Young Rights Advocates" demographically and behaviorally. They are Democrats under 35 who voted for Hillary Clinton. They are also social media users and prone to be involved in volunteerism and solving community problems. However, they are more educated and less likely to have a religious preference than "Young Rights Advocates." This group is less inclined than other Americans to ascribe personal importance to issues like terrorism, welfare reform, or immigration.  But they are more likely to consider questions about individual rights personally important.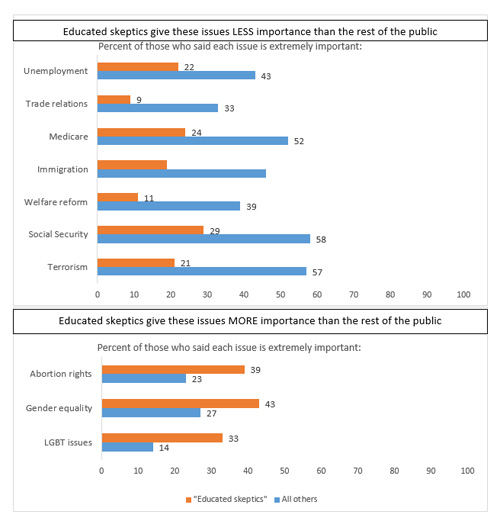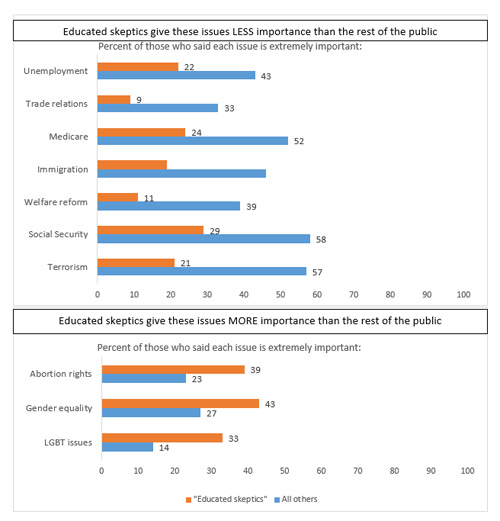 Content Traditionalists
"Content Traditionalists" tend to be middle-aged, well-educated, affluent Republicans who were likely to vote for Donald Trump. They tend to donate money to charity rather than time. They generally have conservative values and regard economic and international issues as important.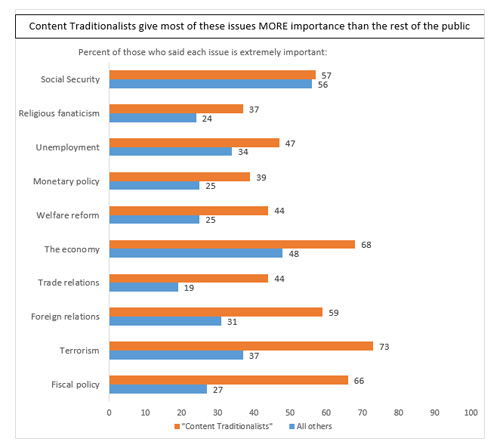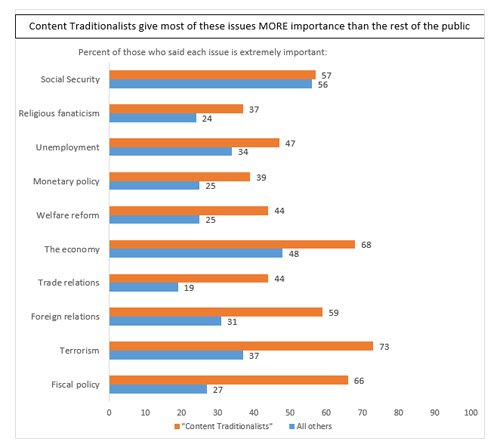 ABC Summary of the Attitude Segments 
The following summary table displays the segments in terms of their attitudes, behavior, characteristics.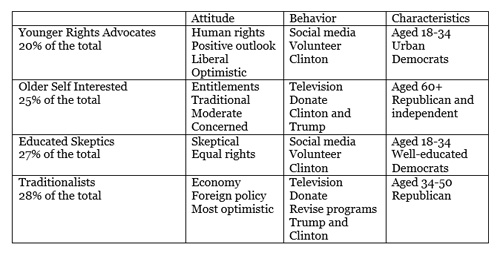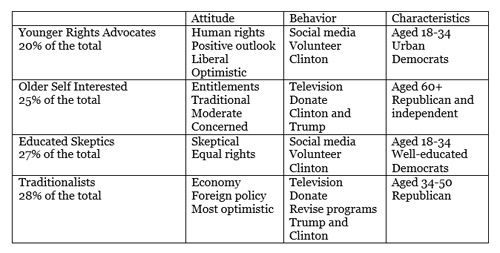 Key Observations
Effective communication to each of these groups must play on the natural contour of the things they are seeking. It also must be consistent with their beliefs and values and consistent with their behavioral tendencies. The following are some examples.
"Young Rights Advocates – positive upbeat, emotional appeals featuring young people in active group situations working on one of the key social issues.
"Older Self Interested" – serious emotional tonality featuring somewhat older individual couples in dialog about their benefits.
"Educated Skeptics" – rational two-sided arguments presenting the facts. Matter of fact without much emotion.
"Content Traditionalists" – rational but more one sided including the interrelationship between economics, domestic, and foreign policy.
Future waves of the study will examine changes in these groups over time, as well as compare them on current issues faced in the country. The results will be reported semi annually.
Survey Methodology
The Fishlinger Center conducts online national surveys focusing on social issues in the United States. The fieldwork for the polls is conducted using a blended national panel from Survey Sampling Inc.  Interviews were conducted November 30 through December 15, 2016 and January 3 through January 31, 2017 and repeated February 1 through June 30, 2017 and July 5 to December 15, 2017. The credibility interval for a sample of 1,000 is +/- 4 percentage points. The credibility interval is larger for subgroups and for differences between polls.
In addition to credibility interval, the polls are subject to other potential sources of error including, but not limited to coverage and measurement error. Data were rim weighted to match the national population on age, sex, Hispanic origin and race. Question wording and topline results are available at fishlingercenter@mountsaintvincent.edu.
About the Fishlinger Center for Public Policy
The Fishlinger Center for Public Policy Research opened in February 2015 at the College of Mount Saint Vincent. The Center conducts deep and broad studies of public opinion on key public policy concerns through independent and objective research conducted by students, faculty, and other members of the academic community.
By providing a forum for discourse that can stimulate intelligent dialog about issues that deeply affect all Americans, the Center illustrates and enhances the relationship between the work of the College and the common good.
James F. Donius, Ph.D., director of the Fishlinger Center for Public Policy Research at the College of Mount Saint Vincent, is available to speak to members of the press about the survey, the Fishlinger Optimism Index™, and the Center. To arrange an interview, or for more information about the study, please contact Public Relations at publicrelations@mountsaintvincent.edu.
About the College of Mount Saint Vincent
Founded in 1847 by the Sisters of Charity, the College of Mount Saint Vincent offers nationally recognized liberal arts education and a select array of professional fields of study on a landmark campus overlooking the Hudson River. Committed to the education of the whole person, and enriched by the unparalleled cultural, educational, and career opportunities of New York City, the College equips students with the knowledge, skills, and experiences necessary for lives of achievement, professional accomplishment and leadership in the 21st century.